Opera has announced a new version, Opera 11, which brings with it further refinements to browsing including tab stacking, visual mouse gestures and one of the most requested features — Opera Extensions.
Extensions
Opera 11 is available for download right now with close to 200 extensions available to install including the top five downloaded extensions listed below. These extensions can be found by installing Opera 11 on PC or Mac and choosing "Get Extensions" or "Extensions on Mac" respectively.
Håkon Wium Lie, Chief Technology Officer at Opera, gave Notebooks.com an advance look at the new features and noted that while Opera has traditionally left out extensions, with the mindset that Opera has everything you need, the company wanted to meet the most requested feature.
Top five most-downloaded extensions:
On Demand Extensions
Because extensions can eventually slow down the browsing experience Opera has included a new feature that allows plugins to be loaded on demand. This feature does exactly what you would expect, leave your disabled until you need them. According to Opera this can lead to a boost in browser performance of up to 30%.
Tab Stacking – Advanced Tab management
The second most interesting feature in Opera 11 is Tab Stacking. Tab stacking allows users to stack tabs on top of each other for a more organized browsing experience. The process works similar to how you add apps to a folder on the iPhone or iPad but it happens on the fly in your browser.
Tab Stacking Video Demo
Tab Stacking is incredibly useful if you find yourself with a number of open tabs that aren't relevant to what you're doing. In our use of the Opera 11 Beta we found that we would do a bunch of research on multiple topics and then stack the related tabs for a cleaner and more organized experience. This is without a doubt our favorite feature in Opera 11.
Visual Mouse Gestures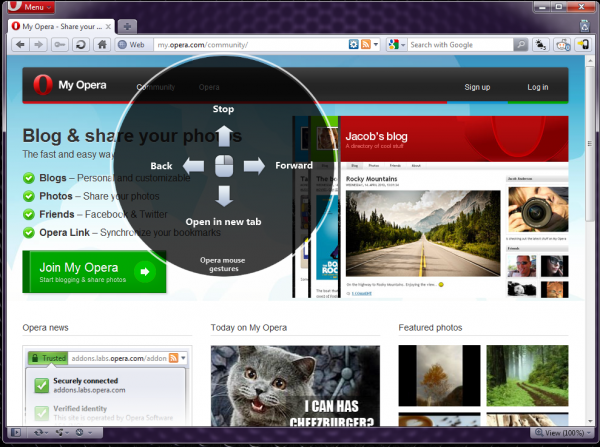 Mouse gestures are now easier to use in Opera 11 which will allow you to perform common browsing needs by right clicking and moving your mouse. There are plenty of gestures to help you cut down on the time you spend getting around the web, find the full list of Opera Mouse Gestures here.
Safer Browsing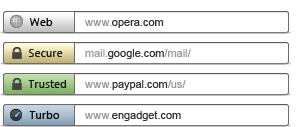 Other enhancements include a new safer address bar that makes it easier for users to see if a website they are visiting is secure or has been detected as distributing malware in the past. The visual displays shown above will key you into items of attention and can be clicked for immediate access to more information.
Advertisement