One of the great things about using Windows 7 is how easy it is to customize it to your liking. Microsoft has made making Windows your own a fun activity, whether it's using the built in tools to customize the appearance of the desktop or even using third party tools to create a unique log in background.
Today we'll show you how to create and share a Windows 7 wallpaper theme that you can use and share. This is a great way to customize your own Windows experience or to share a collection of pictures with a friend or family member.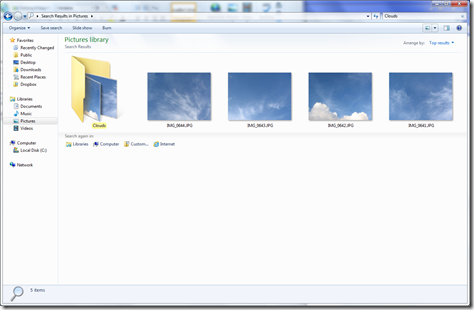 For this article, I am going to be using a set of photos I took at home, feel to use yours if you wish. Our tools of choice today is Microsoft Paint and the Control Panel Screen Resolution item.
The first thing we need to find out is the maximum resolution supported by our Display Monitor. The purpose of this is to ensure the wallpaper does not look stretched or squeezed on screen. To find out your maximum Resolution supported, right click your desktop, click Screen Resolution.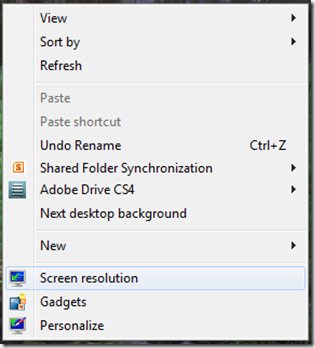 This will open the Screen Resolution Control Panel Item.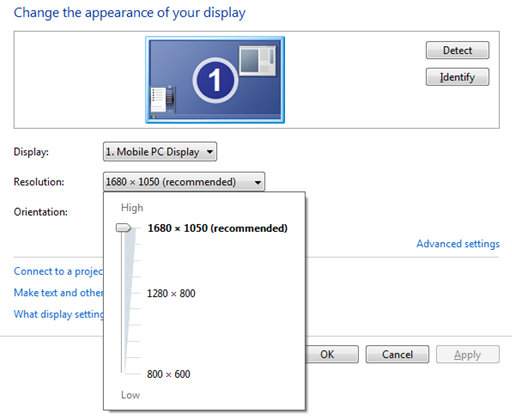 Click in the Resolution list box and take note of the maximum resolution supported by your display. You might need to write this down.
Next we will proceed to resize the image using Microsoft Paint. Browse to where the image is located, or you can open it from within Microsoft Paint. Just to be safe, create a backup copy of the image just in case you make a mistake when editing it.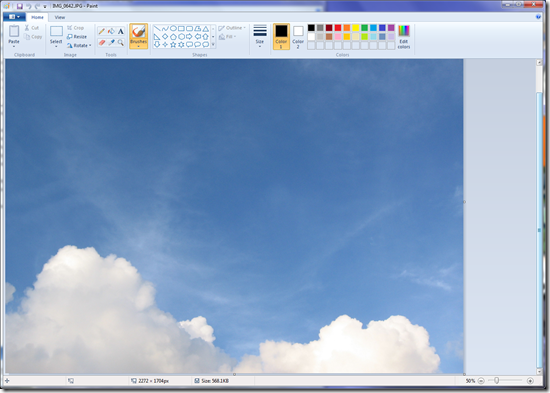 Microsoft Paint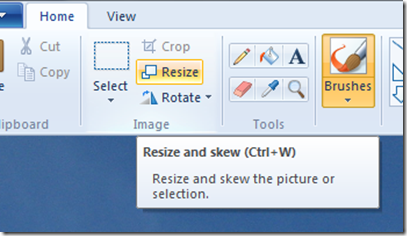 Once you are in Paint, all you have to do is click the Resize button (located under Home (tab) > Image (group) or press CTRL + W on your keyboard.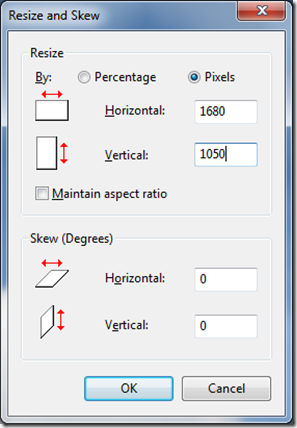 This will present the Resize and Skew window on screen. We will be using the Resize tools.
Select Pixels radio box

Uncheck Maintain aspect ration

Enter the desired resolutions in the Horizontal and Vertical boxes. This is the resolution we had written down earlier from the Screen Resolution Control Panel item.
So for example, my screen resolution is 1680 by 1050, so I would enter 1680 in to the Horizontal box and 1050 in the Vertical box. Once this is done, click OK.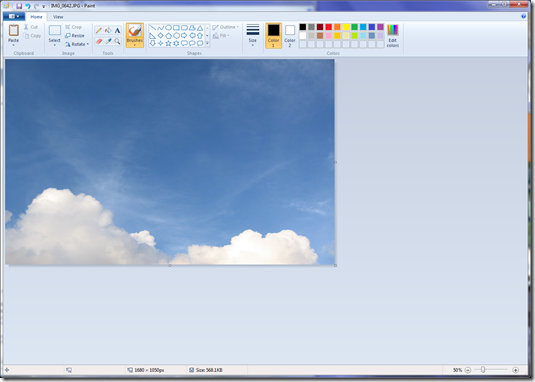 Resized image
Apply the same steps for additional images you would like to have added to your Wallpaper Theme. Remember to save the changes.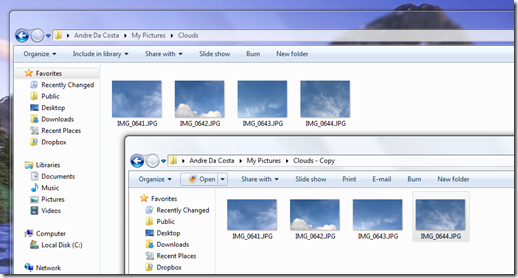 Once the images have been properly resized, it's time to create the wallpaper theme. Right click your desktop, then click Personalize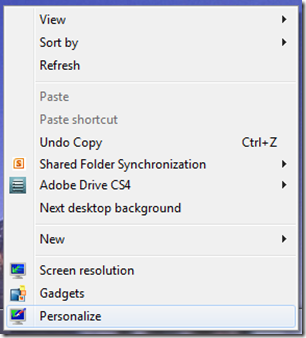 This will open the Personalize Control Panel item.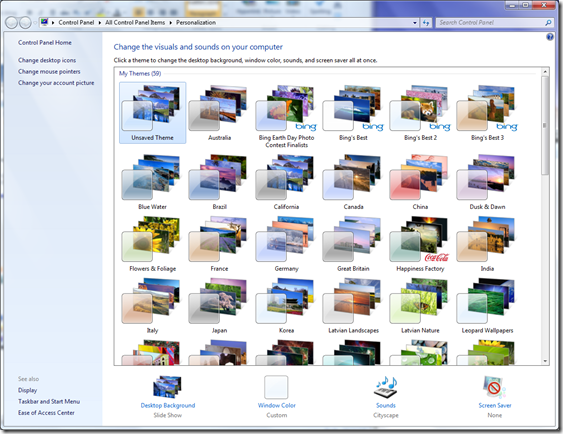 At the bottom of the window, click the Desktop Background link: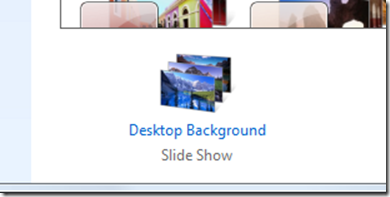 Click the Browse button and point to where you have the image or images stored. In my case, I had all my images I wanted for my wallpaper theme stored in a folder called Cloud – copy for easy access.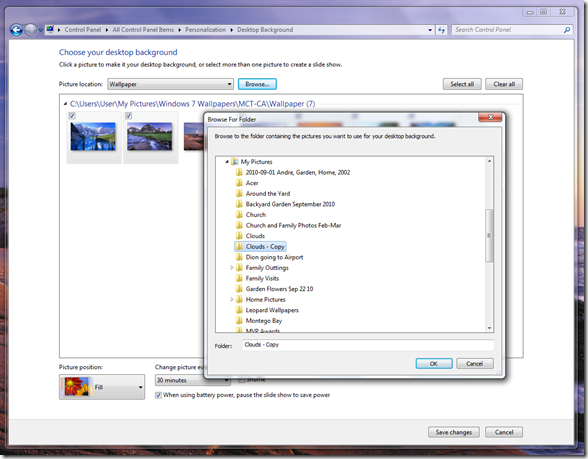 Once you have selected the location where the images are stored, click OK. The images will now be populated with the option to pick and choose which images you would like to be a part of the wallpaper theme and slide show.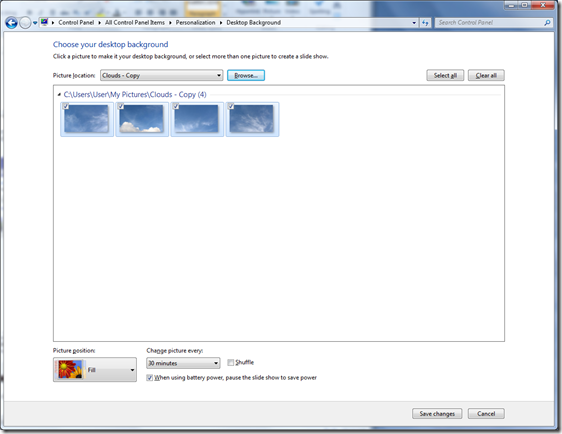 You can set specific settings such as how long a picture should be displayed on screen, in addition to shuffling them around. You can also click in the Picture position list box and set a desired appearance on screen.
Once you are satisfied and made your adjustments, click the Save changes button.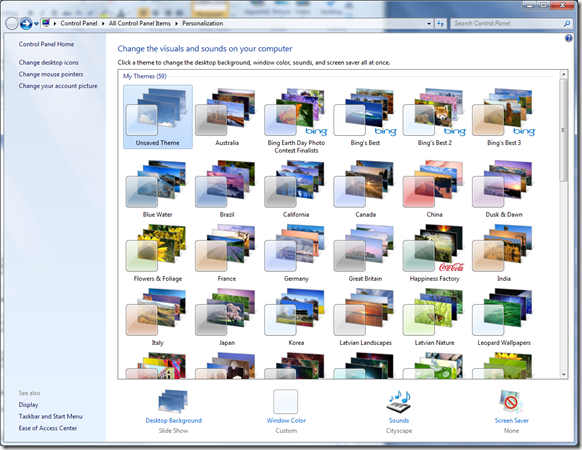 Our Wallpaper theme will now appear in the Gallery of themes.
Now, you don't want to lose the theme, and you might want to share it with family and friends. Here is how you do it. Right click the Unsaved Theme as it is called,  click 'Save theme for sharing'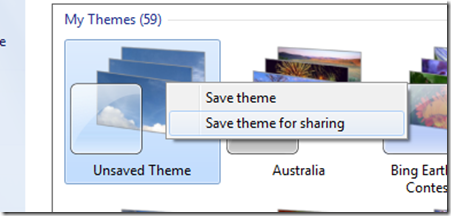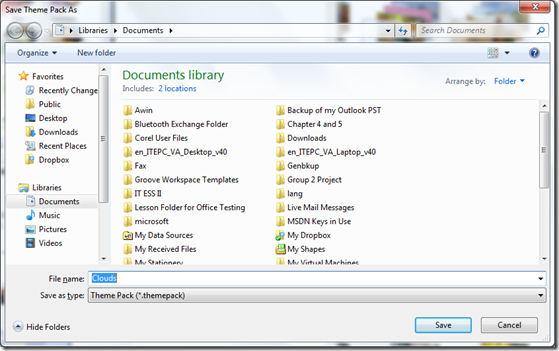 Give the File a name, this will save it as a Theme Pack you can easily email or share on your blog.
Other tips:
Before saving, you can change the Glass Color, add a Unique Sound and even a Screen saver, then save it to provide a truly unique experience that defines you.
Advertisement