Remote Access is a powerful feature that has been a part of the Windows platform for a very long time now. One time though, this was only a feature available only to businesses that provided such functionality for Desktop Support and employee access to resources at the office. With the release of Windows XP, Microsoft introduced two technologies, Remote Desktop and Remote Assistance. Remote Desktop focusing on business use and integration with Microsoft technologies such as Terminal Services for providing so-called dumb terminal access. To break it down further, a dumb terminal provides access to resources managed through a centralized server accessed through a client computer with a Display, keyboard and mouse, there is no need for a physical PC like you would have on your desk at home.
Remote Assistance which I will be taking a look at in this article is geared towards the home user, although it is still useful in business scenarios for help and support technicians. Remote Assistance allows you to do a number of things:
Ability to share your Windows 7 Desktop with another user
Ability to share control of computer peripherals: Mouse and Keyboard
Peer to Peer connection without a relay server, meaning, Remote Assistance works just as well with two computers over a LAN (Local Area Network) just as it would over the Internet (WAN).
Remote Assistance in Windows 7 introduces a new feature called 'Easy Connect' which simplifies the process of connecting to another PC remotely with only a password, no file needed. When a connection is established between both computers, contact files are exchanged which creates a trust relationship. This further simplifies future connections that are made without the need for a password. Lets take a look at inviting someone for help using Remote Assistance Easy Connect:
There are multiple ways of inviting and offering assistance, lets take a look at connecting from the Novice side and accepting from the Expert side.

Click Start, Type: Assistance

Hit Enter
Inviting a friend or family member for help (click to enlarge)

Helper password which you will tell the Expert to gain access to your desktop.
Once you have established your connection with the Expert who will be assisting you with your problem, the Expert will connect to your machine with the password generated by Windows Remote Assistance. Lets take a look at connecting from that side of the fence:
Using the Easy Connect wizard to help a friend or family member.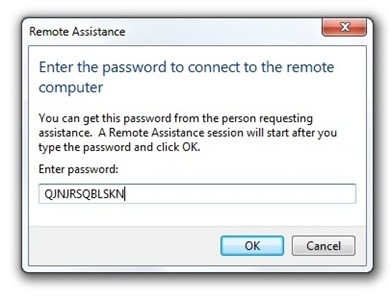 Enter the password generated by the person requesting assistance.
Your Windows Remote Assistance session will now begin: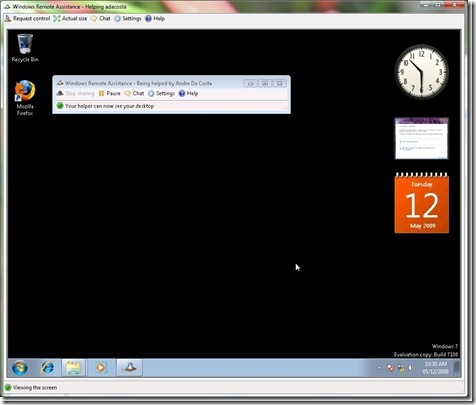 The above screenshot shows the person viewing the desktop of the individual in need of help.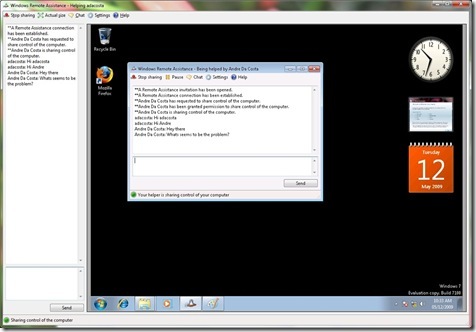 Both persons can initiate a chat session to help communicate and explain the problem
Requesting and granting control of your desktop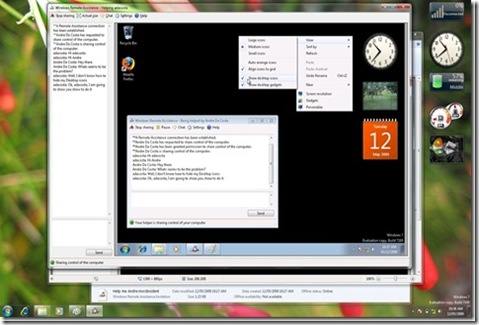 A person seeking help can share their desktop which will allow their friend or family to use the mouse and keyboard to help solve their problem. In this scenario, adacosta doesn't know how to hide desktop icons, the Helper is showing them how to do so. (click image to enlarge)

You can quickly stop sharing your desktop by clicking the 'Stop Sharing' located on the Chat window.
Conclusion
Remote Assistance makes the troubleshooting experience on the PC seamless, taking away the lengthy phone calls typical of years ago in which you tried to explain what your PC is going through using psychic abilities to solve a problem or make a simple diagnosis. With Windows 7, Remote Assistance is even easier to use and help others.
Troubleshooting: If you experience problems trying to connect or invite, try these suggestions:
Ensure that your network location is set to 'Home' in Network and Sharing Center'.
Microsoft provides a tool for testing your router for Peer to Peer technologies such as:

– Universal Plug and Play

– Teredo (Network Address Translator)
https://www.microsoft.com/windows/using/tools/igd/default.mspx
Advertisement