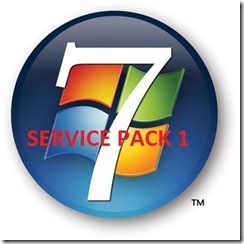 Microsoft has released Windows 7 Service Pack 1 as a public beta. Should you go get it and install it now? That will depend on a few factors.
The purpose of a service pack is traditionally to roll all the previous updates that you get from Windows Update into one installation to save time. After a version of Windows has been out for a while, they create one of these to help people install Windows more efficiently. Also, once the service pack, or SP for short, leaves beta, Microsoft usually distributes new versions of the OS with that SP already part of the install disc or on new computers. They are now testing it to make sure it will not cause significant problems with current installations of the OS.
This beta doesn't offer any new functionality in Windows. Past SPs did make some changes, but most of the time they are like this one just a roll-up of previous updates into one big update.
This is the point where we should see if you really should get this beta. Ask yourself the following:
Do you have a working version of Windows 7 running on a computer? If no, then stop.
Do I like to test out software knowing that it may mess my system up? If no, then stop.
Do I know how to restore a messed up copy of Windows that gets ruined by a beta that doesn't work? If no, then stop.
Do I know how to burn an ISO image file and install it using the resulting disk? If no, then you likely don't have the technical knowledge to beta test an operating system service pack and should stop.
Do I have an extra computer that can be lost due to a messed up beta and not keep me from getting mission critical work done? If no, then stop.
Do I mind reformatting and reinstalling Windows 7 once the beta expires? If you do mind, then stop.
Finally, do I meet the minimum system requirements below? If not, then stop.
The minimum system requirements for Windows 7 SP1 are as follows:
1 GHz or faster 32-bit (x86) or 64-bit (x64) processor
1 GB of RAM (32-bit) / 2 GB RAM (64-bit)
16 GB available disk space (32-bit) / 20 GB (64-bit)
DirectX 9 graphics processor with WDDM 1.0 or higher driver
DVD-compatible drive
Internet access (fees may apply)
If you are still reading, then chances are you can handle a service pack beta.
How to download and install the Windows 7 Service Pack 1 Beta:
To download this beta of Windows 7 SP1, you will have to first register with Microsoft and then answer a simple question. What occupation best describes you?" A tip: if you say Tech enthusiast you will not be allowed to download it. Nor will you be allowed if you answer with Student, Consumer, or Other. The other choices in the list do get you through the door. I am not at all suggesting you lie. I just wanted to warn you that if you are not an IT Manager, an IT Worker, a Developer or a Non IT Manager, you are not allowed to download it. Of course the last one puzzles me. I'm not technically an IT Manager. So does that one apply to me? And why does it let you in? I am guessing it means a manager of a tech company but you do not have the title IT director. That is the one I chose because it describes me since I'm the one who makes most of the tech decisions for my church, but I don't carry that title.
Once you register and answer the occupation question, the next screen asks for your contact info and OS version. Hit continue and you get a list of reasons for downloading. I chose Evaluate Windows 7 SP1 Beta and that worked. You then have three options (see below). Download either the 32 or 64 bit version via Windows Update. That's fine if only you have one computer that you want to install it on. The last option is for downloading an ISO image of the file to install on multiple computers. An ISO is a file that you can use to make a disc with an ISO burning utility like your CD/DVD burning file or Windows 7 built-in tool access via right clicking on the downloaded ISO.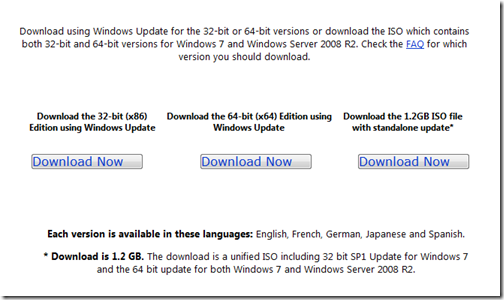 So which of the three options mentioned above should you go with. The first part should be simple. Is the PC your plan to install it on a 32 bit install of Windows 7 or 64 bit. If you don't know, then find the Computer Properties page. The easiest way is to click on the Start button and then type System. The resulting list will look something like this (see below). Find the System item in the resulting list and click it.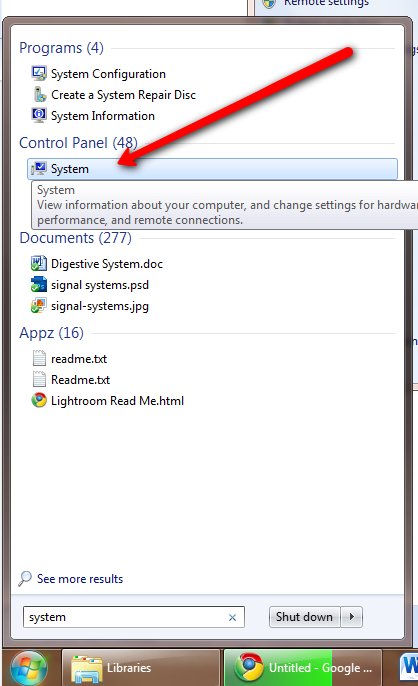 You should get a window that looks like the one below. Find System Type and it will say either 64 or 32-bit.
Now that you know which one you have, you can easily install via Windows Update. Click the download button below the one that matches your system and save the resulting file. After it finishes downloading, run it. It will be called WUSignUpTool_x64.exe (or x32.exe file for 32 bit). You can then go to Windows Update (Click start and type Update and you will see it on the list). Click Check for updates in the left hand column and it will find the Service Pack 1 update. You may have to update twice. I did. The first was an optional update for Windows 7 that needed to be done before it would find SP1. It will then download the SP and install it for you. You will have to reboot afterwards.
The other way to get SP1 is to burn the ISO and run the installation from the disc. This is the best option if you plan to update more than one computer or you have both a 32 and a 64 bit installation of Windows 7; both versions of SP1 are on the ISO. I would wait to update all your systems to see if the SP1 has any widespread issues. As I said in the questions above, you should have at least one PC that you can totally mess up without destroying your productivity. Or you can walk on the wild side, throw caution to the wind or do whatever other cliché you like that means do something that is very ill-advised.
A couple of final warnings: this beta will stop working in July 2011. Also, once the final version comes out in early 2011, you will not be able to just update your computer with the beta installed. You will have to start over with a fresh install of Windows 7.
Is it worth updating? I have not had any issues in the short hours since I downloaded and updated my PC. However, I have not really done much with that computer since. If I do have issues I will report back.
While I have not had any issues nor have I heard of any, there has been no real differences and there aren't any new features to play with so most consumers should wait for the final version in 2011.
Advertisement