The Microsoft Arc Touch Mouse, a multi-touch version of Microsoft's popular Arc mouse was uncovered by istartedsomething, this past weekend on several Microsoft and retail websites. If true, the $70 MSRP Arc Touch Mouse would be the first multi-touch mouse from Microsoft and would presumably give PC users an experience similar to the Apple Magic Mouse.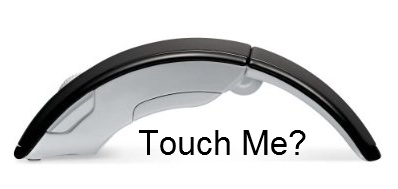 The discovery was made when istartedsomething found several product listings for the Microsoft Arc Touch Mouse on European retailer websites under the product number RVF-0003 and found that arctouchmouse.com was registered to Microsoft. There are no images or further official information about the rumored multi-touch mouse from Microsoft, and the company told CrunchGear that they have,  nothing to announce at this time."
If real it is possible that the Arc Touch Mouse from Microsoft could be the retail version of a multi-touch mouse that Microsoft showed off last year as part of their Mouse 2.0 research that looked into how the mouse could be adapted for better use. If this mouse makes it to market, and is only $70, it could bring the world of touch to more users through the built-in tools in most versions of Windows 7 that are currently only available to tablet and touchscreen users.
How a multi-touch Microsoft mouse might work:
Advertisement