Internet Explorer 9, which has long been available as a beta and later as a Release Candidate (RC), is now out as a full-fledged version 1 public download via Microsoft's www.beautyoftheweb.com webpage. The release of Internet Explorer 9 was announced at the South by Southwest Interactive conference.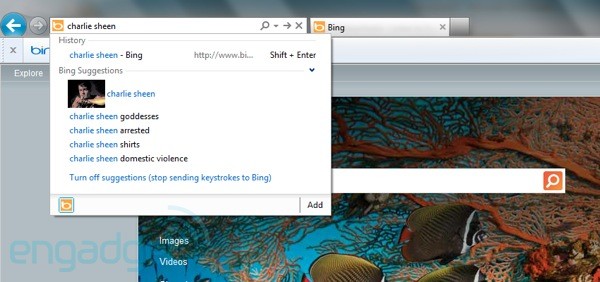 "The best experience of the Web is on Windows with Internet Explorer 9," said Dean Hachamovitch, corporate vice president, Windows Internet Explorer, at Microsoft. "Today, the Web can unlock the power and performance of the best PC hardware through Windows and Internet Explorer 9. Websites also can act more like applications within Windows 7, with features such as Pinned Sites. In less than a year, Internet Explorer 9 went from early preview to final release with the help of hardware partners and the Web community."
The browser gets a refresh from the prior version and gets a cleaner user interface. The browser also gains speed improvements along with a One Box bar, which doubles as an address bar as well as a search bar where you can view real-time results in-line, according to Engadget.
Press Release:
Microsoft Announces Global Availability of Internet Explorer 9

More than 250 top sites from around the globe join the launch of Internet Explorer 9 to celebrate a more beautiful, immersive Web.

AUSTIN, Tex. ― March 14, 2011 ― Microsoft Corp. today announced the launch of the latest version of the world's most-used browser with the release of Windows Internet Explorer 9 in 39 languages at an event at the SXSW Interactive conference. Internet Explorer 9 is Microsoft's most-downloaded browser beta of all time, with more than 40 million downloads, and it has already has gained more than 2 percent usage on Windows 7. Already more than 250 top sites from around the globe are taking advantage of the capabilities in Internet Explorer 9 to deliver differentiated experiences to their customers, with many featured on https://www.BeautyoftheWeb.com. Together, these partners reach more than 1 billion active Internet users on the Web.

"The best experience of the Web is on Windows with Internet Explorer 9," said Dean Hachamovitch, corporate vice president, Windows Internet Explorer, at Microsoft. "Today, the Web can unlock the power and performance of the best PC hardware through Windows and Internet Explorer 9. Websites also can act more like applications within Windows 7, with features such as Pinned Sites. In less than a year, Internet Explorer 9 went from early preview to final release with the help of hardware partners and the Web community."

Top Sites and Designers Take Advantage of Internet Explorer

Internet Explorer 9 is designed to bring sites front and center through Windows 7, enabling a more immersive, more beautiful Web experience. Features such as Pinned Sites and Jump List enable people to put their websites directly on the Windows 7 Taskbar, as though they were native applications, and then to quickly and easily perform tasks related to those websites, such as check their inboxes, change the music station, accept friend invitations or see breaking news.

In addition to 250 top sites, more than 1,000 other sites and designers are taking advantage of these new features with Internet Explorer 9 and Windows 7. These sites include not only the largest sites on the Web, such as Facebook and Amazon, but also leading experiences from across the Web and the world.

– In social and information networking, Internet Explorer 9 partners include category leaders such as Facebook, Twitterand WordPress― the No. 1 global blogging platform ― in addition to leading professional networks in the U.S., Europe, Russia, Korea and Latin America.

– In e-commerce, partners include not only the leading worldwide shopping site, Amazon, and the No. 1 worldwide auction site, eBay, but also the leading site in the emergent "daily deals" space, Groupon.

– Video and streaming partners include three of the top five video-on-demand sites in the U.S. ― Hulu, Break.com and Dailymotion ― and leading Internet radio sites Slacker, Pandora internet radio and Jango. In addition, partners include top global broadcasters CBC and CTV in Canada, Wat.tv in France, and CNN in the U.S.

– News website partners in the U.S. include the Wall Street Journal, USA Today and The Huffington Post, as well as dozens of leading news sites globally across all major geographies.

"What people care about on the Web is their sites, not their browser. That's why Internet Explorer 9 is about making those sites shine. The browser is the theater, and the sites people visit are the play, and that is what Internet Explorer 9 makes better ― your favorite sites," said Ryan Gavin, senior director, Windows Internet Explorer, at Microsoft.

eBay is the world's largest online marketplace and a leader in mobile commerce. With pinning and Jump List features in Internet Explorer 9, everyone's favorite eBay experiences are just a click away. "eBay's integration with Internet Explorer 9 is like having a storefront on your desktop," said Robert Chatwani, senior director, eBay Internet marketing. "We're pleased that new functionality within Internet Explorer 9 allows us to innovate and bring new experiences to our customers, making shopping and selling on eBay more engaging than ever."

Pandora Internet radio is announcing a new dynamic Jump List for Internet Explorer 9. Tom Conrad, chief technical officer and executive vice president of product for Pandora, said, "This new feature allows our listeners to have immediate access to their personalized Pandora stations right from the taskbar with Internet Explorer 9, which will make for an easy-access listener experience."

Partners such as Gilt Groupe are already seeing early results indicating that Internet Explorer 9 customers who pin the Gilt homepage to their taskbar show a higher purchase rate than those on other browsers. "While results are early, customers using Internet Explorer 9 appear to purchase more per order when compared to earlier versions of Internet Explorer and other browsers. Given that our business model is providing dynamic new shopping experiences online every day, the value of Internet Explorer 9 and Windows 7 is potentially very exciting to us and our customers," said Chris Maliwat, vice president of product management, Gilt Groupe.

Many partners are announcing special offers for Internet Explorer 9 customers that will be available in the coming weeks, including the following:

– Slacker. A free monthlong subscription for customers who pin the Slacker site to their taskbars

– Groupon. $5 in Groupon Bucks when making a first purchase from the Internet Explorer 9 Jump List

– Hulu. A free month of the Hulu Plus subscription for users who pin Hulu

– eBay. Offering coupons or eBay Bucks for bids or purchases made using the Internet Explorer 9 pinning and Jump List features

– Gilt. A series of product bundles for customers who make purchases of specified amounts via the Jump List

Fast Is Now Beautiful: Internet Explorer 9 With Hardware Acceleration

The new version of Internet Explorer takes advantage of the power of modern Windows PC hardware to improve all-around Web browsing performance. It is the only browser with hardware-accelerated HTML5 spanning all graphics, text, audio and video. Internet Explorer 9 harnesses the power of the Graphics Processing Unit (GPU), unlocking 90 percent of the PC's power that went previously untapped by Web browsers.

Developers can now build faster, more immersive websites that feel like native applications using HTML5, as well as runtimes such as Adobe Flash Player and Microsoft Silverlight, both of which will take advantage of the hardware acceleration in Internet Explorer 9 in their next versions.

"Internet Explorer 9 has moved the bar in hardware acceleration, enabling Flash Player to tap into the GPU and creating a win-win situation for our mutual customers who want fast, rich content experiences," said Paul Betlem, senior director, Flash Player Engineering at Adobe.

"With Internet Explorer 9 and Flash Player taking advantage of the GPU, we continue the collaboration with Microsoft to further optimize performance. Both companies are also working closely to advance and streamline controls for managing Flash Player privacy and security settings in Internet Explorer 9."

"The next-generation Web is here today with Internet Explorer 9, accelerated by AMD's incredible computing platforms ― our award-winning AMD Fusion Accelerated Processing Units with DirectX11-capable graphics and AMD Radeon graphics cards," said John Taylor, director of Client Product and Software Marketing, AMD. "The next generation is defined by immersive gaming, rich video and fast, compelling, application-like experiences, validating the fact that GPU compute power and the ability to remove barriers between the CPU and GPU are highly relevant to the day-to-day computing performance that consumers expect and demand."

"Thanks to how Internet Explorer 9 taps into the power of the GPU, the Web is now more visual, more immersive and more powerful with NVIDIA GeForce. We are incredibly excited that consumers can now experience their favorite sites re-imagined and accelerated. It's a whole new Web," said Drew Henry, general manager, GeForce Business Unit, NVIDIA.

Improving Privacy and Security Online

Because the Web is increasingly less secure and private, Internet Explorer 9 is designed to be a trusted browser because it contains a robust set of built-in security, privacy and reliability technologies that keep customers safer online.

In December, Microsoft introduced Tracking Protection in Internet Explorer 9, which puts people in control of what data they are sharing as they move around the Web, by enabling consumers to indicate what websites they'd prefer not to exchange information with. Consumers do this by adding Tracking Protection Lists to Internet Explorer 9, and partners such as PrivacyChoice, TRUSTe, Abine and Adblock Plus have already published these lists.

Malware is now the No. 1 risk to people's security online, and Internet Explorer 9 provides the first Download Manager with integrated SmartScreen malware protection. The browser also introduces SmartScreen download reputation, a groundbreaking browser feature that uses reputation data to remove unnecessary warnings for well-known files and show more severe warnings when the download has a higher risk of being malicious. Studies show that Internet Explorer 9 blocks 99 percent of socially engineered malware attacks, five times more than Firefox and 33 times more than Google Chrome.

Raise Expectations for a Better Web

Partners from around the world are re-imagining their websites using the capabilities of Windows and Internet Explorer 9, creating new experiences that make the Web feel as native as PC applications. The result is a more beautiful Web experience.

"I love the Web for the kinds of joyous experiences it can create!" said Ze Frank, who is launching new features within the social gaming site, Star.Me, in coordination with the Austin event. "HTML5 is a huge step forward for the browser because it brings the Web back to a unified platform for creation. By integrating HTML5 into Internet Explorer 9 and hardware accelerating the browser, Microsoft has signaled its commitment to pushing the Web forward, and that is certainly worth celebrating."

"HP and Microsoft have a long history of bringing meaningful innovations to our customers. Today, we celebrate with Microsoft the launch of Internet Explorer 9, a new milestone in enabling faster and more visually compelling Web experiences," said Tony Prophet, senior vice president of operations, Personal Systems Group, HP. "Internet Explorer 9 is really an outstanding browser, and we're pleased to make it available on most of our consumer PCs."

"At Dell, we are focused on driving cutting-edge innovation in our consumer devices, and Internet Explorer 9 is the first browser to offer a richer, more immersive Web experience on our hardware," said Michael Tatelman, vice president and general manager of North American Consumer sales for Dell. "We know customers will see ― and experience ― the difference, and we're delighted to be working with Microsoft designers and developers around the world who are building this new, more beautiful Web."
Advertisement