Installing a Service Pack is nothing new, but there are some pre-requisites users should take into account to ensure a smooth installation. I installed Service Pack 1 release for Windows 7 a couple of days ago and I decided it would be a good opportunity to chronicle my experience.
Microsoft released the first beta back in June 2010 followed by a Release Candidate late October 2010 and the final RTM availability (February 16th 2011 MSDN/TechNet subscribers) and public Availability (February 22nd 2011). Unlike previous Service Packs, Windows 7 SP1 does not contain any major improvements; it's basically a rollup of updates that have been released for the operating system since it went to manufacturing July 22nd 2009. If you have been diligently updating your computer through Windows Update since then, you basically have all that SP1 has to offer.
Windows 7 SP1 is provided in two ways, either as a full .ISO file download weighing in at 2.4 GBs or as an update available through Windows Update. The .ISO file contains SP1 code for different processor architectures such as x86, x86-x64 and Itanium systems. Because I have a mixture of 32 and 64 bit systems, I went with the .ISO file. Whichever method you choose, here are some tips for ensuring a smooth installation.
1. Make sure you install the latest updates for Windows 7, your applications and device drivers. This can ensure a smooth experience I noticed, although Windows 7 SP1 is minor, you don't want to take any chances. If you are updating through Windows Update, it also guarantees a smaller update since only missing patches will be applied.
2. Backup – you can never go wrong with backing up; this is something you should do often even when you are not making major changes to your computer. Windows 7 has made it very easy to backup your computer. The built in system imaging and backup and restore center makes it convenient to back up the operating system and all your critical data. In fact, I used this to test the beta and RC releases of SP1 on my production system. This method carried its risks, but at least I knew my RTM installation was safely backed up and tucked away from pre-release code.
3. Don't do it during a major project, if you have something you are working on at the moment on your computer or in the middle of an assignment or work related project which you might need your PC for, don't install the Service Pack right away. Do it in your off time, such as on the weekend or when you know you can leave your PC while it installs itself automatically. My installation took over 2 hours.
4. This brings me to another point, which is, don't install SP1 on a laptop on battery power, it's a CPU intensive task and will use up most of your battery power. So make sure your laptop is connected to power. For desktop users, I strongly recommend you have a UPS connected, you just don't know when the unexpected can occur. You might just be in the last lap of completing the 2 hour installation and lose power.
5. Disable your Antivirus, I remember installing the SP1 beta with Microsoft Security Essentials version 1 installed and received an error that my Antivirus is not compatible. Although this was resolved, your experience might vary. I haven't experienced the issue in the RTM code although I am running Microsoft Security Essentials version 2. Someone reported receiving an error message about Forefront Client Security not allowing the Service Pack to install. The recommendation is to disable Forefront which is based on the same core scanning engine as MSE or make sure you at least have the latest version of Forefront client security installed.
6. Another thing you should do is a clean boot before installing the Service Pack, you can do this by:
Click Start, type msconfig in the Start Search box, and then press ENTER.
Accept User Account Control permission
If you are prompted for an administrator password or for a confirmation, type the password, or click Continue.
On the General tab, click Selective Startup.
Under Selective Startup, click to clear the Load Startup Items check box.
Click the Services tab, click to select the Hide All Microsoft Services check box, and then click Disable All.
Click OK.
When you are prompted, click Restart.
After the computer starts, proceed with the installation.
7. Another task you should try is to check your hard disk for errors:
Click Start
Type: CMD, from the results, right click CMD
Click 'Run as Administrator'
At the Command Prompt, type: chkdsk /r /f
When you restart your system, your computer will be scanned for errors and attempts will be made to correct them.
Now for a look at installing the Service Pack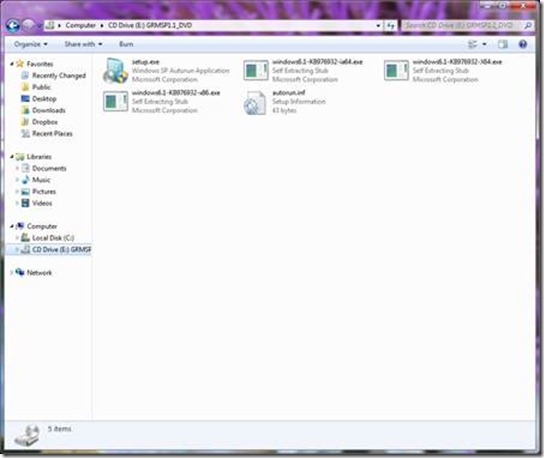 Here you can see I am installing from a DVD I burnt myself using the multi-language .ISO file.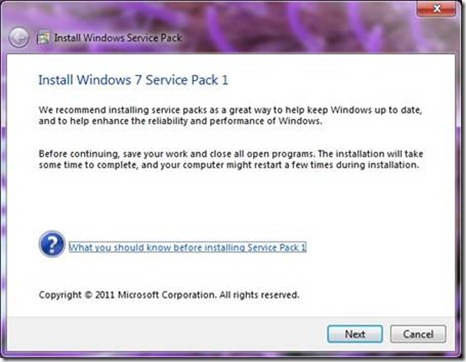 Setup wizard for Service Pack 1, click Next.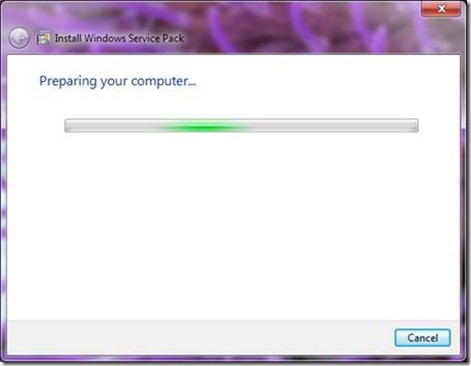 Starting the installation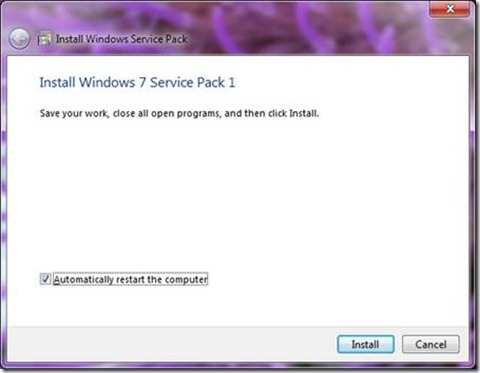 Make sure all your programs are closed, refer to my point earlier about doing a clean boot. Another thing I would suggest you do is to disable any non-essential devices during the installation such as external hard disks or thumb drive.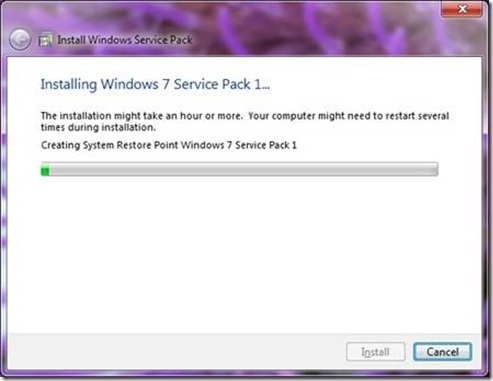 Service Pack 1 automatically creates a system restore point just in case there is a problem, you can restore your computer to an earlier time.
Windows 7 Service Pack 1 spends a significant amount of time installing KB976932, you might even wonder if your computer is responding at all, just leave it, it will eventually pass this stage.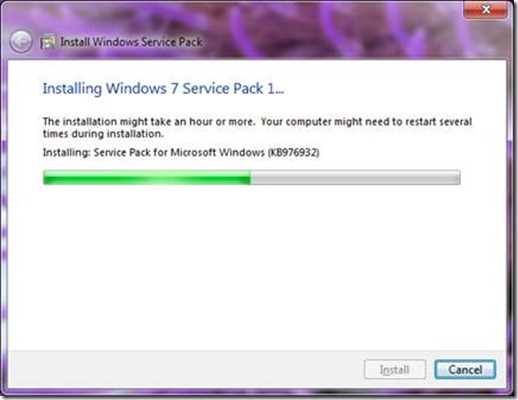 Still installing KB976932, after the installation is complete, Windows 7 will restart and a series of consecutive restarts will happen and your system will do a final configuration.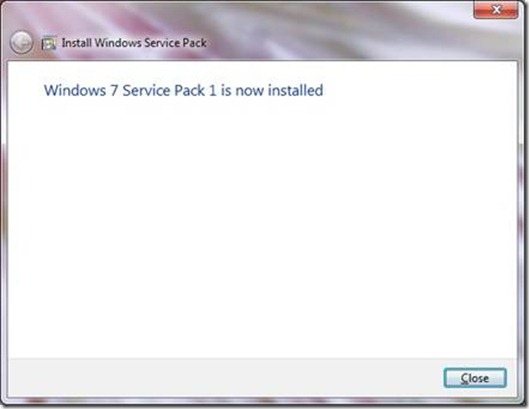 That's it, Windows 7 SP1 installed successfully:
After the installation is complete, you might want to do some post installation tasks. For instance, you might be a bit low on disk space, Windows 7 SP1 adds to this, to resolve it you can run the Disk Cleanup utility to remove the SP1 installation files.

Click Start, type: Disk

Hit Enter on your keyboard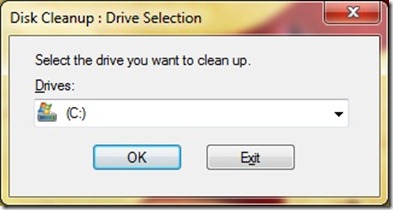 Select the drive on which Windows 7 is installed
Disk Clean up wizard scanning your computer for files that safe to remove.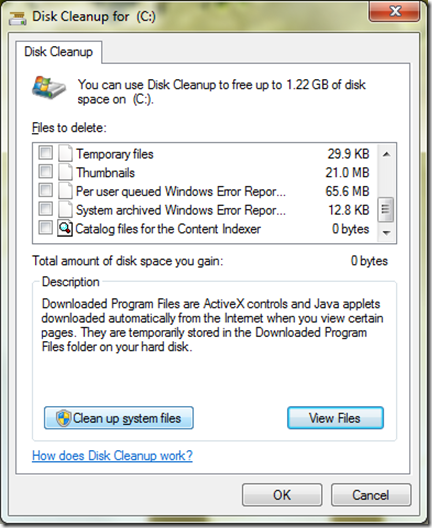 On the Disk Cleanup window, click the button Clean up system files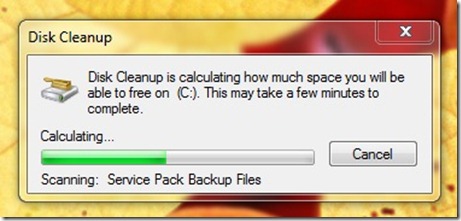 Disk Cleanup will search for Service Pack Backup Files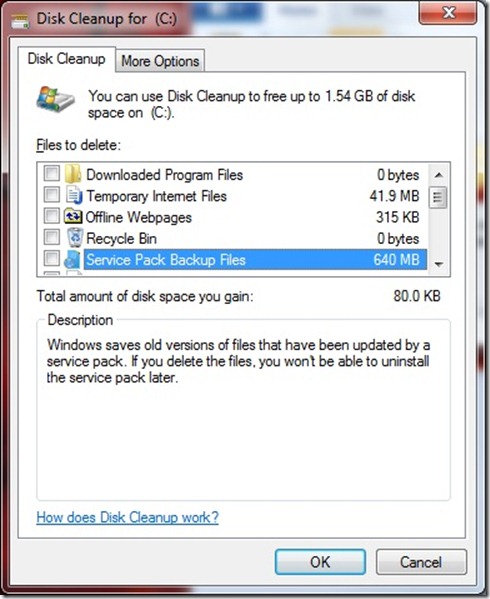 Check the Service Pack Backup Files box and click OK. Consider carefully before doing this, as noted in the description, if you delete it, you won't be able to uninstall the Service Pack at a later. Which is why I strongly recommend you at least create a system image of Windows before you even update to Service Pack 1. If the amount of space recovered will be negligible, then don't bother deleting it.
Advertisement