Hardware is an essential part of using your Windows PC. These days, adding new hardware can be as simple as plugging in a mouse to hooking up multiple displays, connecting game consoles and dealing with the ever frustrating printer setup. All of these accessories can lead to a lot of complexity, but Windows 7 does a good job of making the installation painless, but sometimes we need to take action to make new hardware work.  In this article, we'll take a look at common task associated with installation, updating, and troubleshooting hardware in Windows 7.
Installation
This involves setting up the hardware and preparing it for use. All hardware products require a small piece of software called a driver, which contains a collection of instructions it provides to Windows with the information about how the hardware should be used and configured. In Windows 7, you can install a hardware product in a number of ways, the easiest is by using Devices and Printers located on the Start menu.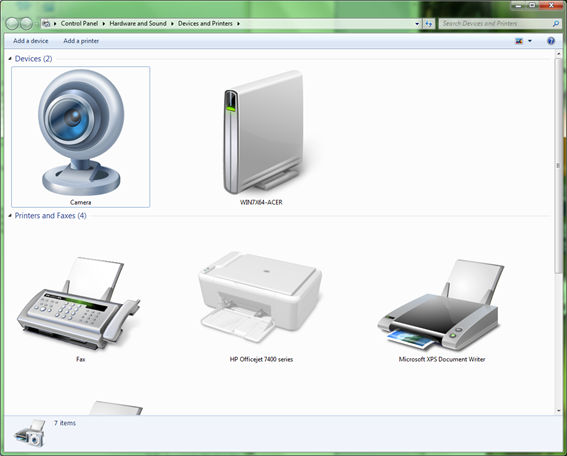 New in Windows 7, Devices and Printers provides a visual collection of all devices installed and connected to your computer, such as Web Cams, your system unit, printers and even your smart phone or mp3 player. If you would like to  install a device, click the Add a device button on the command bar.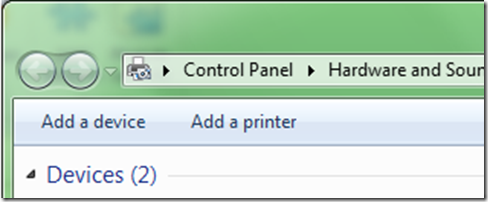 This will start the 'Add a device' wizard. As you can see, I don't have any newly detected devices, which means, if I am installing a printer or a phone, I need to connect the device first, then turn it on.
Some hardware devices only require that you connect the device. From there Windows will automatically find a driver and install it or the device will install the driver.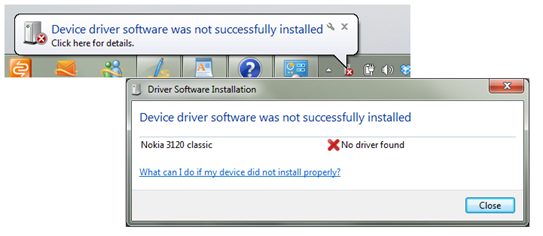 When you receive an error message like the one above, it means Windows does not have a built in driver for the device you are trying to install, or the current driver is not compatible with the version of Windows you are using. To fix this, you need to go to the manufacturer's website and obtain a compatible driver.
Updating drivers
Updating a driver is not necessarily about resolving compatibility issues, updating drivers can also provide enhancements, increased reliability of the device as well as better security. The best place to obtain updated drivers for a device is the manufacturer's website.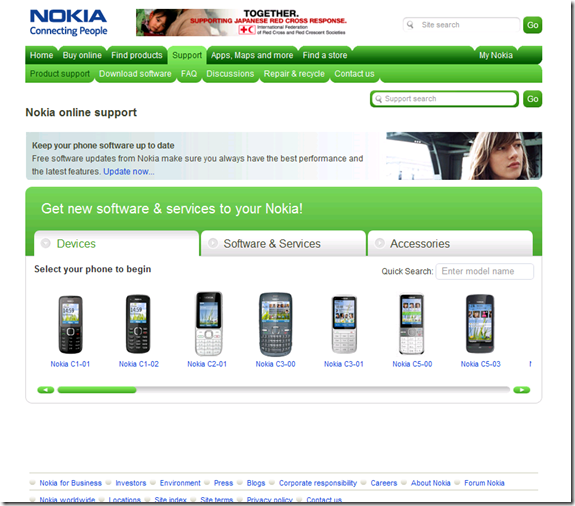 Drivers can normally be found in the Software or Downloads section of a web site. Finding the right drivers means you must first search for the model device you are seeking drivers for. You can start by going to the Support section of the website. For this first example I am looking for driver software for my Nokia 3120 cellular phone.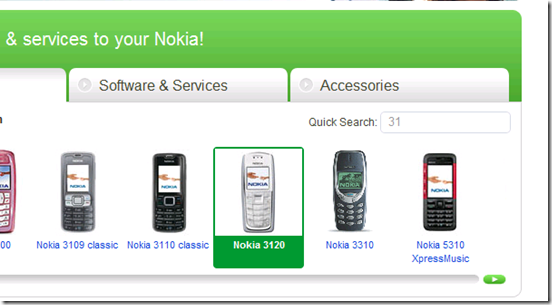 To quickly find the drivers for your device, you can refine results by using the websites Search feature. In the above example, I simply enter the model number which filters to the particular model I am looking for. Once you have found the device you are looking for, click it, this will take you to the applications summary page.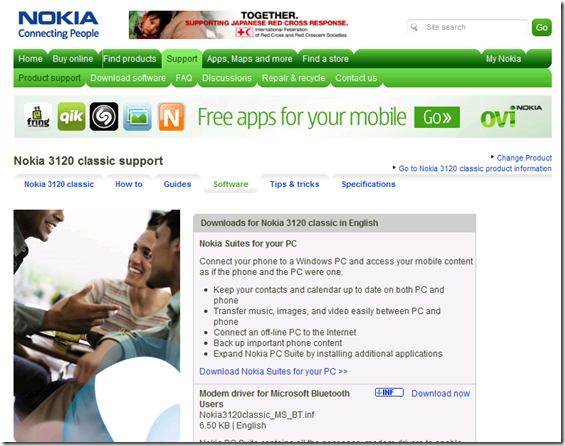 Click the Software link for the device and you should be taken to a page with all available updates and drivers for that device.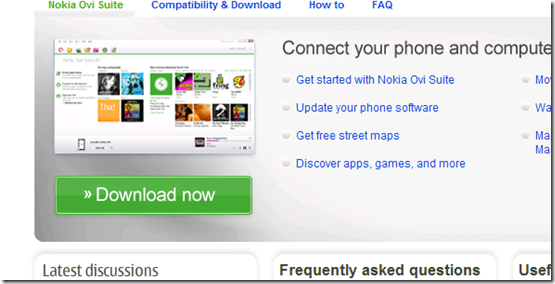 Click the download link and save the driver software to your hard disk.
Updating computer hardware drivers
Lets take a look at updating the drivers for our computer. There are a variety of computer brands and models out there. So, searching for updated drivers might not be the same across manufacturers. Again, you can normally start by looking in the Downloads section of the website. For this example, I am searching for updated drivers for my brother's Dell Inspiron 640 M laptop.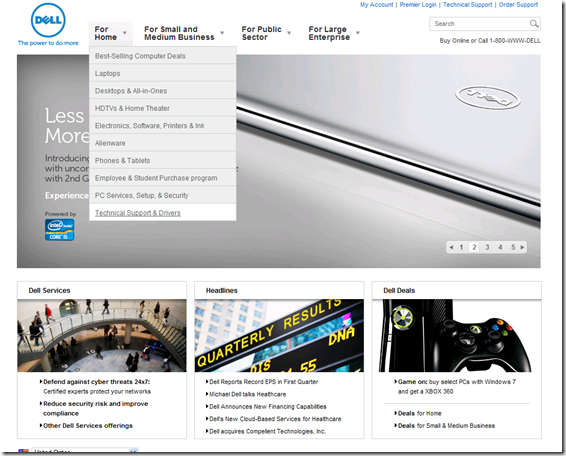 You can start by looking for the Support section of the website. Most manufacturers will make it easy to find by providing a direct link to the drivers and downloads section of their website. Once you have found it, click it.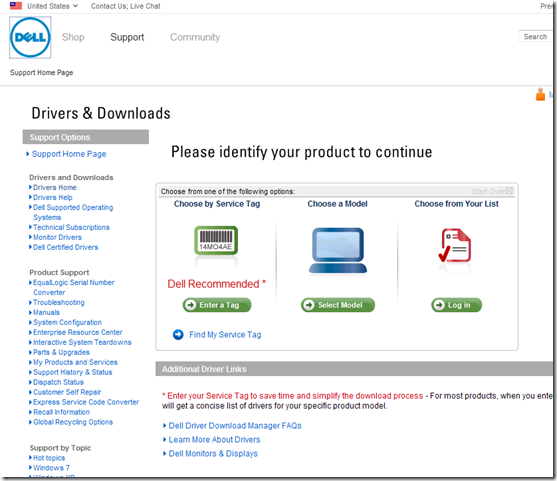 Depending on the manufacturer, the requirement to download drivers for your computer might be a bit different, but the information is often easy to find. For instance Dell uses a combination of methods. You can use the Service Tag found on the bottom of a laptop or at the back of a system unit to go right to the downloads section, enter a serial number or just the model of your machine. You can also find such information in your owner's manual.
For this scenario, I will use the Model number of the machine.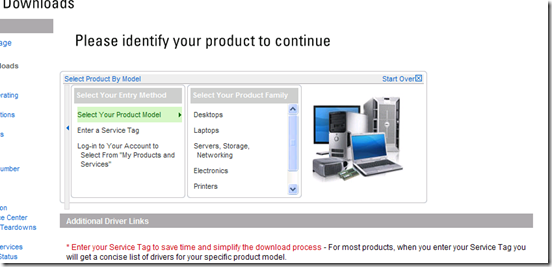 Dell's website uses a bread crumb menu approach to finding the drivers for your system. First, you start by selecting your form factor, this can be either a desktop or laptop.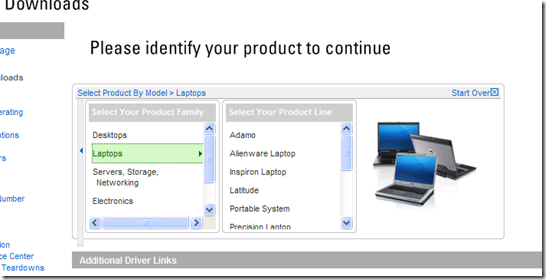 The next step is to select the product line, manufacturers offer a wide variety of choices that target certain markets, whether it's a large enterprise, consumer or small business. In my case, the laptop my brother uses is a Inspiron, so I will select that from the product list.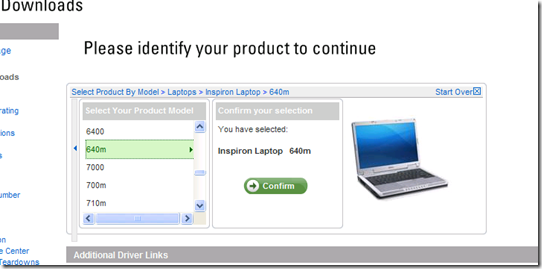 Finally we arrive at the section where we select our model number. The model number can be easily identified with the product line, in my case it's a Inspiron 640m. Once you have found it, click it then click Confirm which will take you to the download section for this particular model.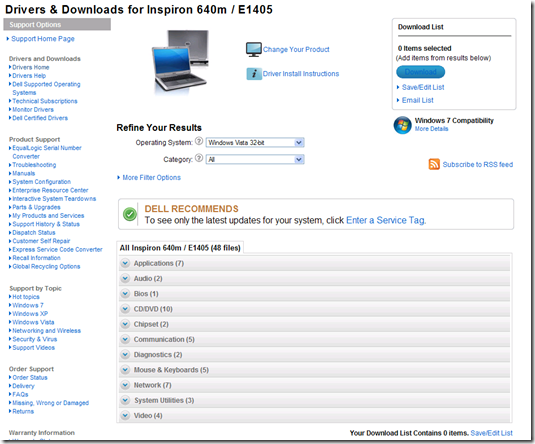 Another step you might be required to accomplish is identifying the installed operating system. This will help to ensure that you download the right drivers for the version of Windows you are running. Sometimes there are no native drivers for the operating system you are running. In the case of this Inspiron laptop, it was manufactured in June of 2006 and originally came preloaded with Windows XP Home, fortunately, it was tagged as Windows Vista capable. Since there are no Windows 7 native drivers, the next best option is to use Windows Vista drivers, they might not be the latest, but Windows Vista and Windows 7 share the same driver model, so they should work just fine.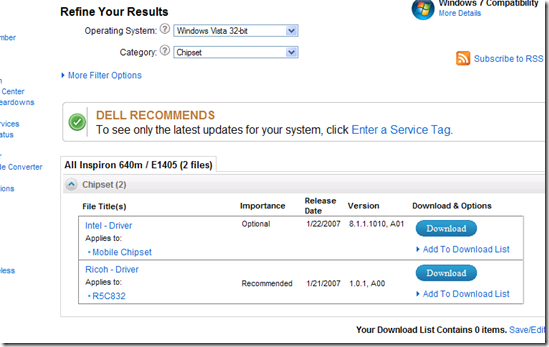 Once you have found the driver you need, click the Download button and save it to your hard disk and proceed to install when complete.
Windows Update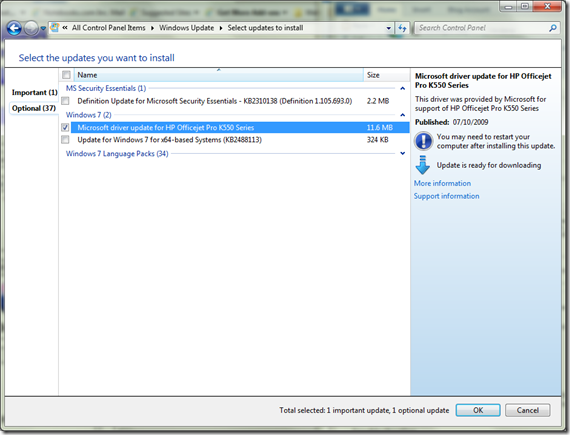 Microsoft also provides driver updates through its Windows Update service, so you can always check there for updates to common hardware devices such as your printer, network adapter, or even your video card. To use Windows Update, click on the Start menu and type Windows Update. rom there you can check for important and optional updates.
Troubleshooting
When you encounter a problem installing a hardware device, it can be attributed to a number of reasons:
Incompatible driver – the driver software does not work with the version of Windows you are running and you need to obtain a new version. Sometimes updates to an operating system can break a driver that was previously compatible with the operating system. The best thing to do is check for the latest driver. If none is available, there is another option, which is not guaranteed but can work in some cases, its called Troubleshoot Compatibility.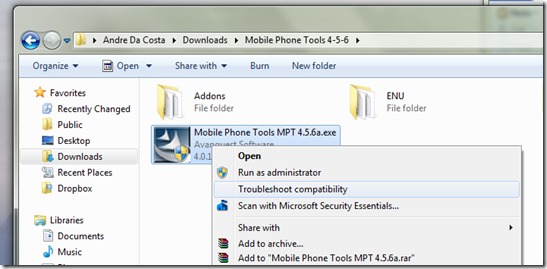 To install a driver using Troubleshoot compatibility, point to where the driver files are located, right click the setup.exe or .msi file and click Troubleshoot compatibility.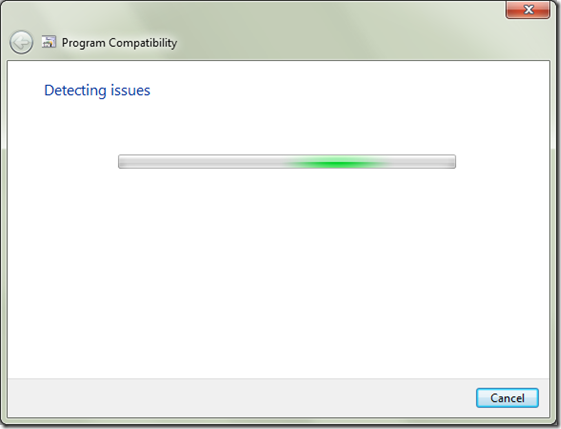 This will start the Program compatibility wizard.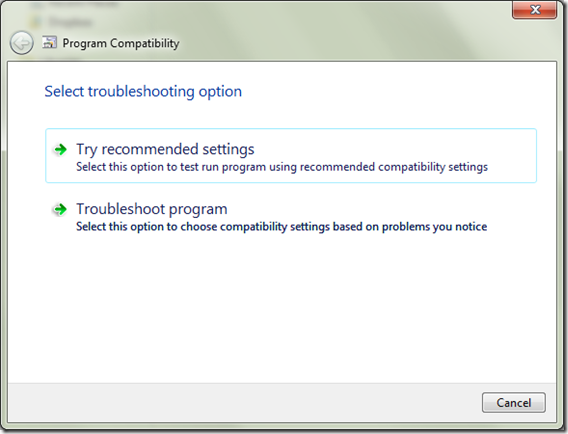 You will be given a couple of choices, the first being Try recommended settings that the operating system thinks will be suitable for this device driver. Or you can manually select the option to troubleshoot the program. For the purposes of this article, I will select Troubleshoot program
If you have determined the program worked in an earlier version of Windows, check that option and click next.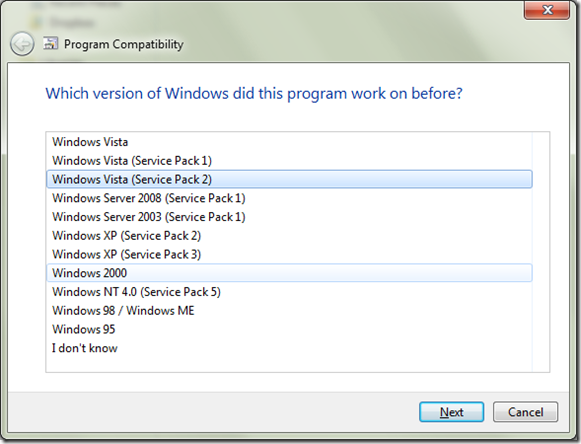 Select the version of Windows the driver worked under then click Next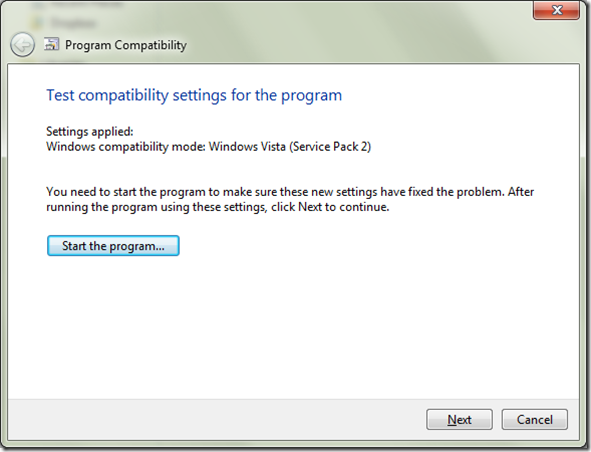 Click Start the program to see if the driver installs
Administrative privileges – drivers interact at a deep level of the operating system called the Kernel, which is the heart of Windows. Accessing this area of the system requires Administrative privileges. Because of changes to how Windows handles certain drivers, certain drivers might not have the right to access the kernel since they have not adopted the new model of writing drivers. Fortunately, Windows 7 includes work arounds for this.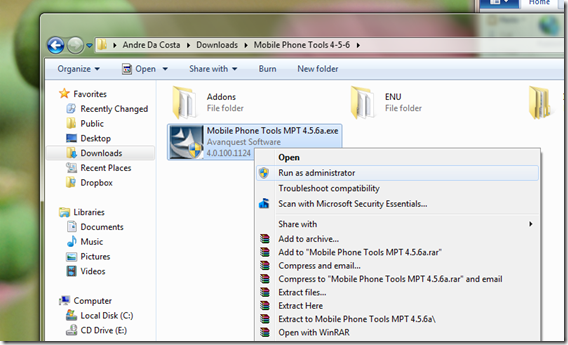 Simply right click the driver setup file or .msi file and click Run as administrator. This will give the software driver all the privileges it needs to install properly so you device can function without any limitations.
The ultimate reality of hardware compatibility is that sometimes, we have to let go. Yes, that HP Deskjet you bought in 1997 is certainly a work horse, but because of advances in operating systems and manufacturers own desire to innovate and offer support options for newer model devices, support for older ones have to be discontinued to reduce the cost which can even be a burden for large hardware and software companies. Microsoft has tried to ease compatibility with Windows 7 by offering these many solutions.
I personally have benefitted from using Windows XP Mode, a free download for customers running Windows 7 Professional or Ultimate edition. With it, I am able to use my HUAWEI modem which has compatibility issues with Windows 7 64 bit, so I am able to surf the Internet and still benefit from the advantages of running Windows 7.
Advertisement