If ever need to repair a problem that might be preventing Windows from starting up, its likely that you will need your Windows 7 installation Disc. The problem is, if your computer came with a Recovery Disc Set, it likely means the only option available is to reinstall the operating system. Another problem is that some new computers don't come with Windows 7 discs at all, or like many others you may have lost your Windows 7 disc.
Thanks to Windows 7, you can use the operating system and a blank CD or DVD to create a System Repair (or what some call a Recovery Disc). Please note, the System Repair Disc is not full Windows, it's just a diagnostics disk you can use to repair startup problems such as your boot manager missing, restore a system image, run a memory diagnostics test or do a system restore. If your computer is having problems and you haven't already created a System Repair Disc, find a friend who has Windows 7 and follow these directions.
The System Repair disc works hand in hand with System Imaging, so if you do lose your Windows 7 installation DVD or your computer came with a recovery disc set or recovery partition, you can do a backup of your Windows 7 Installation and use the System Repair if you need to reinstall Windows 7 in the future. It is recommended you do this when you first install Windows or get a new PC with Windows 7 pre-installed.
Creating the System Repair disc:

Click Start, type: "create repair".

Hit Enter on your keyboard.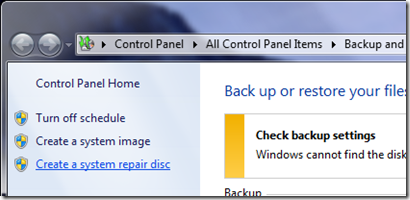 An alternative, you can find the option to create a system repair disc under Backup and Restore in Control Panel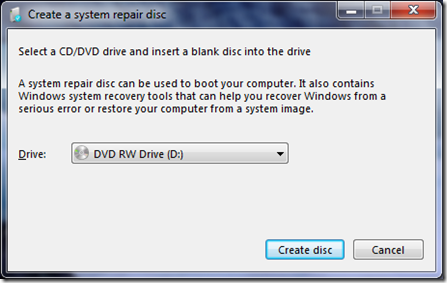 Make sure you have a blank DVD or CD inserted.
Click Create disc.
That's it.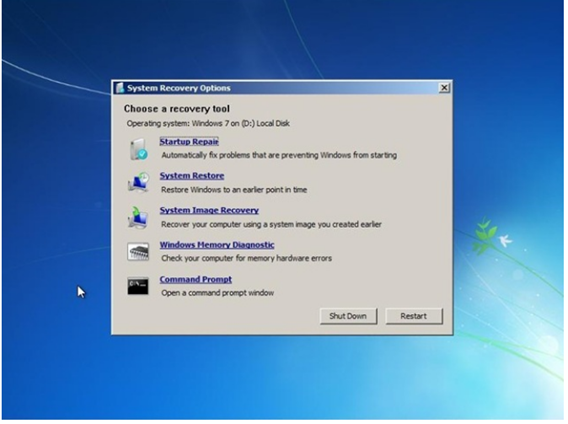 This is what you will see when you boot from the Repair Disc.
Resources
Improved Recovery Options in Windows 7
Advertisement