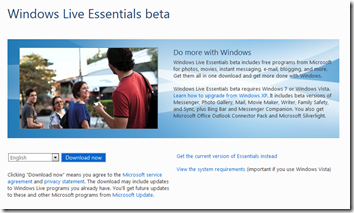 Windows Live Essentials is a collection of tools and utilities designed to increase the "out of the box" usability of Windows. This collection of software includes many programs that were previously included in Windows like a mail client and the photo and video editing tools.  The Windows Live Essentials installation tool allows you to choose which of the numerous tools you want to install so that you don't end up with extra programs you don't need or want.
While most of these tools will not kill their more complex and sometimes more costly competitors, they are useful tools that are also free. So there is no reason not to give them a look. In this new wave" (as MS calls them) of Essentials there are also some new tools, like sync.
Here is what is included:
Photo Gallery: a photo organizer that lets you do minor editing and helps you share photos
Mail: simple email client
Movie Maker: very basic video editing
Messenger: one of the most ubiquitous instant messenger clients with over 330 million active accounts (according to Paul Thurrott)
Writer: create and edit Internet blog posts, like this one
Family Saftey: helps parents keep their kids safe while online with filtering and monitoring of web activity
Bing Bar: an Internet Explorer search toolbar using Bing as the search engine
Messenger Companion: like messenger only integrated into Internet Explorer
Sync: keeps files synchronized across multiple computers and Skydrive making them accessible not only on multiple computers but any Internet connected computer
One of the biggest differences in many of the applications is the new Office style ribbon. So if you hate the ribbon, don't bother. But that's the direction MS is going with most of their applications, so you may just want to get used to it or try third party software.
Another new feature is the inclusion of sharing to social media sites like Facebook and Youtube which is now built into the ribbon bars (see below).



Microsoft also included Sync, a tool to provide syncing not only with your other computers but also your Skydrive space which is the Microsoft's free cloud storage service.
If you are more interested in what each of the programs offer, Microsoft guru Paul Thurrott has a very complete review of the Windows Live Essentials at his Windows SuperSite.
Advertisement