Given the fact that more and more of our communicating is done with a keyboard and that we write more than any other generation, it's no surprise that keyboards are the focus of many of our notebook reviews at Notebooks.com.
We're always asking ourselves. Is it springy? How big is it? Does it feel "right"?
Many times the answers to these questions are disappointing which is what Microsoft aims to address with its new Microsoft Bluetooth Mobile Keyboard 6000.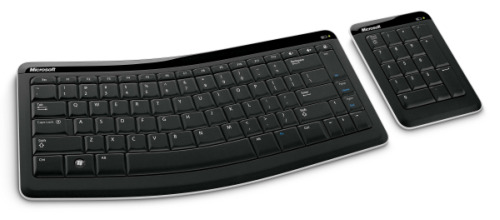 The $89.99 Bluetooth equipped keyboard is a continuation of the comfortable and ergonomic Comfort Curve keyboards from Microsoft and measures, "just a few millimeters thicker than a AAA battery," it's the thinnest keyboard Microsoft has ever made.

The profile shot looks like it'd be a sleek desktop addition to the Dell Adamo XPS that we looked at this week.
One of the reasons that Microsoft is releasing this Bluetooth keyboard is because more than half of notebooks will ship with Bluetooth by the end of 2010 and many times netbook and ultraportable keyboards just don't cut it for lengthy writing sessions. Case in point, I'm using a Microsoft 6000 keyboard hooked up to my netbook to type this post because even with a 92% full keyboard on teh HP Mini 1000 it's a cramped writing experience at times.
Microsoft is also releasing a standalone number pad, pictured above with the keyboard, for $44.95 for the accountants and number crunchers amongst us.
Advertisement