The [amazon_link id="B0036ORN2U" target="_blank" container="" container_class="" ]Scosche MotorMouth II[/amazon_link] is a small accessory, but arguably one of the coolest accessories for your car in a while. The Scosche MotorMouth II plugs into the auxiliary (AUX) jack found on most new cars and practically every aftermarket head unit to turn your car's sound system into a speakerphone and even better, it allows you to stream media like Pandora, MP3's and more over Bluetooth to your car stereo.
What is the Scosche MotorMouth II?
The MotorMouth II gives you two of the nicest features you normally get with Ford SYNC or OnStar, at a fraction of the cost. It is also much cheaper and easier than replacing an entire CD player with one that has Bluetooth. At $50 the MotorMouth II is a steal.
The Scosche MotorMouth II is very small and connects with a 3.5mm headphone jack. If your auxiliary port is not in a good location, you can use the included extension cable to route the port to a better area. This is handy for users who have an aux port located in a glove box or hidden away under the dash. The MotorMouth II runs on battery power and comes with car charger and USB cord that can allow you to charge up at home.
Call Quality
The call quality on the Scosche MotorMouth II was very good on the car side of the conversation, nicer than many other standalone units because it is tied into the car stereo. We could hear our callers just fine, but they occasionally had trouble hearing us depending on the vehicle and the driving condition.
In my daily driver, a 2000 Chevy Cavalier, the person on the other end of numerous calls said I sounded a bit far off while driving down the Interstate at 70 miles an hour. While driving in town the problem was not as pronounced. This is due in part to the large mount of road noise which enters this vehicle on the highway. The conversations were still usable, but I wouldn't want to subject the recipient to a 30 minute chat while cruising down the highway in this car. We're not sure why, but the road noise was more pronounced on the MotorMouth II than on other visor units we have used, though it is likely due to the device's closer proximity to the floor.
In a newer vehicle, the problem was less pronounced. Our recipient could tell that we were on a speakerphone, but didn't complain about road noises. This was encouraging, and you shouldn't take our road noise experience as the standard experience. If you are considering the MotorMouth II, listen to your car the next time you drive. If you hear a lot of road noise, just know that your call recipient may hear some of it as well.
Media Playback
The media playback is one of the biggest reasons we wanted to review the Scosche MotorMouth II. We love to listen to music in our car, but sometimes finding the plug and being tethered to the dash is just plain annoying. Once you pair up your smart phone or other Bluetooth device with the MotorMouth II, you can use it to stream audio from any player or app on your device. We tested this on Android and could play Rhapsody, Pandora, standard MP3's and pretty much everything we wanted to listen too.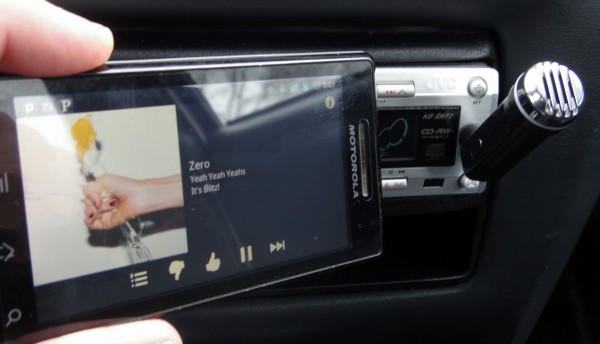 The audio quality was good, but it is Bluetooth, so you may notice a minor degradation in quality over plugging in directly to your car stereo. In our tests, the difference was minor and most pronounced in the low end. Was it enough to ruin the experience? Definitely not. The convenience of being untethered while streaming audio and ability to stream with any app outweighs any minor audio issues. If you are already streaming your music, you likely won't notice any difference using the MotorMouth II.
One nice feature that comes in handy when streaming media from your phone is that when you get a call, the device can pause the music and answer the call like a standard Bluetooth headset.
Ease of Use
The MotorMouth II is fairly simple to use. There is a single button that works for tuning the device on and off, answering or initiating calls and paring your device. There is an LED built into the top of the unit which will flash between blue and red to inform you about things like incoming calls and battery life. The multifunction button is usable, but we wish there was a dedicated on/of switch, especially because the LEDs can be hard to see in very bright sunlight. We eventually got the device turned on each time, but the experience could be better.
One feature we hope to see in future versions is an automatic off when you don't have the MotorMouth II attached to a stereo. There were a few times we couldn't figure out why we couldn't hear the caller on our phone, but then we realized the phone was still connected to the MotorMouth II in our book bag.
Conclusion
The Scosche MotorMouth II is an affordable and incredibly useful Bluetooth accessory that delivers some of the most requested features from expensive n car navigation and entertainments systems in a small package. We really like the ability to take these features from car to car and to use the MotorMouth II with any bluetooth device.
Bottom Line: While the Scosche MotorMouth II is not perfect, at $50 it's a great way to add Bluetooth speakerphone and media streaming to any vehicle with an auxiliary jack.
Pros:
Affordable
Portable
Works with numerous devices
Good audio quality
Cons:
Susceptible to road noise
On/Off could use a dedicated switch or brighter LEDs
Scosche MotorMouth II Gallery
Scosche MotorMouth II Demo Video
Advertisement