The Scosche Universal Dash Mount will hold your mobile phone or a GPS device in place so long as it is not too big and has a smooth plastic, metal or glass back — or a case with a smooth back. The mount doesn't take up much room in your car, making it a nice solution for most anyone looking for something to keep their mobile electronics in place on the road.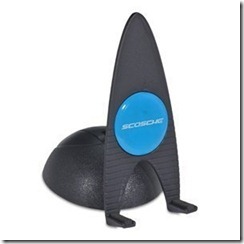 One of the problems with getting a car mount for your automobile is the ones that do a really great job of holding the device in place are often designed specifically for one device. But what if you want to put your device in a case and don't want to remove it from the case every time you place it in the holder? Or what if you have more than one person driving the vehicle with different devices? Or what if you get a new device to replace an old one and don't want to have to buy a new holder each time?
All of these problems can be solved with a universal dash mount. The only problem is they are not designed specifically for the device and may not do as good a job at holding it in place when you take a sharp corner or have to accelerate quickly to avoid an accident. This is a universal problem with universal mounts.
Scosche has a solution that is doing a good job of solving these problems in our Honda Pilot. It is the Universal Dash Mount and it uses both a sticky surface, some suction, and a small pair of holding legs to do the job. I shot some video to demonstrate how nicely it works.
The best thing about the Universal Dash Mount is that it works with many devices. My wife uses an iPhone 3GS and I have the iPhone 4. We also occasionally let my oldest son put his iPod Touch on it as we listen to his music. They are similar sizes, but I am sure it would hold any other smart phone or MP3 device and small GPS devices as well.
The iPhone is easy to move from portrait to landscape mode in the Scosche Dash Mount, and since it doesn't actually grab the phone it is fairly easy to put it in and take it out of the holder.
The suction that holds it to the dash has the same sticky surface that I demonstrated in the video which holds the phone in place. It also uses suction. Combining the two methods makes it secure. The only time it fell off was after a month's use and on a very hot day when my car thermometer read 104 degrees in the sun.
The mount is not perfect. It does lose its sticky. The solution is to moisten a lint free cloth and wipe any dust or lint build-up off the sticky disk on the holder. The same can be done if the suction falls off the dash. My concern is that I didn't have to do this for the first two weeks, but in the last two weeks I have had to do it more often. Also, if you don't press hard it can fall off during acceleration or on turns.
Finally, I was not able to use the Speck Pixelskin HD iPhone case with the Scosche holder because the back of the case was not smooth. If your device, or the case you keep it in doesn't have a smooth surface, then it won't stick. The case or device should be plastic, glass, or metal since rubber or other textured surfaces won't stick.
I got Scosche Universal Dash Mount for around $20 at Staples, but you can find it cheaper online. For example Amazon has it for $14.99. Also there is now an updated version of the mount called the dashDOCK Universal Dash Mount and it retails for $24.99.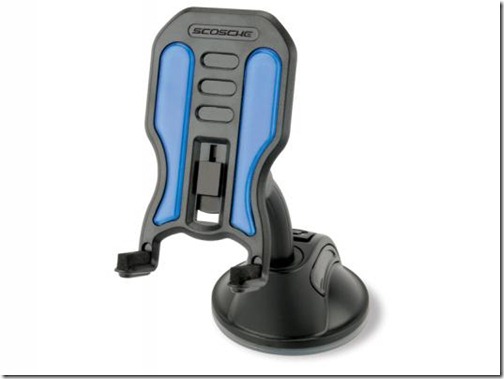 Advertisement