Griffin has confirmed that it is shipping a new peripheral for the iPad and iPhone called the Griffin PartyDock.
Partiers can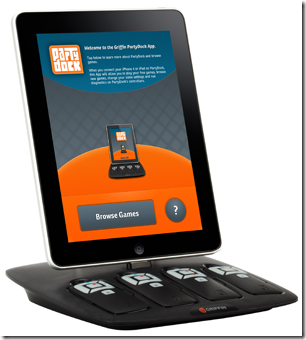 plug their iPad or iPhone into the dock and gain access to up to four remotes which allow players to compete in specially designed games using just the one iOS device. Griffin will ship the PartyDock with three mini-games" and one regular game. Other games will be incompatible unless developers design their games to work with the PartyDock. The games Griffin imagines people will want to play will be casual or family games. One could image something like the Family Feud HD for the iPad taking advantage of the system.
Along with game play, the dock will export video or photo/sideshows from the iPad via composite or component video cables. There is no word on the resolution of video output, but it will be some form of HD 720p or 1080p. The dock will also work with audio, so users could hook it up to a stereo for some party tunes.
The dock will charge your iOS device too.
Advertisement