Going after the Blackberry crowd or iPhone users who wish they had a physical keyboard like a Blackberry, ThinkGeek.com released an interesting case that has a flip out keyboard.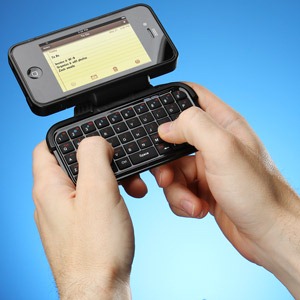 The TK-421 iPhone Case with Flip Out Keyboard is for the iPhone 3GS or iPhone 4. It has a QWERTY thumb-board on the inside of the back cover that allows the iPhone to swivel out (see the video below). When the user is finished it can be hidden behind the phone case. The keyboard connects via Bluetooth, something now possible thanks to the update to iPhone 4.1 earlier this year. The keyboard has a built in rechargeable battery that gets power from the included USB cable.
When not in use the keyboard is held in place behind the phone by magnetic clasps.
At the end of the above video, the keyboard itself is finally demonstrated and it sounds very "clicky" and even looks like the user had to strain a little to press the keys. That could be video and sound effects. But it will be interesting to see if this keyboard can actually improve the user's typing without destroying battery life — or thumbs.
The case can be purchased for $49.95 at ThinkGeek.com.
Advertisement