Designers Szymon Weglarski and Jon Dorfman created the Antenn-aid, following Apple's iPhone 4 Press Conference last week. The Antenn-aid aims to fix the iPhone 4 reception issue by covering up the problem area.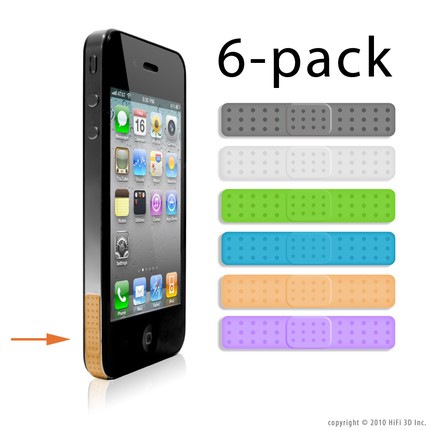 At Apple's Press Conference last week, Steve Jobs announced that Apple acknowledges the reception problem and will be offering free iPhone 4 cases, such as the Apple iPhone 4 Bumper. However, for those who don't want to cover their entire phone, two Brooklyn designers created the Antenn-aid. One of the designers, Szymon Weglarski stated,
It's a lot of satire, it's kind of a gag product, it's poking fun at the whole idea of how overblown the whole antenna solution has been."
The Antenn-aid fixes Apple's "boo-boo" when it is placed over the antenna gap on the lower left side of the phone. The nonconductive sticker fits the iPhone 4 perfectly, keeping your skin from coming in direct contact with the antenna.
Available in six different colors, the custom vinyl Antenn-aid runs at $4.99 for a pack of six, or $99 for a bulk order of 30 six-packs. The Antenn-aid is available here.
Via New York Times
Advertisement