With the release of Microsoft Office 2010, Microsoft provides new ways to obtain its popular productivity suite. I recently purchased a Product Key Card for Microsoft Office 2010 Professional, this is one of the new ways you can purchase Office. Its similar in some ways to the Windows Anytime Upgrade card that allows you to upgrade your existing edition of Windows 7 to a higher edition.
Microsoft has worked with computer manufacturers to bundle an introductory edition called Office Starter with new PC's. This edition includes limited capabilities for editing and viewing documents with online ads. Sophisticated features such as Macros are not available in Office Starter 2010, but it provides users with a set of basic tools. In essence, it is pretty much a replacement for Microsoft Works but provides that consistent Office experience users love. If you would like to step up to a more full featured edition of Office, this is where Product Key Cards come in.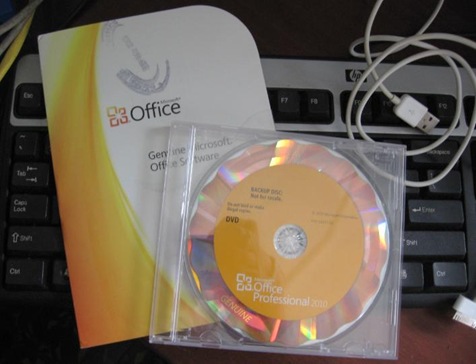 Microsoft Office 2010 Backup DVD
The difference with Product Key Cards is that you can actually do full version installs with them; there's no need to have a previous edition of Office installed. Product Key Cards are designed primarily to install an additional license if needed or upgrade Office 2010 editions to higher edition with more applications and capabilities. So, if you bought a license for Microsoft Office 2010 Professional and you have an extra PC you would like to install it on, just purchase the key card.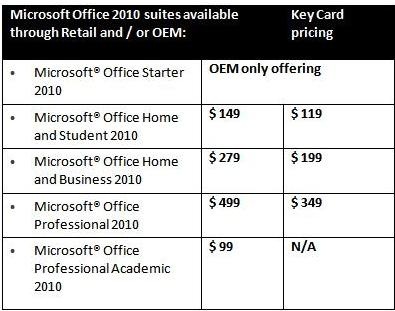 Various prices for Microsoft Office retail box and product key cards.
Users should note, that the key card is only intended for one installation only. The retail box package permits two installations. If you buy a key card, the next step would be to install the software, but first you must obtain it, you can either download the software for those with a speedy connection or order a Microsoft Office disk which is what I will be doing in this tutorial. I am on a slow connection, so couldn't bother with downloading and I like having a physical copy of the genuine software.
Go to https://www.office.com/backup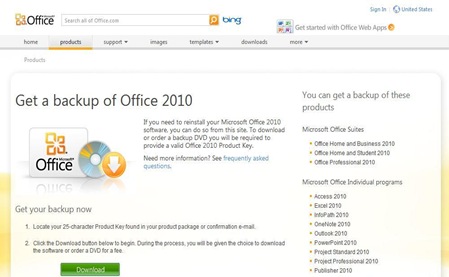 Once you have reached the website, click the Download button, after the next page has loaded, enter the 25-character Product Key that came with your qualifying Office 2010 purchase.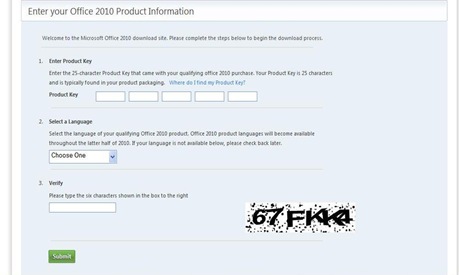 If you purchased the software online, your 25-character Product key can be found on your account page or in your confirmation email. If you purchased the software from an authorized reseller of Microsoft Office software, please reference your original packaging for the Product Key.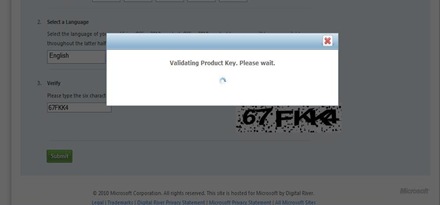 After Entering your product key, select your language and enter the security verification then click submit. Your product key will then be validated to determine if you are eligible to acquire the backup DVD. Please note, trial product keys do not work with this option.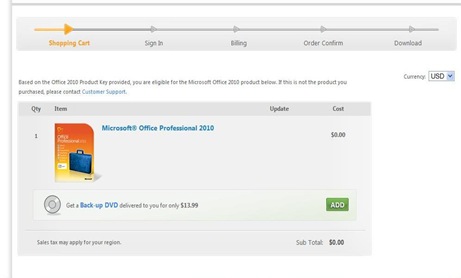 Next is a 5 step order process which includes the option to download or order the Back-up DVD. After clicking the green ADD button on the Shopping page, you are then taken to a confirmation page: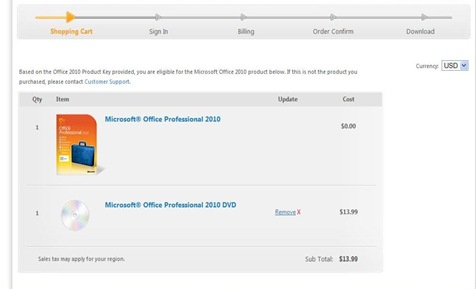 The Backup DVD cost US $14.00. If you think this option is too much, you can back out at this point and choose the digital download option instead. For those who prefer having a physical DVD, you can go ahead and click Continue. After completing the transaction such as entering credit card information and email address, a confirmation email will be sent to you.
Delivery time will vary depending on your location, I ordered from Jamaica in the West Indies, it took about 3 weeks to get here. Long, especially if you need to install Office right away. In my case, I found it more convenient to purchase the physical DVD. If you live in a rural area or have limited Internet access, it's very handy.
Resources:
Product Key Card Frequently Asked Questions
If you have purchased Office 2010 and getting invalid product key error refer the KB
Purchase Microsoft Office 2010
Advertisement