Apple launched an updated version of their iWork suite of office app on OSX 10.9 Mavericks this week. Apple announced the iWork update at the October 22 event as part of a new multi-platform approach that includes sharing of files between Macs, iOS devices and in the Cloud via their iCloud site.
The update primary brings a new user interface to Pages, Numbers and Keynote. It looks more modern and flat, like the iOS 7 update. The Inspector now gets integrated into the editing window and houses the Styles part that used to fly out to the left and off-screen when users maximized an app's window.
The toolbar no longer allows for editing and placing different icons like the earlier versions. They also took out some keyboard shortcuts in the Styles interface. A user could assign a keyboard shortcut to a style to quickly add it to text in a Pages document. That's now gone.
All three of the apps come with most of the same Template. Now we get some new design templates that look up to date and attractive.
The apps come free with all new machines. People who purchased them will get updates, but those who didn't must still pay $20/app or buy a new Mac.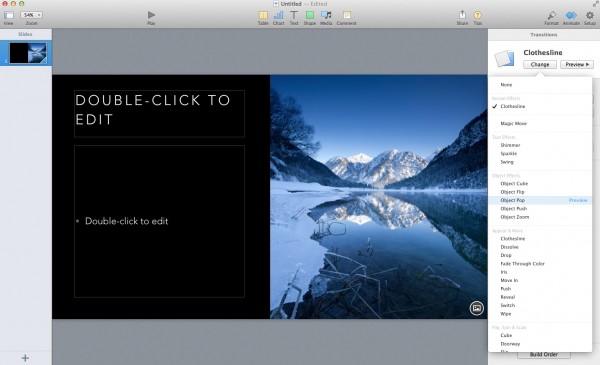 The collaboration features is easy to use. Create a file and then share it using one of a number of methods. Users can share a link by saving the file to iCloud and sending it as an email message, message in Messages, via Facebook message or a Tweet.
When the recipient opens the link, an iCloud page will open to the file. They don't have to have an iCloud account to view it. If they do have an account, they can work in the file with the original user in real-time. It's cool to watch as the other person edits or changes the document.
The iCloud versions look a lot like the OSX versions except they don't yet have the new program icons. Most of the features work because they simplified the OSX versions instead of making the web versions more powerful. For most average users that's not an issue. Power users may struggle with the updated or online versions.
Advertisement