Apple announced that it will hold an unprecedented press conference Friday, July 16 at 1:00 PM Eastern, 11:00 Pacific. The purpose of the conference is not officially known, but most speculate that it will be about the iPhone 4 antenna fiasco. I believe that is true. But also, Consumer Reports, the folks who previously announced that they were not recommending consumers purchase Apple's new phone, said that the fix for the antenna issue is Apple's Bumper case, according to MacObserver (via TUAW).
Consumer reports test Apple Bumper case
The takeaway line is Bottom line: the Bumper works. But we don't think you should have to pay to solve Apple's problem."
The review from Consumer Reports did a number of Apple's stock price. And now the same organization says the Bumper works but should not cost anything. For those reasons, I predict Apple will announce that they are going to either give a free Bumper to every customer or give credit towards a case in the Apple store for every customer. The first solution is the cheapest for Apple. For that reason I think it is more likely. However, if Apple really wants to show some good will, they will offer store credit for the amount of the Bumper, which is $29. That way  users can buy whichever case they prefer, since people like me are not fans of the Bumper.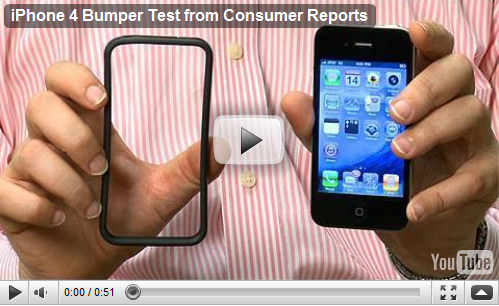 Steve Cheney, in a guest editorial for  TechCrunch has what I believe is the best solution for Apple. He said that Apple first must fix the problem at the manufacturing level so that no more bad iPhones ship. He also said that Apple should disclose fully that they messed up and promise to fix it as soon as possible. The fix should be a voluntary recall after they fix things at the factory. Apple could then announce a date saying customers may exchange their phones if they wish for up to 3 months.
Advertisement