Apple is releasing their flagship video editing tool Final Cut Pro X in the Mac App Store for $299. This is a total rewrite of the professional video editing tool, adding interesting new features and making Final Cut Pro more consumer friendly. Even with the new consumer friendly focus, Final Cut Pro X is still going to be overkill for the average user which is a shame since it looks like it will replace Final Cut Express.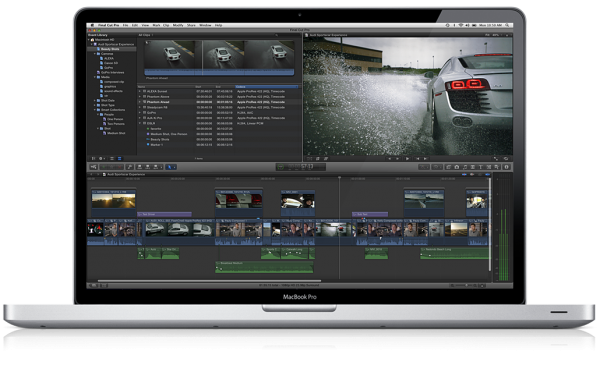 Some of the biggest improvements available include 64-bit architecture,sound editing and color enhancement tools. The 64-bit architecture allows users to harness the power of new hardware during content creation. The sound and color tools used to be separate applications, but are now included, adding to the value of Final Cut Pro X, especially when compared the the entire whole suite that costs $1000.
Other Final Cut Studio Apps Now Sold Separately
Two other apps that were in the former suite are being sold separately as well – Motion 5 and Compressor which are each $49.99. Motion is designed to help you create animations, professional looking titles and other things to add that professional look to your videos. Compressor is a post processing tool that lets you export videos into a various formats or codecs so your video can be played in different environments. When added to the cost of Final Cut Pro X, these various tools still are $600 less than the cost of Final Cut Studio. They also are sold in the Mac App Store, so you can download them to any of your Macs that use the same Apple account.
New Timeline Features
The new timeline is what Apple calls a "magnetic timeline" and it allows you to put two clips into the new timeline and they will snap together to easily eliminate blanks space between the clips. The new "clip connections" feature will keep your clip, sound, titles and other elements together when you move them around the timeline.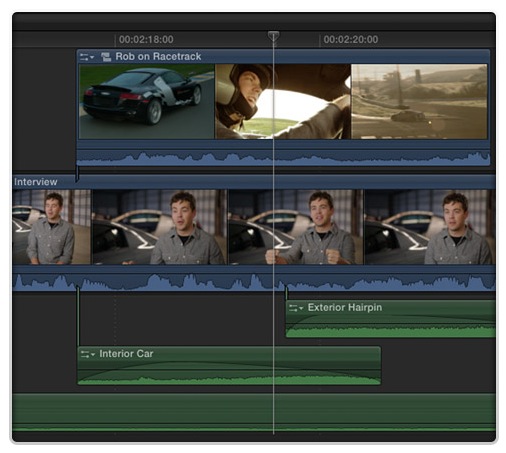 Editing is Faster
The import tool is enhanced with automatic background rendering. Rendering helps you make a segment of video editable in the program in real-time so that you don't have to wait for it be rendered. This speeds up video editing. Normally you have to "optimize" or render the video before you can do certain things, like add a slow motion effect. With this improvement the rendering happens in the background so that you won't spend as much time waiting to add effects.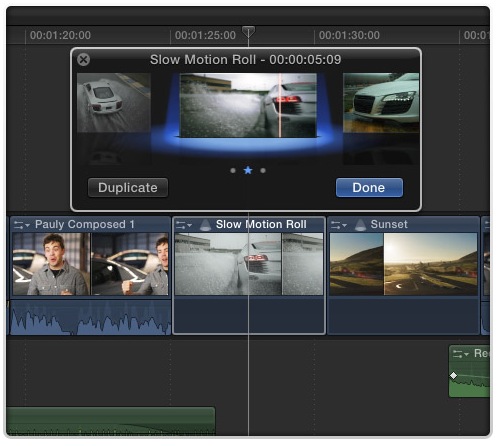 The Auditions feature lets you put several possible clips into a single spot and see how your video would look with each clip in place. It is a fast way to test multiple edits in a single spot.
Organizing media is also enhanced with Smart Collections which let you search using metadata and then group the results for future use. The program will also analyze your media and you can create Smart Collections automatically with Auto-analysis.
Should the Average User Get Final Cut Pro X?
Even though Final Cut Pro X is much cheaper than its predecessor, should you drop $300 on this package?
That depends on your needs. Final Cut Pro X is not a simple program to use. There is a steep learning curve and if you don't have the patience for learning a complex tool like this, stick with an app like iMovie. If you don't think you will ever need all the powerful new features, then also stick with iMovie. Most people just want to splice together some clips of video, add music or narration and put simple titles on the clips. If that is you, don't get this app.
Final Cut Pro X is for people with very powerful needs (or those who just like to blow money on stuff they don't need). If you find yourself bristling at the limitations of iMovie, then Final Cut Pro X is a powerful option, but unless you are a prosumer, you probably won't need the power of Final Cut Pro X.
We hoped that a new cheaper Final Cut Express would show up with some of the new Final Cut Pro X features, but so far there is no sign of a Final Cut Express app. Final Cut Express is an intermediate level video editor which provides a step up from iMovie without all the power and the high price of Final Cut Pro.
Unfortunately, the link to Final Cut Express at Apple (https://www.apple.com/finalcutexpress) sends you to the Final Cut Pro X page, which is a sign that Apple sees the cheaper Final Cut Pro X as a replacement for the mid-level movie editor.
Advertisement