MacBook Air owners will want to take a look at the new WaterField Designs City Slicker super thin MacBook Air case. It gives you three layers of protection in a form-fitting case that looks great and feels light.
Just don't plan to carry much else with you, despite the many pockets a design flaw limits the usefulness of this otherwise great case.
Pros

Looks great
High quality material
Lots of protection
Lots of options to choose from

Cons

Can't snap the flap with accessories
Very expensive for sleeve case
WaterField Designs makes beautiful cases and the City Slicker measures up to the reputation in terms of looks and build quality. It comes in one of four leather colors – black, camel, chocolate and grizzly. I got to play with the chocolate City Slicker. The distressed leather flap looks like something out of an old western, which makes me wonder why they chose the moniker City Slicker. I really like the case's look.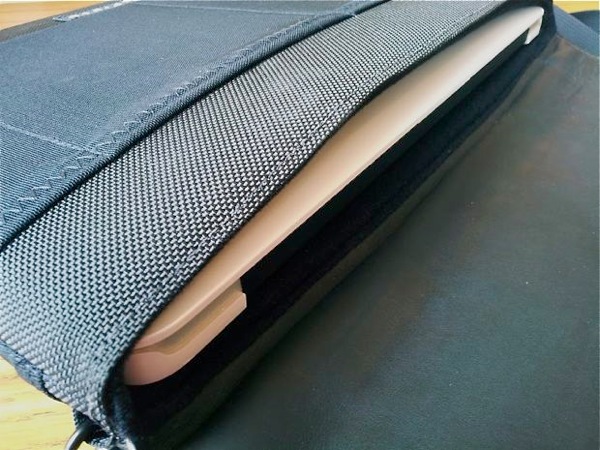 The rest of the case covers your 11 or 13 inch MacBook Air in WaterField Designs' specially made ballistic nylon material. The four designs each come with black nylon and a colored flap. They normally make these with careful attention to detail. The hidden stitching along the edges won't fall apart if this case matches the quality of the earlier cases I've tested.
On top of the flap you can opt for a leather handle that matches the color of the flap. You can also add rings to attach shoulder strap or go without them to use it like a sleeve case. I prefer the rings and I attached the more comfortable padded suspension strap, which costs a little more, but feels better when you carry your computer for a long time.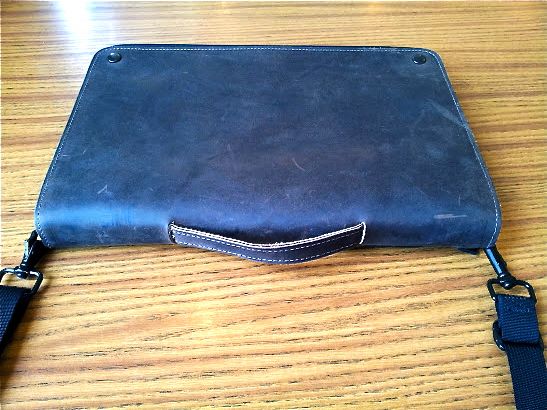 I know my above description sounds like I really like this case. That's because there's just one flaw that so detracts from the other great attributes that it makes me hesitate in recommending the City Slicker.
The flap snaps over four accessory pockets. Looking at the images on their website, you expect to fit an Apple Magic Mouse, an iPhone and some pens or cables in the pockets. I don't know if they accidentally put the snaps on my case too low, but with accessories in the pockets I had a terrible time getting the flap to snap. That's a big problem. There's no way I can fit all stuff you see in the picture above from their site. Move those snaps up an inch and it will snap no problem. It makes the pockets nearly useless unless you only carry paper or really thin items.
On the opposite side you get a large mesh pocket designed for storing magazines or a tablet. My iPad fits perfectly in this pocket. That's where I carried all of my accessories. Unfortunately, the porous outer pocket won't protect your mouse or charger from rain.
The City Slicker covers your MacBook with three internal layers. A layer of impact resistant plastic gets covered by neoprene and a padded liner all inside the ballistic nylon. Add the leather flap on one side and you get a little more protection.
WaterField Designs offers plenty of options. Aside from the colors you can go with or without the rings to hold a strap ($5 option). You also get to pick between a cheaper strap without padding ($12 with rings) or the padded suspension strap ($22 with rings).
The smaller 11″ MacBook Air Case starts at $129 and the 13″ case adds $10. If you want a handle like mine, then add another $10. As configured my case would normally cost $171. That's a lot of money for a computer sleeve case. That's all the City Slicker is since you can't carry very much in the internal pockets.
If you really want a great sleeve case for your MacBook Air or MacBook Pro I can highly recommend the SleeveCase from WaterField Designs. It starts at only $49 and with options like the  City Slicker and including an add-on pouch for accessories, the SleeveCase only costs $121 and will last forever. You can get one customized for any notebook you own, not just the MacBook Air.
Advertisement