We previously reported the suicides and terrible conditions at the Chinese Foxconn factory which supplies Apple, Dell and HP with a lot of their products. Since then the number of suicide attempts has risen with 3 more this week bringing the total number to 13 jumpers and 10 deaths. One of those attempts came after a Foxconn media tour and the three company's statements.
For whatever reason employees are leaping off buildings at Foxconn to their deaths. There have been reports of excessively long hours, many weeks without vacations or days off, and high pressure to perform. I called on Apple to do something about it in my previous post. Now they have.
After Foxconn CEO Guo Tai-ming invited reporters to see the factory for themselves, Apple, Dell and HP released statements with a cover your backside" tone.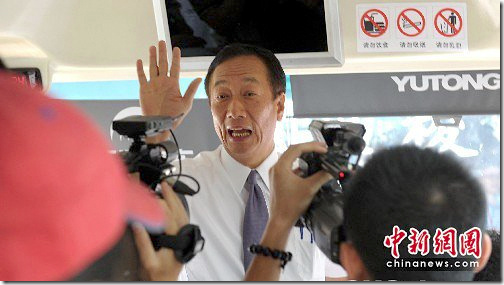 Apple is apparently saddened and upset by the recent suicides at Foxconn…" They are speaking with the folks at the factory and …believe they are taking this matter very seriously."
Dell said they want their partners …to employ the same high standards we do in our own facilities."
HP is looking into the situation to see if the =factory is responsible for whatever lead to …these tragic events."
A translation of a statement from Tai-ming said that they hope all of their employees will be happy. That won't change going forward. They have supplied counselors and trained other employees to help deal with the problems. They are also organizing suicide prevention measures.
The video below is a report from ITN News saying that Foxconn admits to not doing enough to prevent the suicides.
We all hope that this will be enough. But I am not convinced. Apple, Dell, HP and any other company that works with Foxconn should put a lot of pressure on the managers of the factory to improve conditions immediately. Apple is now teeter-tottering with Microsoft to be the second most valuable company in the US behind Exxon Mobile. Again, I believe they need to put their money behind their statement. HP is the largest notebook supplier in the world right now. Together with Dell they should take action but not pull their business from Foxconn. That would make things worse for the stressed out workers. If having a terrible job is bad enough, wouldn't having no job be worse for the rest of the workers? No, they need to find ways to help Foxconn improve conditions. After all these are jobs that would have once been done in the US for much more money. The cost of cheap goods is cheap labor, possibly leading to situations like the one Foxconn now faces.
CNet is reporting that the three companies are investigating the situation individually. What would it say about the problems if these rivals would join together to help this situation?
Quotes from M.I.C. Gadget translation.
Advertisement