With the release of iOS 4.2 on Monday, there are a lot of new features included, mostly for the Apple iPad. In this series we will highlight a new feature each post and explain how to use it and in some cases how it will change your daily use of the iPad.
Find My iPad: What Is It?
If you lose your iPad or someone takes it, a new feature that was previously only available to paid Mobile Me subscribers, is Find My iPad. It also works with the iPhone or iPod Touch. It will track your device using either the built-in GPS receiver (on the iPhone or 3G iPads) or by locating it using Wi-Fi signals that have been nearby. It is the same feature that makes the iPad useful in the Maps app. It finds the the phone and shows you on a map where it is. That way you can either go get it or alert authorities if it stolen.
The service will also allow you to take a number of security measures. First, it will make a sound so you can find it if you think you've simply lost it at home, work or in another location where you are close by. Alternatively it will display a message informing potential finders of your phone number asking them to call if found. It will let you set a passcode to lock the iPad. And if the worst case scenario happens you can also wipe the device remotely if you believe it is in the hands of someone who is not trusted with your data.
Find My iPad: How Do I Use It?
The way the service works, you have to configure it using Mobile Me. Download the Find My Phone app and then log in. You also have to turn it on in Settings.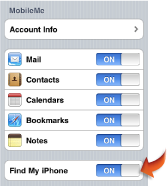 Open Settings and tap on General. Make sure that the Location Services is turned on. Now go back to the main Settings screen and tap on Mail, Contacts, Calendards. Tap on Fetch New Data and ensure that it is set to On.
Now tap on your Mobile Me account or add it if you haven't already by following the direction on that linked page. At the bottom make sure that Find My iPad (or Phone/iPod Touch) is On.
In the event that your iPad, phone or iPod Touch are lost or stolen, you will now be able to log into the Mobile Me account you set up and find it on the map.
Advertisement