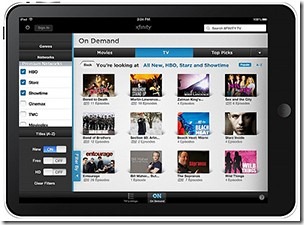 Comcast Cable is allowing customers with iPads to control their Cable boxes with the Apple tablet, according to TUAW. The cable TV provider's app lets users browse the listings of their TV cable service as well as the Comcast On Demand library of movies. It also allows viewers to find shows based on genre, channel, and even SD v. HD content.
The best part of the app, says the TUAW writer who tried it out, is the fact that it has a keyboard for quick entry of titles and other search items. Instead of selecting text with a remote, which is very painful, users can use the iPad keyboard to quickly find what tehy're looking for.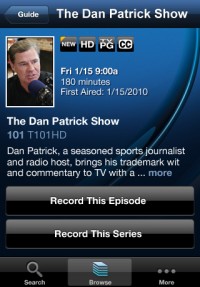 DirecTV customers have long been able to to add a recording to their DVR box using an iOS app. We've found this function so helpful on the DirecTV app and Comcast users will likely find it as useful.
The app cannot stream content from the service or the user's DVR, but Comcast apparently has plans to add that feature in a future update. Let's hope other TV service providers will follow suit.
Unfortunately, the reviews of this app in Apple's app store are not very positive. Of the 659 reviews at the time this is being written, more than a third are one star reviews and half are three stars or less. One reviewer wrote, "Lost myDVR as soon as I installed the 2.5 update."
Advertisement