Today, at the Apple press event, Steve Jobs unveiled the new Game Center for iDevices.
Game Center is a network that helps players interact with one another centered around their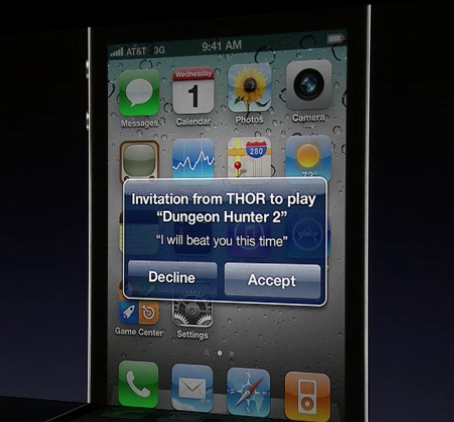 gaming experiences. It will allow players to challenge their friends to a match from within Game Center games. When a person sends an invitation to a game the potential opponent will receive a pop-up notification that can be accepted or rejected.
Once a game is joined the two players can play the same game on their own device while the other person is playing with theirs. This has always be possible but only within a single game. Now this is done through the network which will help developers include this functionality in their games easily.
During the announcement a new action role-playing game was demoed called Project Sword from Epic Games, which will come out later this year. The demo looked fun and when the game developer from Chair Entertainment destroyed Epic president Mike Capps he bemoaned, "This is what you get when you take a designer on with his own game."
Other new features in Game Center will be the ability to post scores so that a player can brag about their incredibly high score or compare how good a player the person is with others. Users who don't know anyone with the game will be able to find an opponent via the Game Center network.
Game Center will part of the new iOS 4.1 update coming next week to the iPhone and iPod Touch. It will be included in version 4.2 which is the only version available on the iPad. It won't come till November.
Advertisement