For people who love to listen to books, there is a pretty good deal available from Amazon and Audible. New customers who sign up for Audible and promise to remain a monthly subscriber for 24 months can get a $100 coupon code for use on Amazon products that can be used to listen to the Audible books.
This deal has been around for many years, and now that Apple has released their 4th generation iPod Touch, new iPod Nano or Classic, this might be a good time take them up on the offer again, either for yourself or someone on your holiday gift list.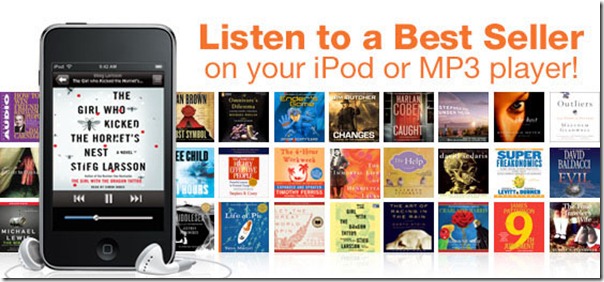 The first step is to sign up for an account from Audible. Monthly plans start at $14.95 for 1 credit a month. This is called the Gold plan. The Platinum plan is for 2 credits and costs $22.95/month. For a limited time new customers can sign up for the Gold plan at $7.95 for the first three months. If you want to pay for a year at a time, it will cost $149.50 for the Gold plan and $229.50 for the Platinum plan. That amounts to a savings of about $2 per credit. And with the yearly plans you don't have to wait for a new credit each month. You can use up all 12 or 24 right away. A credit usually equals one book, although some very long books a valued at 2 credits. Credits can be rolled over so you can download one of the 2 credit books if you don't use your credit in one month saving it till you have two the next month. The maximum credits allowed to roll over at a time for monthly plans is six.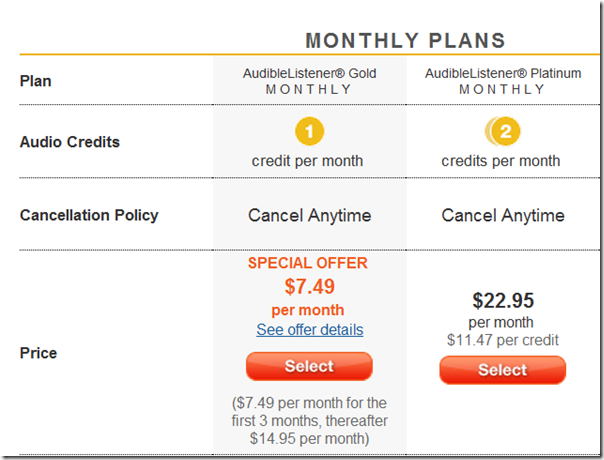 After signing up for the plan, an email confirmations will be sent with the code. When you select your device and check out insert the code and $100 will be taken off the price.
The real question is what can you buy with the code. Despite the fact that they are capable of playing audible books, the Kindle is not a valid choice. However, most iPods with the exclusion of the iPhone are. A 32GB iPod  Touch, which normally costs $299 and is on sale for $269 at Amazon, would then be $169. Also included are MP3 players from Sansa and the Microsoft Zune. Other devices are GPS devices, speakers like this one from Bose or this one from Sony or Logitech. Heaphones are included as well. There are also digital cameras like the Flip UlstraHD and a Panasonic HDC-SD60K. This is just a sampling of the many devices available. Just look for the words "Audible Qualifying Device" in the device description.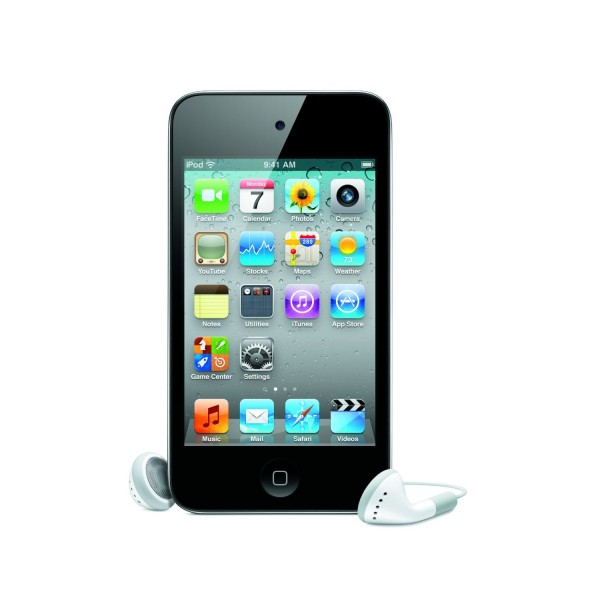 Understand that you are signing up for a two year commitment, just like you would for a cell phone. At $8/month for the first three months and $15 for the remaining 21 months, that is $339. So this is not a good deal if you don't plan to remain an audible customer. The way we look at it, if you were planning to sign up for Audible, this is a nice add-on. If you weren't planning to do so, this is absolutely not enough of an enticement. We love books so we signed up and got an iPod Nano that will just stay in the car till each book is finished. And even if you took advantage of this before and then quit being an Audible monthly subscriber, you can do it again so long as it was more than 2 years ago that you first took them up on this offer. You just won't get the discounted price for the Gold plan on the first three months.
So, should you give it a try? If you love listening to books, then go for it. The audio files sound great and most of the readers really make the books come alive. We've only been disappointed with a couple of books over a four year period of listening to one to two books a month. And even if you cancel your subscription at the end of the two years, the books still are yours and can be downloaded from Audible over and over again. Right now Audible offers a free audio version of the Wall Street Journal or New York Times. For some, that alone might be worth the $15/month. And if you have a Android or iOS device, there is a free app which will list all your books and offer to download and play them for you.
Advertisement