The Samsung Series 9 notebook is a sleek and sexy new ultraportable that looks to compete with the MacBook Air in style, power and apparently in speed. Laptop Magazine put the two to a head to head challenge to see which notebook could boot faster, which is important to some users, but also to see which notebook could resume from sleep quicker, which is more important to many mobile users.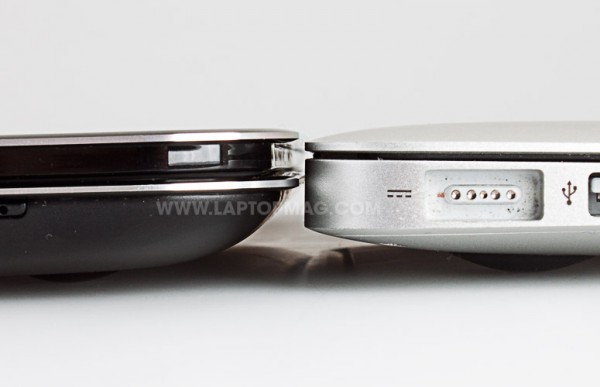 The Samsung Series 9 is powered by a 2nd Gen Intel Core i5 processor and is booting Windows 7 off of a SSD and the MacBook Air is running a Core 2 Duo processor and booting Mac OS X off of an SSD as well. Laptop Mag notes that the MacBook Air actually booted faster when it was new, at 15 seconds.
What is actually a more important number to look at is the wake from sleep time, which is 50% faster on the MacBook Air. Sure, that's only 3 seconds, and not real noticeable when you aren't comparing side to side, but we we think that mobile users will be resuming from sleep more often than booting with these ultraportable systems.
Head over to Laptop Mag for a comparison photo gallery of the MacBook Air and the Samsung Series 9 as well as a video of shutdown time on the MacBook Air versus the Samsung Series 9.
Advertisement