We already reported that Gizmodo found" what they believe to be the new Apple 4G iPhone. The video looks pretty convincing.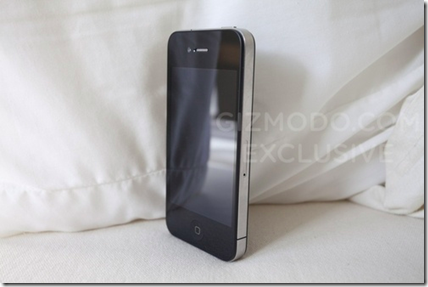 The problem was that they paid whoever found it in a Redwood City bar. For the whole sordid tale, read Warner Crocker's post at Gottabemobile. Here is the video of the device:
Now Gizmodo has received a letter from Apple which reads:
It has come to our attention that GIZMODO is currently in possession of a device that belongs to Apple. This letter constitutes a formal request that you return the device to Apple."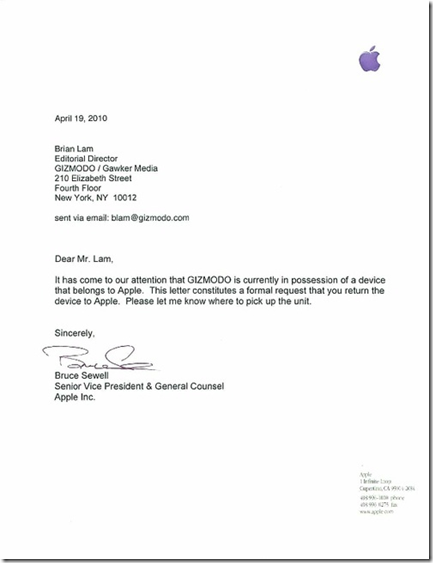 Gizmodo is reporting that they intend to return the phone. This turn of events confirms that it does in fact belong to Apple. It also makes it very likely that it is either the next generation iPhone or a prototype for some future iPhone. Either way, Apple admits it is theirs and not some fake.
However, it also shows that Gizmodo was in possession of something they probably should not have had. They apparently consulted a lawyer who said that California law states the original owner is responsible to claim the device within three years of losing it or ownership passes to the person who found" it. They also claim that the finder was responsible to report it. However, as our own Xavier Lanier wrote, … selling or buying lost or stolen property is illegal in the state of California."
It would seem that both parties are now doing the right thing. Apple is claiming the phone but from the sound of the letter not going to pursue any further action if it is returned. Gizmodo is returning it, as they stated in their response to Apple.
Has this episode hurt either party? One would imagine that bad publicity like this would harm the image of Apple and/or Gizmodo. But, it is likely that such a turn of events has increased anticipation for the forth-coming iPhone and driven a lot of traffic to the tech blog. But, has it tarnished their public image as honest and fair observers of the tech industry? We'll let you decide for yourself.
Advertisement