After  months of anticipation and weeks of hype, Apple finally released the iPad (see my video unboxing the iPad). It has been called a lot of things from the pejorative It's just a big iPod Touch," to Steve Jobs calling it magical," and many others saying it is a game-changing device." Walt Mossberg even said it was pretty close" to being a notebook killer.
It is still too early to tell which end of the spectrum is going to be right. I'll save my conclusions to … well … the conclusion. But in a word I would call it functional." Not a ringing endorsement I know, but before you assume that means I don't like it, realize that some don't even think that much of it. I have uses for mine. But how well does it meet those needs?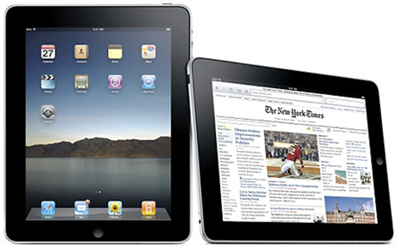 Holding the iPad in Your Hands
I was surprised at how heavy the iPad feels in your hands. Holding it in one hand for a long time can get tiring. Of course I usually rest it on my lap or stomach as I use it. The nice thing is that you can lay it flat on a table and still work with it; the screen is viewable from wide angles. Since the UI will rotate, it is easy to hold in landscape mode, which I do most of the time.
The iPad is sturdy. I've heard comments and read in forums that some think it feels flimsy. I don't agree. Since it is mostly aluminum and glass you will want a nice case to protect it. But it is solid and it feels like it'll take a lot to dent the aluminum back cover.
The casing is smooth and feels good to the touch. However, one problem I do have is keeping my fingers off the screen. When I hold it in my left hand, my big thumb keeps touching the screen. I actually wish the bezel around the screen was about a half an inch wider. That leads me to one of the biggest strengths and weaknesses of the iPad.
The iPad Display
The 9.7 inch LED display is very bright with a crisp image. In average sunlight you can still see the screen. I wouldn't want to read at the beech all afternoon, but it is viewable outdoors.
In dark settings, turn down the brightness, otherwise you will blind yourself and those around you. One night, while driving, my son took it out of my computer bag and turned it on from the second row of our minivan. It looked like he opened the doorway to heaven as the whole van lit up.
The touch screen is both its greatest strength and weakness. After just a few minutes of use, the screen gets so filled with fingerprints that it actually looks disgusting. It doesn't matter if you've been devouring a bag of greasy potato chips or you just washed your paws. Human oil loves the iPad! Apple calls the screen Fingerprint-resistant" on its specs page. That has to be a joke of some kind. Whoever wrote that has either never used it or was ordered to do so by her boss. When turned off, fingerprints are immediately visible. I have begun carrying a small lint-free cloth tucked behind the iPad in the case. I polish away the prints almost every time I pick it up.
Even though it is not fingerprint-resistant, the touch interface performs very well. It is smooth and tapping is easy. I have used some touchscreen devices that require you to nearly push a hole through it to get a response. Not the iPad. It responds quickly and swiping between screens is fast. Despite the problem with fingerprints, it is still a nice screen. Watching video and viewing pictures is a pleasure, after you clean it. The 1024×768 resolution is good for nearly HD quality video. I do wish Apple would have made the resolution a little higher so you could watch 720p video. You wouldn't want to gather the family around it for an episode of your favorite show or a movie, but it is a good experience for a single viewer. The ABC and Netflix apps handle video well. The only problems I have had is when streaming over a clogged Internet connection. If you want, you can download movies from iTunes. Movie rentals start at $3.99 and can be purchased for $9.99 and up.
iPad Battery Life and Charging
One of the strengths of the iPad is battery life. In a previous post about the battery life I stated how unusual it is for a company to low-ball battery life specs. Apple claims up to 10 hours" of life. I have been getting a full day's  charge easily. One day I punished it for a good 9-10 hours and still got 11 hours and 15 minutes before it shut off. There is a slight problem with charging via a PC's USB port or some older iPod and iPhone charging accessories. Already, manufacturers are making charging accessories available.
The iPad comes with a very short charging cable and USB to AC adapter. I plugged it into the wall outlet next to my bed and the cable would not even reach far enough for me to use the iPad while laying in bed. There is a charger with a longer 6 foot USB cable available from Apple. The adapter that comes with the iPad has prongs that fold into the device for protection. They detach so that you can attach an international attachment if you need to travel or live outside the US.
iPad Gaming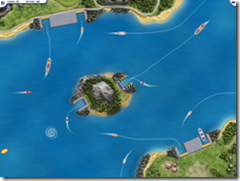 I am not a big gamer. I was very surprised at how much I enjoy playing games on the iPad. My two sons are really starting to bother me because they continuously keep asking, Can I play the iPad?"
The large, bright display makes gaming on the iPad a huge upgrade over the iPhone/Touch. Gaming is very satisfying for the most part. I would not have expected this given that it is just a big rectangle. Most action games use a faux gamepad" to control the action. On the iPhone this was not easy with my larger hands. But the iPad is big enough to make it work. It takes some getting used to, but once I did, I was ready to run, jump, and frag with the best of them. I wish, however, that some developers would utilize the touch interface better. When playing a first person shooter, why not fire by tapping the bad guy with your finger to tap" him in the head? Why not throw the ball to first base by just tapping first base? I hope we will see this kind of control instead of the silly faux gamepad. But until we do, it works better on the iPad than it did for me on the iPhone/Touch.
There are a ton of games available. Here's what I've been playing
NFL 2010 HD is not Madden, but it is a lot of fun. Unfortunately, the iPad version has been pulled. Not sure why, but look for it to return. Also a lot of fun are Flight Control and Harbor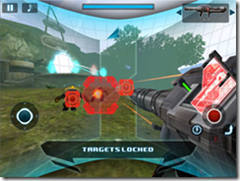 Master. They are essentially the same game. You direct planes or helicopters (Flight Control) to land or boats (Harbor Master) to dock. If they crash into one another the game is over. As you advance more of them try to land or dock and two will inevitably crash. I tried Flight Control on an iPad at a local Best Buy store and ran home and downloaded it.
Another good Gameloft game that is N.O.V.A.. You get to kill aliens while wearing a space suit. If you prefer to frag as a soldier, try Modern Combat: Sandstorm. Other fun games include Real Racing HD, GodFiinger, Plants vs Zombies and 10 Pin Shuffle. And my iPhone favorite, Moonlight Mahjong is beautiful on the iPad.
The iPad Inflation Effect
One drawback is the cost of games, and all apps in general. Apps on the iPad cost more than iPhone/iPod Touch apps. Sometimes they are twice as expensive. And really terrible is the fact that apps that do the exact same thing as their iPhone or iPod Touch counterparts often require you to pay again.
One example of the iPad's inflation effect is Twitterffic for iPad. There is a free version on both the iPad and iPhone/Touch. There is also a premium version for $4.99. There are no ads in the premium version on the iPhone. On the iPad version, you upgrade within the app. I have used it on the iPhone and so I downloaded it for the iPad and noticed that it has less functionality than the iPhone/Touch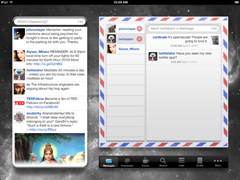 version. You cannot post images or search for nearby tweets. So I assumed that you had to pay to get those features. I paid the extra $5 and like the iPhone version the only difference is advertising. That means that I paid a second time for an app that has fewer features. I should have been more careful, but this illustrates the point.
Developers have the option of creating what is called a universal app. That means it will run on both the iPhone/Touch and the iPad in each device's native resolution. I have a few of these and when a developer does this, I will support  them and sing their praises. When they require you to pay a second time for basically the same app, then I plan to avoid them in the future.
In contrast, Twittelator has a separate version for the iPhone and for the iPad. They require you to pay again for the iPad version, but they also offer added functionality. There are two windows showing both the tweets of those you follow and a box for other feeds, like messages to you, mentions of you, or search results. I don't mind paying again for an app that gives me more on the iPad so long as the cost and number of extras is commensurate.
iPad Native v. iPhone/iPod Touch Apps
Some of my most used iPhone apps have not yet been ported to the iPad. My guess is the same situation holds for most early adopters. But the ones that have been are are very mostly very good. The ones that are not look terrible! When you run an iPone/Touch app not yet designed for the iPad it starts up in a small window the size of the iPhone screen. To get it bigger you tap the 2X button in the corner. Unfortunately, that makes apps look washed out because the iPad OS is just doubling the size of the pixels. Every single app I tried looked very bad. I know Apple had to do this since not all the apps people rely on will be ported and many won't be right away. But I will use a non-iPad app only out of absolute necessity. I have two such apps right now. These are the only two that I plan to use regularly on the iPad until they get a native iPad version or come up with a universal update.
Accessories
The first two accessories I purchased were the official Apple iPad case and a Pogo Sketch Stylus. After I got my iPad I decided to add the Apple Bluetooth Keyboard and the Dock too. It is disappointing that Apple could not get the case into our hands even though many of us ordered it right alongside our iPads. They were selling them in Apple retail stores on iPad launch day. While carrying the iPad to church the Sunday after it came, I was scared I was going to drop it or damage it. And holding it like a book added even more prints to the screen. After just 24 hours I knew I wanted a case.
I was very disappointed with the quality and build of the official Apple iPad case. In my video review, I describe it and show it off. Not only is it ugly, has a terrible feel, and advertises to would be thieves that it's the iPad with Apple's logo embossed on the front, but it also gets dirty very easily. That nicely matches the fingerprint magnet of a screen. I saw the WaterField Designs cases from SFBags.com and will have one soon to play with. When I do I will show it to you. Until then check out the videos we posted already.

The Pogo Sketch Stylus is a neat tool, but inking on the iPad is not. It feels like you are writing on a window with a big, fat Sharpie marker. And you definitely cannot let your hand come close to touching the screen. My hope is that someone will make a much better app for taking handwritten notes. My HP Tablet PC handles inking well. But the device is too heavy and warm. The iPad is the right weight and produces no heat, but inking is terrible. Apple never has made any claims that it would be a good inking machine. In fact Steve Jobs famously said in his iPhone OS 4.0 post announcement Q&A If you see a stylus, they blew it." I totally disagree. Pen computing aficionados were hoping it would be serviceable. It is not!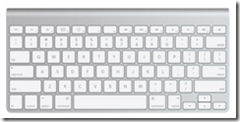 Touch typing directly on the iPad is also not a joy. Quick entry of a few words is not bad. The larger keyboard is tempting to use as a regular keyboard. With no tactile feedback, it is hard to type accurately unless you just use one or two fingers per hand. Hunt-and-peck typists will likely be less frustrated. Since I have given up on touch typing, I have become fairly skilled at typing quickly with my index fingers and thumbs.
I wish the on screen keyboard actually had smaller keys so they could have gotten the number keys across the top. Using the on screen keyboard is not a good tool for authoring long documents. It'll work for Tweeting, writing a short email or an emergency edit of a document.
I read where Warner Crocker, from our sister site Gottabemobile, said his Igo/ThinkOutside Stowaway Bluetooth Keyboard paired up nicely with the iPad and worked great. He also said that the dock or stand is a must. Inspired, I picked up an Apple Bluetooth keyboard and the dock. They keyboard is a little pricy, but it works great. They keys are spaced apart nicely and for the most part the positioning of the extra keys helps keep typing fluid. It paired quickly and has an incredible range. I just hope the battery life is good too. I wouldn't mind typing longer documents on the keyboard.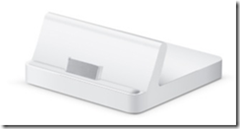 The iPad Dock is a different story. I'm not talking about the one that comes with the keyboard. I wanted the versatility of using just the keyboard or just the dock so I bought them separately instead of getting the keyboard dock, which was not available at my local Best Buy store. We don't have an Apple store nearby.
The $29.00 dock is durable and holds the iPad in portrait mode only. It has a 30 pin dock connector on the back so that you can plug your charger into. It does not work if you have your iPad in the Apple case. Because it only holds the iPad in portrait mode, it is very unstable. I would not leave my iPad docked in it for long, especially in a house with teenage boys.
The other accessory that I plan to get is the VGA adapter. When I do I will post a review and update this one. The reason I want it is for when I plan to make presentations using the iPad.
Presentations
I read my notes from Pages while preaching last Sunday and it was much easier than dealing with 6 pages of notes. I'm hoping someone will create a nice app for speaker notes. There are a couple in the app store, but none look better than Pages. One thing to remember turn off the Auto-Lock feature in Settings so that you don't have to keep waking up the iPad.
On Wednesdays I plan to connect my iPad via the VGA adapter showing presentations in Keynote. I have not yet tried this out; when I do I will post a review and update this one.
Reading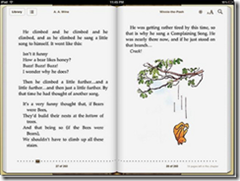 I've already posted a lengthy article about reading on the iPad. iBooks and the Kindle apps are beautiful on the iPad. I love to read books, news and magazines on the iPad. Like the Kindle, you can carry a large library with you always. Liesure reading is nice but reference books are just better in digital format. You can quickly search and look up facts, definitions, and other information. The screen is easy to read and I have given my Amazon Kindle to my wife, who has made great use of it. Some people may not like reading for a long time on a backlit screen like the iPad. I have not had a problem. Both the Kindle and iBooks apps have visual modes for reading something other than black text on a bright white background.
There are a lot of news apps. My favorites are USA Today, AP News, New York Times and Wall Street Journal. I hope some of my favorite magazines will make version for the iPad. Until then I am relying on the Zinio app, which is not a stellar app because it is slow and has poor quality text.
One problem with iBooks is a lack of night mode reading (white text on a black background). The Kindle app has it as do some of the other book reading apps I have used. I think all apps designed to primarily read text should have this mode. They should also have the ability to copy and paste text, something that's disabled to avoid eBook piracy.
Surfing the Web on the iPad
Surfing the web via Safari is a good experience. The browsing experience is a cross between using an iPhone and a Mac or PC. I think the way it handles multiple open pages is adequate, but I'd rather have tabs. They wouldn't work well on the small iPhone screen, but on the larger iPad screen they would be fine. Instead you get a grid of thumbnails, which you tap to open. To access the grid tap the button on the toolbar.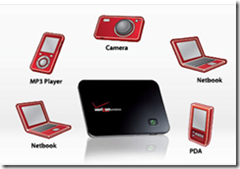 I use Google Reader to view RSS feeds. The iPad version is terrible. It just seems to take a lot of taps to get to a single feed. On the iPhone or in a PC browser, you click on a feed's folder and it shows the list of unread news items. On the iPad you have to tap and hold and then tap Open to see the list. If a post is larger than one screen (as this one is) it will be hard to view the whole thing from within Google Reader. You will have to open the original, because you can't just swipe to move down the page. To get to the next news item, you have to tap the next button at the bottom of the screen. Google reader on the iPad is really terrible right now. I hope they fix it. Until they do I am using Feeddler RSS Reader. It syncs with Google Reader nicely and, while not perfect, it is better than Google Reader in Safari.
Reading email using the Mail app is straight forward. I am really looking forward to keeping track of my three primary email address in Mail when the announced universal inbox is implemented in iPhone OS 4.0, as promised in Apple's announcement April 8th.
Since I bought the Wi-Fi iPad, I need to provide my own Internet access or borrow one. There are many more Wi-Fi hotspots around these days, even in a rural area like mine. But when I cannot find one, I use my Verizon Wireless MiFi 2200. This little, credit-card-sized cellular modem/router shares my Verizon Wireless Internet access with up to five devices. In my area Verizon high speed access is far better than AT&T's since the company's 3G service hasn't reached us yet. The closest place that does have 3G is 20 minutes West. I use it when I go there, but I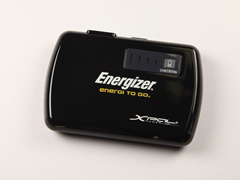 don't go everyday. The cost of the Verizon subscription is steep, but I use it enough to make it worthwhile. I keep it charged by plugging it into a USB cable plugged inta cigarette lighter adapter. When not in the car I use an Energizer Energi to Go Xpal to extend the poor battery life (lasts at most 4-5 hours). The energizer battery charges up via USB and has a micro-USB port for connecting small electronic devices like the MiFi or an iPhone. It gives me an extra 4-5 hours.
Some users are reporting significant problems when connected to a dual band Wi-Fi router. Apple posted a solution to the problem. I had not experienced this until almost a week after getting my iPad. I was at a restaurant and the Wi-Fi signal was very weak. You could see it drop in and out continuously. Since I didn't have access to the router's settings, Apple solution was useless.
Conclusion
I have been jokingly calling the iPad magical. I even named my iPad Kevin's Magical Device" in iTunes poking fun at Steve Jobs who used that term over and over in his January announcement of the iPad. Others have called it a game changer, revolutionary, or disruptive technology. I think all of those are incredible overstatements. I choose to call the iPad functional." If you use it as a photo frame while in the dock, you might even say it is decorative yet functional."
I love my iPad and think I will get a lot of use out it. It's functional for the things I want it it to do, like  running simple presentations, reading, surfing the net, reading email, playing games, doing light research projects, looking up information quickly and light writing projects. It functions well for those things. But I don't think it is revolutionary or disruptive technology. If Apple had never released the iPad, most of us would not have significantly different lives. The iPad is not like the telephone, radio, television or the Internet.
A good comparison is the Sony Walkman. It was a popular device that many copied I had a cheap one from Target that lasted about a month. Many bought them and used them and even more bought knock-off portable cassette players. But if no one had eve invented a small, handheld, cassette player, we still would have had the ability to listen to music on eight track, with boom boxes, and normal cassette players. Life would go on.
I think the iPad will have a similar impact on the electronic industry and our lives as did the Walkman. They will be popular, selling well. I think they will be used by a lot of people who will enjoy them. They will be copied by other companies. But if Apple never released the iPad we would use netbooks, notebooks, Tablet PCs, eReaders and mobile phones to do what the iPad does.
The iPad is a 1.0 device which means that it is ready to sell but has some faults. I think Apple will improve on this iteration of the iPad. They've already announced a several improvements coming in 4.0 of the OS. It needs a camera and I cannot believe they left out the Calculator and the Voice Memos apps.
iPad Pros
Fast and responsive
Great apps
Book reading is a pleasure
Gaming is fun
Clear, bright screen that is easy to view from wide angles and even in sun
Excellent battery life
It it is functional
iPad Cons
Expensive apps
Fingerprints galore on the touch screen
Very weak lineup of accessories (case and dock are terrible and can't use many iPhone/iPod charging cables)
Slightly heavy
Bezel a little small making it hard to hold without thumb hitting screen
Check back for a review of the apps both included and missing from the iPad.
Advertisement