With the iPhone coming to Verizon being announced tomorrow, in all likelihood, we have a roundup of all the rumors which you can have on hand to see who was correct and who was not correct.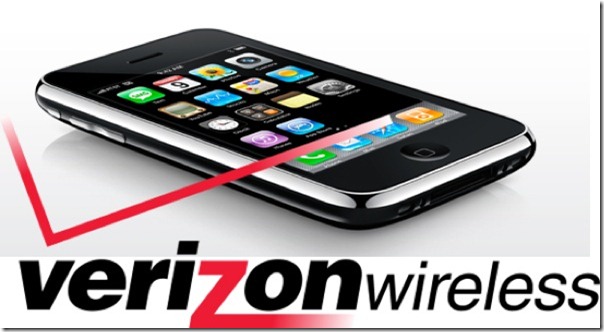 Will there be an iPhone on Verizon?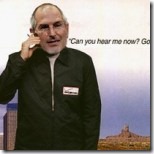 The first rumor is the phone coming to Verizon in the first place. There has been absolutely no confirmation from either Verizon or Apple up to this point. There has however been a lot of evidence promoting this rumor and we feel fairly certain that it will be coming.  And if anyone is still wavering, would the official Verizon Twitter account sending out Tweets with an iPhone do it for you? TechCrunch revealed that a recent Tweet from @Verizon has the identifier for "Twitter for iPhone" as its source on a January 8th message.
Will Steve Jobs help with the announcement?
What is also interesting is that All Things Digital believes that Steve Jobs might be on hand to announce the new Verizon iPhone tomorrow. We love their graphic of Jobs head superimposed on the "can you hear me now" guy.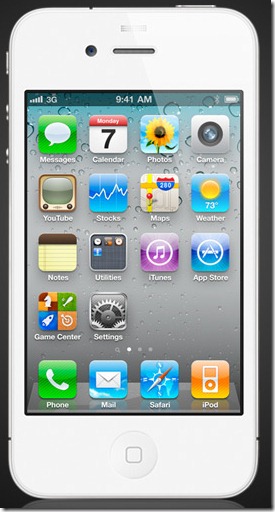 Will a white iPhone be part of the Verizon release?
A dramatic turn would be if, after all the details are given, Jobs shows up with a Verizon Wireless version of the Steve Jobs patented "one more thing" ends up being the announcement of the white iPhone that has heretofore been impossible. ZDNet has a post speculating that such an option might show up as part of the Verizon announcement.
Will the Verizon iPhone be a whole new piece of hardware or only slightly different?
There is some debate as to what form the new phone will take. But we are confident that it will be the same phone with the minor change that it is compatible with Verizon's network. Some convincing reasoning for this view comes from this statement at Gizmodo:
The odds of Apple giving Verizon anything other than a CDMA version of the same iPhone 4 AT&T has are extremely low. If a new Apple product—say, the iPhone 5—were about to be loosed on us, you better believe it'd be Apple doing the unveiling, not Verizon.
They are not the only ones to say it and may not be the first, but that succinctly states a very reasonable position.
An AT&T customer service rep that we talked to implied that the Verizon version will be "an iPhone lite". The person was vague about what they meant saying it would not have all the same features as the AT&T version.
Will the Verizon iPhone support LTE?
The real question is will it be LTE or just 3G with LTE to come. Our friend Sumocat at GottaBeMobiel says "Of course the Verizon iPhone will be LTE." With all due respect to our friend who is usually right more often than not, there are a few good reasons to doubt an LTE iPhone on Verizon. First, Apple doesn't seem to be jumping on the "latest greatest technology" bandwagon these days. Their refresh of the MacBook Air did not include the most up to date Intel chips and none of their computers have USB 3.0 yet. Second, LTE is very limited at this point geographically. Third, Apple likes to hold things back from customers to get them excited about the next iteration. It is possible this time around. That way, in a year or so when LTE is more ubiquitous, Jobs can say at an Apple event, "And now with LTE" to uproarious applause. Finally, LTE is harder on the battery according to some.
With two schools of thought about an LTE version, observers can judge for themselves after tomorrow's announcement which prognosticators are more accurate.
Will the Verizon iPhone data plan have a cap?
A rumor that might make people who are not currently planning to jump ship to Verizon change their tune is an unlimited data plan. Wall Street Journal's Spencer Ante is reporting that this is exactly what Verizon is going to do according to "a person familiar with the matter." If the Verizon iPhone is exactly like the current iPhone 4 but with a CDMA or even LTE radio, an unlimited data plan for a similar price as AT&T's capped plan could make it special enough to persuade even big AT&T fans into switching. The rumor's sources is sufficiently vague enough for wriggle room, but the Wall Street Journal has a track record of not reporting things without some validation.
AT&T is playing a little hardball with Verizon. After the reports of an unlimited data cap came out, the AT&T PR director Larry Solomon said, "I'm not sure iPhone users are ready for life in the slow lane," talking about Verizon's CDMA network speed, which is slower than AT&T's 3G. However, if the new phone is an LTE model, this will make Solomon's statement sound foolish.
When will the Verizon iPhone come out?
The rumored release date ranges from late this month to early February. The original Wall Street Journal report said it would come by the end of January while Boy Genius reported that Apple has frozen vacation times during the period of Feb. 3-6, a good indicator of a big product release during that time. There is lots of talk of iPad 2 being announced soon as well, so that could also be the reason. However, Apple likes to follow yearly release date patterns for updated or refreshed products. The iPad's original date was nearly two months later than this date. So if the vacation freeze is true, it is likely a result of the an iPhone being released for Verizon instead of the iPad 2.
Advertisement