Apple launched their first real update to the iWork apps for iCloud, iOS and Mac since they began to offer the new web versions of iWork apps Pages, Numbers and Keynote and dumbed down the Mac apps to match the iOS 7 style.
Here's a list of some of the most useful new features or updates.
Entering styles using keyboard shortcuts in the Mac version of the Pages
Password protection for shared documents
List view of shared documents from other collaborators in each iCloud app
Sorting more than one column or row at a time in Numbers
Landscape view and editing of spreadsheets in iOS version of Numbers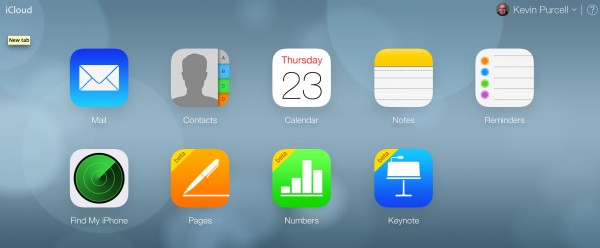 Apple still left out a key feature they chose not to include when they updated iWork's iOS and Mac apps. Two or more users working on a single file can't see changes. Most office suites will let users track changes made to a document. This lets collaborators see what another user changed. In the older offline versions of iWork users could track changes. Microsoft Office and Google Docs include the feature.
Styles let users add multiple kinds of formatting to paragraph or some text with a few clicks. For example make text bold, italics and add a certain font face. Earlier the offline versions of the apps let users add Styles using keystrokes. This made it easy for people who like to edit with keyboard shortcuts to add Styles. This single feature caused many users to make the switch to another office suite. Apple finally added the keyboard shortcuts feature back to Styles in Pages.
To get the update log into iCloud.com. Many users will see some or all the changes right away. Others will need to wait as Apple rolls them out. The apps on the iPad or iPhone will show up in the App Store under updates. They will show up in the Mac App Store also under Updates.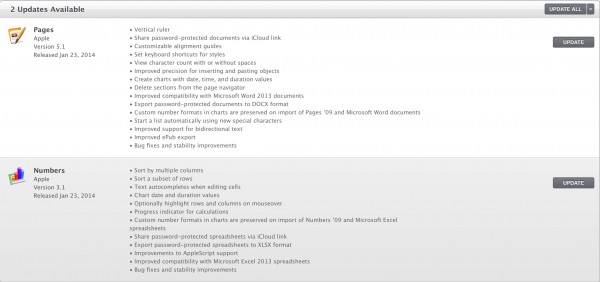 Here's a comprehensive list of the changes that apply to all the iCloud and iWork apps:
Password protection of shared files
Viewing list of files others share with a user

Rich formatting of table text

Keyboard shortcuts for precise rotating, resizing and repositioning of objects

Improved VoiceOver support for body text and document manager
Bug fixes and stability improvements
Here's the list of changes specific to Pages:
Insert, edit and format floating tables
Insert page numbers, page counts and footnotes
Styles anchored and inline image, shapes and text box insertion
Endnotes editing in imported documents
Better compatibility with MS Word 2013
Create lists using special characters like numbers or asterisks for bullets
Better ePub support
Here's the list of Numbers updates …
Flow text into adjacent cells
Rich text formatting in cells
There aren't any updates that only apply to Keynote.
Advertisement