At the Apple Music event today Apple announced iOS 4.2 for the iPad. iOS 4.2 is the next software update for the iPad, iPhone and iPod Touch. iOS 4.2 is focused on the iPad — catching it up to the iOS 4.1 update that will hit next week with features iPhoen and iPod Touch users have enjoyed and adding Wireless printing and Airplay streaming of media files.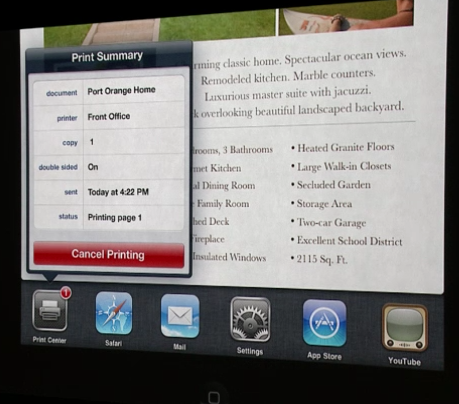 First and foremost iOS 4.2 will bring all the favorites of iOS 4 and iOS 4.1 such as multitasking, folders and multi-threaded email to the iPad. In a demo Steve Jobs display the familiar ability to switch between apps on the iPad and control your Pandora music playing in the background.
In addition to catching up the iPad, iOS 4.2 will bring wireless printing to the iPad, iPhone and iPod Touch. This feature will allow users to print directly from the their iDevice to a nearby printer.
Finally, when iOS 4.2 drops in November users will be able to wirelessly stream their pictures, music and videos from iTunes to their iDevice with Airplay. Airplay is a rebranding and expansion of the features from Airtunes.
iOS 4.2 will be available in November for the iPad, iPod Touch and iPhone as a free upgrade.
Advertisement