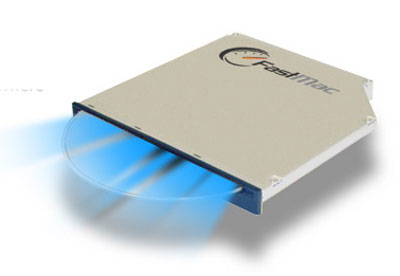 Fastmac announced the first Blu-Ray optical drive upgrade for Apple's PowerBook, iBook & MacBook Pro notebook computers. The new slimline, slot loading drive can burn up to 50 gigs of storage on each disk. The Blu-Ray upgrade costs $799.
"This new optical drive gives me the freedom to save anything, anywhere I happen to be with my new MacBook Pro," said Edward Savio, President of Fastmac Performance Upgrades, Inc. "With this much storage capability, I was able to sort and backup my work on a per project basis."
Fastmac's slimline Blu-ray slot loading optical drive supports reading, writing and re-writing to single and dual layer Blu-ray media at 1x speeds. The drive is also compatible with standard DVD and CD media and can write to DVD-R and DVD+R media at 8x speed in single layer and 2x speed in dual/ double layer mode. It can rewrite to DVD-R and DVD+R media at 4x speeds. The drive also supports DVD-RAM reading and writing at up to 5x speeds and standard CD-R and CD-RW burning at 8x speeds.
The new drive is compatible with iBooks (G4) , Powerbooks (Pismo, Titanium and Aluminum) and MacBook Pros. Not sure why anyone would want to blow $800 on upgrades for a 5+ year old notebook, but it would make a welcome addition on the new MB pros.
Advertisement