The Energizer 1201 for iPhone 4 is a silicone case that protects the iPhone 4 from normal wear and tear, and your hand's signal killing grip, all while extending the life of the iPhone 4's battery. Energizer promises that it will provide nearly twice the power" so that your day can last longer with the latest Apple phone.
The case is made of recycled silicone rubber and looks to be very form-fitting, something other past iPhone case chargers were not. Compare the pictures of the Energizer case to the Mophie Juice Pack. In the video demo it seems to fit snuggly; some rubber cases are loose-fitting.
The battery and power features will give up to 500 recharges. It detects when the phone battery is depleted and kicks in to extend the life. The user can use it to charge a phone or hook it up to a power source and pass the electricity through to the internal battery and then charge the case battery.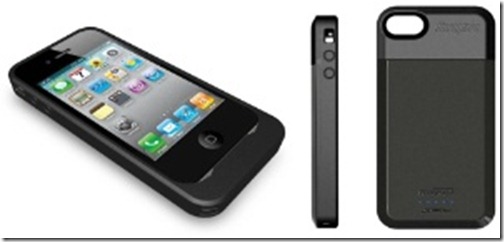 On the back there are five blue indicator lights that give instant feedback to the user as to how much power is left in the case battery.
From the device description:
Through the use of patented lithium polymer battery technology, The AP1201 extends battery life for up to 200 extra hours of standby time, 27 extra hours of music time, 7 extra hours of video time, or 5 extra hours of talk time or Internet time.

Standby 200 Hours

Music 27 Hours

Video 7 Hours

Talk 5 Hours on 3G & 9 Hours on 2G

Internet 4 Hours on 3G & 7 Hours on WiFi
Energizer promises it will be available at Best Buy, Amazon, Fry's, Target and Office Max among other places for a $69.99 retail price.
Advertisement