With a Verizon iPhone having been announced at the New York press event Tuesday, some users will be interested in switching from AT&T to Verizon. But what is the cost? We have not yet been given the pricing plans for the phone on the Verizon network. However, it is known what it will cost to break your current contract with AT&T.
The cost of getting out of an AT&T contract is listed in the Answer Center on AT&T's web site. The cost is $5 per month for each month left in a person's contract for a regular feature phone and $10 per month for smart phones, including the iPhone. For example, if you have 14 months left on your 2-year contract, it will cost $140 to break the iPhone 4 contract for one line. Add the cost for other lines for a total cost. So if one person has an iPhone while another has a feature phone with the same time remaining, the total cost would be $210 ($140 for the iPhone + $70 for the feature phone).
The iPhone 4 on Verizon Wireless will cost $199 for a 16GB model and $299 for a 32GB model. If Verizon offers pricing plans similar to what they currently offer, it will be about $40 per month for 450 minutes, $60 per month for 900 minutes and unlimited minutes for $70 per month. To add unlimited text messaging it is another $10. To add a 2GB data plan at is another $20/month. So for unlimited talk, text and 2GB of data the monthly bill would be about $100 per month. You will of course have to calculate any additional lines as every family's needs are different.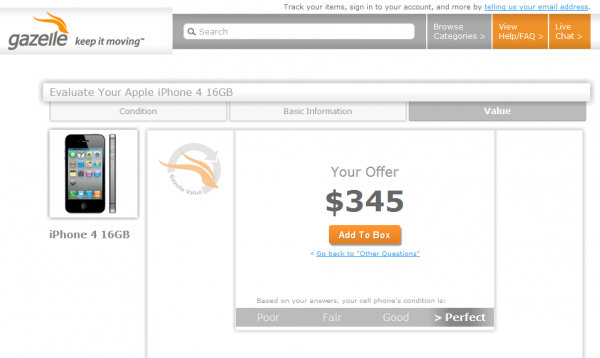 The most it will cost if you just bought a new iPhone 3 with AT&T and wanted to switch to an unlimited Verizon calling plan with a 16GB Verizon iPhone 4 would be about $625 for the phone and first month of service, not including fees and taxes. Take into account that it might be possible to sell the old AT&T iPhone 4 to defray some of the costs. At Gazelle.com a mint condition 16GB iPhone 4 will garner $345 bringing down the pain of switching to only $280.
Advertisement