Readers and friends ask us at Notebooks.com which MacBook is the best choice for them. The MacBook owners on our staff will be highlighting the pros and cons of each of the five basic MacBook models that Apple offers as a way to answer that.
Why a 15″ MacBook Pro is a Great Option
Although I own the 15″ Pro and the 13″ Air , and would hate to give up either one, I would  let you have the Air before you could take away my Pro. I consider the 15″ 2011 MacBook Pro the best computer I've ever owned and the perfect do-it-all system. Fifteen inches fit my needs well as a good desktop replacement that I can also take on the road without weighing me down. Since it sits on my desk about 80% of the time, why not a 17″ system? The price! I was not willing to pay more than $2,000 for the system and the cheapest 17″ model costs $2,500.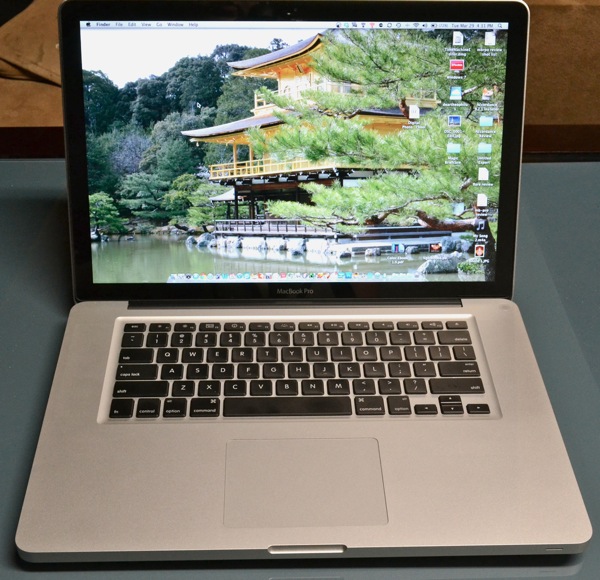 While it sits on my desk, I plug it into a 26″ Samsung LCD. I can't wait for someone to create a reasonably priced Thunderbolt docking station so that I can plug in my Ethernet adapter, USB devices and monitor with just one connection besides the Magsafe Power connector.
On the road, the 15″ MacBook gives me a decent sized screen with high enough resolution to be able to put two apps open side-by-side without needing a magnifying glass. At the same time, the system doesn't weigh me down too much. It isn't a MacBook Air, but carrying a 15″ MacBook Pro is still comfortable. Opening two apps at a time on the 13″ MacBook Pro would be way too cramped, and as I said above, the 17″ costs too much.
The system provides enough power to do almost anything you can imagine doing with a laptop. I can play games, encode video, edit large RAW photos and run the system for hours thanks to decent battery life. Multitasking doesn't slow his system down either.

MacBooks all have great keyboards and beautiful big trackpads. I like the MacBook Pro's backlit keyboard, but even those are available on the Air. What the Air doesn't have is an optical disc drive. You can add one via USB, but who wants to carry around an extra drive, if you know you will need it a lot? I switched mine out for extra storage, but most users won't do that, so a DVD burner might be an option you need. You can't get it built into the Air.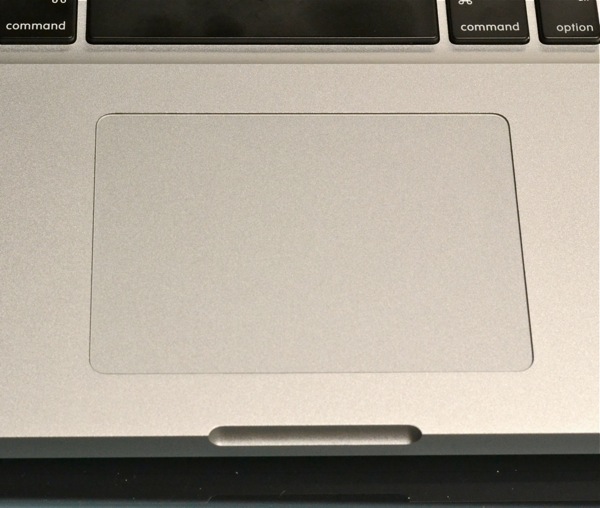 Video Review
Best Use Cases
So who should consider a 15″ MacBook Pro? I find it easer to say who should not. People who need a really large screen for detailed image editing or art work would be best served with a 17″ display, unless you are willing to only do this kind of work when you connect the computer to an external display.
Second, if you need to have more than two programs open at one time without overlapping the windows, then get a larger display.
Third, users who want a small and really light portable computer should not bother with the 15″ MacBook Pro. I don't think it's too heavy, but if you want ultra-portable, then it will be.
If you don't fit the above categories, then you will love the MacBook Pro. Especially if you need a computer with a perfect balance between portability and power. The 15″ MacBook Pro hits the sweet spot of those two needs.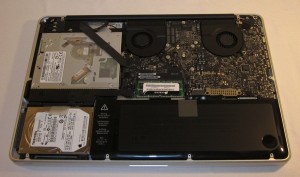 Pros Compared to Other Systems
More powerful than Air
More portable than 17″
Best keyboard and trackpad of any laptop I've used
Upgradable hard drive and memory unlike Air
Pro offers best options for power for things like gaming and processor intensive tasks
Cons
Less portable than 13″ Pro or the either Air
Can't get an anti-glare screen option
Not good for those who need a ton of screen real estate
Recommendation
If you just want the cheapest MacBook you can get, the Pro is not your best choice. Get an 11″ Air. But if you don't mind paying more, the 15″ MacBook Pro has proven to be the best computer I've ever owned and I have no hesitation in recommending one to people. I think the size, power and weight makes this one of the best do-it-all systems around in the 15″ screen size.
If you opt for the MacBook Pro, do not buy the hard drive or RAM upgrades from Apple, unless you are really nervous about opening up the case. RAM upgrades are stupid easy. Unscrew the bottom plate and pop out the old and pop in the new. The hard drive upgrade might challenge you, but with our help you can do it.
Also, unless you need a ridiculously powerful processor, I don't think you need to spend extra to go from 2.0 to 2.3 GHz. The added cache will help you handle intense tasks, but most people don't need to bother.
If you can afford it, get the highest resolution possible and the anti-glare screen if you ever think you will work in direct sunlight. If not, the glossy screen works well even in bright indoor lighting.
Available Options
Apple offers two base 15″ MacBook Pros costing either $1,799 or $2,199. The primary differences are as follows:
2.0GHz vs. 2.2GHz Quad-core Intel Core i7 processors
500GB vs. 750GB 5400rpm SATA hard drive
AMD Radeon 6490M w/256MB GDDR5 graphics vs. 6759M w/1GB GDDR5 graphics
If you choose the lower cost option, here are some of the upgrade options you can pick:
Add 4GB of RAM for $200
Faster 7200 rpm hard drive for $100
Larger 5400 rpm hard drive for $200
128GB SSD for additional $200
256GB SSD for additional $600
512GB SSD for additional $1,200
1680×1050 glossy display for $100
1680×1050 anti-glare screen for $150
Options available on the more expensive 15″ MacBook Pro that are not available on the lower cost include a slightly faster processor (2.3GHz instead of 2.2GHz) and more L3 cache (8MB instead of 6MB) for an additional $250.
Other options you can pick if you get the more expensive 15″ MacBook Pro include the same list as above.
The detailed specs are as follows:
2.0GHz, 2.2GHz or 2.3GHz Quad-core Intel Core i7 processor with 6MB shared L3 cache (8MB for 2.3GHz)
4GB of 1333MHz DDR3 RAM (2x2GB sticks upgradable to 2x4GB for 8GB total)
500GB 5400rpm SATA hard drive with options faster 500GB 7200 or larger 750GB 5400 drive
Optional 128GB, 256GB or 512GB SSD drive in place of hard drive
8X slot loading SuperDrive supporting DVD+/-R, DL, RW or CD-RW
AMD Radeon HD6490M graphics with 256MB of GDDR5 memory and Intel HD Graphics 3000 with 384MB of DDR3 shared memory with auto switching or AMD Radeon HD 6750M with 1GB of GDDR5 memory
Resolution of 1440×900 and up to 2560×1600 supported on the Thunderbolt/mini-display port for external displays with an optional 1650×1080 glossy or anti-glare screens
802.11n a/b/g/n Wi-Fi
Bluetooth 2.1
Gigabit Ethernet
2 x USB 2.0
Firewire
HD capable FaceTime camera
Mic and headphone jacks with digital and analog capability
Stereo speakers and omnidirectional built-in mic
Full size backlit keyboard
Mult-Touch trackpad
Up to 7 hours of battery
Advertisement