Want a matte screen on your shiny new MacBook Air? Then send it to TechRestore and they will put a matte screen in it for $249. As they say, get the "Air without the glare.' But there are a number of questions this poses.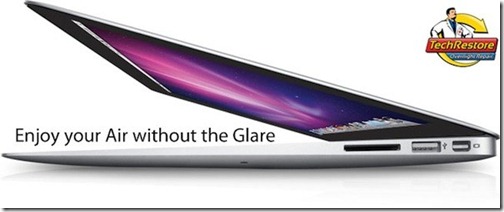 You may be wondering how long will you will have to be without your new computer? 24 hours is what they promise. And they also say that it will have the exact same specifications as the original; same resolution, same color depth, same LED backlight." In addition they will put a black bezel around the screen that will look like it came with the computer. It will look well, pretty awesome," says their press release. This is not an overlay but a total replacement.
In the past the company as been awarded for their service, so hopefully they are reliable. They received the Best of Show" award at MacWorld Expo in 2009 for their screen replacement service on other MacBooks.
The warranty for the service is one year for parts and labor. Be warned that this will most likely void your Apple warranty.
Thanks to Engadget for the link and photo.
Advertisement