After using my iPad WiFi for a week it's clear that the iPad is at its best when it has an Internet connection. If you've waited this long you may just want to hold off for the iPad WiFi+3G, but if you can't stomach an extra payment each month or paying the extra $130; you can get your iPad connected to the Internet with several different methods. A few will even get you connected without a monthly fee.
If you want to connect your iPad WiFi to the 3G or 4G here are your options;
MiFi – Sprint or Verizon
Overdrive – Sprint
Palm Mobile Hotspot – Verizon
WMWifiRouter – Windows Mobile Phones
Wireless Tether – Rooted Android Phones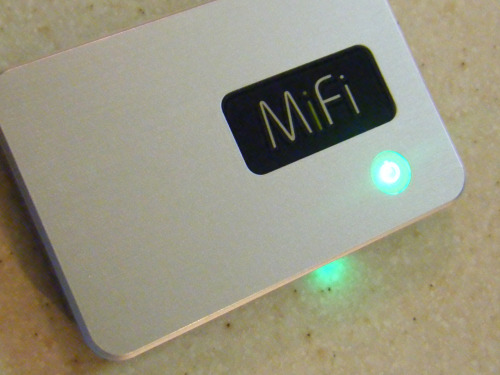 MiFi 3G Wireless Hotspot
First off is the MiFi, which we tested and reviewed earlier this year at CES, and is available on Verizon and Sprint. If you want to buy the MiFi on a 2-year contract you can pick it up for a penny at Amazon or for $49.99 direct; but you'll need to pay $60 a month (5GB) even if you don't need it. If you can pick one up used you can get a month-by-month plan for $39.99 to $59.99 for 250MB and 5GB respectively. The great part about this solution is that it is simple and you gain access to the Verizon or Sprint networks which cover a larger area than AT&T's do. The downside is your monthly cost will be higher and the MiFi's battery won't last as long as your iPad's.
Verdict: This is only a good deal if you have another need, such as connecting a notebook or Eye-Fi memory card to the Internet. Otherwise you're better off with an iPad Wi-Fi+3G.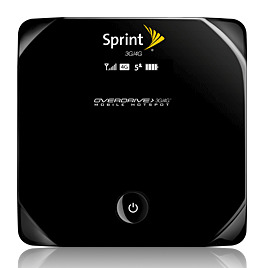 Overdrive 3g/4G Wireless Hotspot
Available from Sprint exclusively the Overdrive wireless hotspot can connect your iPad to the Sprint 4G service available in select cities as well as connecting you to 3G networks the rest of the time. The Overdrive is currently $99 after a $50 MIR from Sprint and costs $59.99 a month for unlimited 4G and 5GB of 3G data usage. James Kendrick of JKOnTheRun.com is currently using this setup to get his iPad, and the rest of his mobile tech, online after ditching Verizon completely. Sprint is really pushing this device and has even made an iPad case with a pocket for the Overdrive that comes free with an Overdrive purchase at select BestBuy stores.
Verdict: Again, like the MiFi; unless you have more than one device or need the network/speed you're better off going with an iPad WiFi+3G.
Palm Mobile HotSpot on the Palm Pre Plus for Verizon
If you have, or want to get, a Palm Pre Plus on Verizon you can use the 3G Mobile Hotspot app to turn your phone into a 3G hotspot which your iPad can connect to. Currently if you sing a new 2 year contract with a Palm Pre Plus purchase the Mobile Hotspot service is included in your phone's standard $29.99 data fee which gives you 5GB of data use (Free inclusion appears to be a limited time promotion). The phone itself is $49.99 and you'll need to choose an accompanying voice plan.
Verdict: If you want a Palm Pre Plus and are a Verizon Customer this is a great option, though it will drain your phone's battery fast and run out before your iPad does the 3G Mobile Hotspot offers a good value.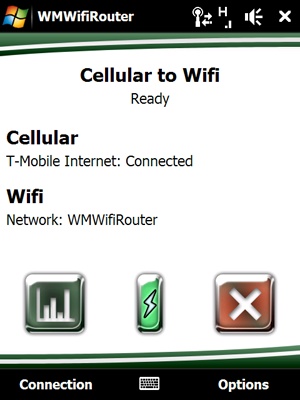 WMWifiRouter
WMWifiRouter works on many Windows Mobile Phones and turns your phone into a 3G hotspot just like the official Palm Pre Plus app; the only difference is you can use it with almost any Windows Mobile phone and there's no extra charge. WMWifirouter is a one time fee of $19.99 and uses the same 5GB of data given to you with most data plans. This program is confirmed to work with the iPad and you can see a list of compatible phones and devices at the WMWifiRouter website. There is a free 30 day trial so you can easily make sure this works with your setup.
Verdict: While your phone's battery will drain faster and it won't last as long as your iPad; the fact that you can use this with a Windows Mobile phone you already own without an extra monthly fee make it one of our favorites.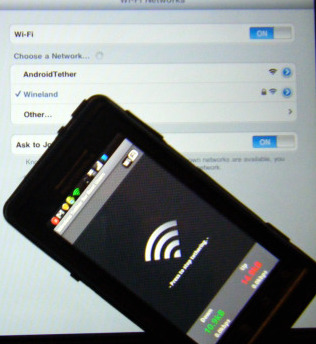 Wireless Tether for Rooted Android Phones
If you have an android phone, and can root it, then Wireless Tether for Root Users is an easy way to turn your Android device into a mobile hotspot. The installation instructions vary based on what phone you have, but if you have a Droid, even one with 2.1, you can root and install Wireless Tether with a handy guide from DroidMod.org's forum. The easiest way to get this setup is to install the DroidMod Rom which includes Wireless Tether. We do want to note that this is a process that could brick your phone so proceed at your own caution.
Verdict: If you are comfortable rooting your phone, this is a great solution that will get your iPad connected to 3G for no up front or monthly costs. The downsides are that you need to know how to root your phone and it will go through your phone's battery before your iPad is dead.
Conclusion:
While the iPad WiFi+3G is the easiest and longest lasting way to get your iPad online, there are several other methods to get you connected to most major wireless carriers for little cost. The hotspot options are also great for connecting other devices like a full fledged notebook without adding another monthly fee.
Personally I am using Wireless tether on a Motorola Droid using the DroidMod ROM and can easily tether my iPad for on the go productivity and entertainment. Whether I am playing Words With Friends (JoshSmith13), watching Lost on the ABC Player, a Netflix Instant Stream, listening to Pandora or uploading a post to WordPress I have had no issues.
Did I miss a cheap, easy or creative way to get your iPad online? Let us know in the comments.
Advertisement