E-gads! Valentine 's Day is right around the corner (it's on Sunday). Do you have the perfect gift for your nerdy Valentine? Chocolate & roses are great and all, but wouldn't you want something that'll add that extra oomph, that'll have them jumping in delight? You know, that extra wow factor that'll plaster a smile on their face?
Here are a few geek friendly gift ideas for that sweet nerd in your life: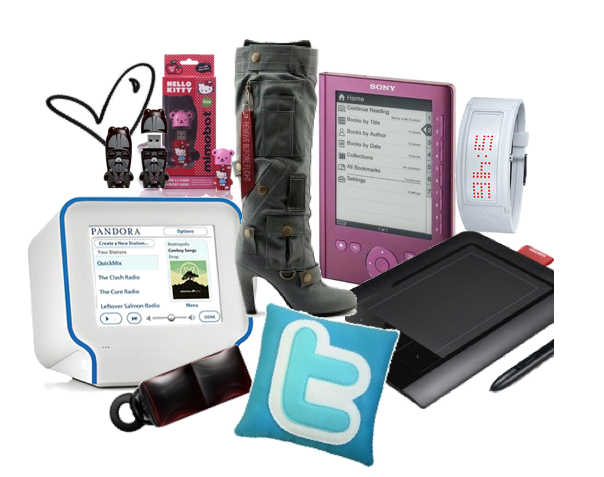 Chumby One www.Chumby.com
I am a pretty enamored by this little fella. The Chumby is an internet radio, alarm clock, digital picture frame and more all rolled into one cute, compact & convenient package! They've got hundreds of widgets that you're bound to put to use: Netflix, stock updates, Pandora, Facebook etc.. Instead of waking up and reaching for that smart phone or flipping on your laptop, your Valentine can wake up to their favorite Internet radio station, roll over and immediately get updates to favorite sites on the always-on-always-fresh Chumby One.
United Nude's Pocket Hi/Mid Boot www.unitednude.com
Boots are great! A girl can wear them to work, wear them to play, wear them every day!  Boots pair wonderfully with dresses, shorts, jeans and slacks; so why not make a gadget savvy girl's life easier by grabbing her a hot pair of boots with plenty of snazzy pockets? These boots have enough pockets for your Valentine to keep her favorite pen, USB drive and even a spare battery in while she's about town. United Nude makes these fashionably utilitarian boots in 3 fabulous colors & 2 heel sizes.
Jawbone Icon Bluetooth headset www.jawbone.com
Bluetooth headsets are essential not only for safety and convenience; but for tasteful accessorizing too. 😉
Why not hook up your Valentine with the latest and greatest: the Jawbone Icon. This Bluetooth headset is user friendly, sleek, chic and environmentally friendly!  The Icon comes in 6 sexy designs so you can pick one that best fits your sweetheart's personality. My personal favorites are "The Rogue" (A deep sexy red) & "The Ace" (edgy, eye catching silver).
Social Media and Icon Pillows – www.craftssquatch.com
This makes me absolutely gleeful! Adorably plush pillows in the shape and form of your favorite social media icons! You've got your twitter bird, your android alien, G-mail mail icon, my absolute favorite the hype machine pillow and more! Adorn your nerdy Valentine's abode with absolute nerdery, that's not a word, but you get the jist.
Twitter Bling www.survivalofthehippest.com
Oh lala, Everybody knows about Twitter whether they like it or not, and I've got to admit I wouldn't mind rockin' a bracelet with my twitter name, @abitnerdy on it. Heck, throw in a twitter keychain & necklace too please!  Custom design various items with your sweet nerd's twitter handle or perhaps a favorite hashtag. Fashion statement AND contact info all in one. Nerds gotta represent in style! 😉
Wacom's Bamboo Pen & Touch www.wacom.com
This is pure delight! This little tablet enables you to get hands on and downright creative with your digital projects! The touch pad and ergonomically-designed pen gives you the precision you need to edit and customize all the photos sitting on your hard drive. You can add a hand written note to 'em before uploading them Facebook or hand draw artsy designs. I personally like to draw pirate eye patches and mustaches on my friends before e-mailing them their photos. This is one of those things I've always wanted, but could never convince myself to plop down the dinero for, which makes it a great gift.
Mimobot designer USB flash drives www.mimoco.com
USB flash drives are a necessity. Everyone has 'em, everybody needs 'em. Mimobot has USB flash drives that'll cater to ANYONE'S personality: anime heads, art geeks, girly girls and more. They even have USB drives they call MimoBytes that'll play a character specific tune when it's plugged in or ejected. Pick up a one of a kind USB drive fill it up with your favorite tunes / memorable photos and voila! THE perfect budget friendly gift! Available in 1GB – 16GB drives!
Sony Digital Reader Pocket Edition www.sonystyle.com
Light weight, uber portable & ultra sexy digital reader hailing from Sony. The Digital Reader Pocket Edition is available in gorgeous pink, mellow blue & sleek silver. Give the geek in your life the power to carry an entire library of books in their pocket or designer bag.  No more waiting in line bored or lugging around heavy books to stay entertained.
Hoodie Buddie www.hoodiebuddie.com
These are just like your trusty hoody, but with built-in machine washable headphones. These are the perfect gift for a music enthusiast. Keep your Valentine warm and comfortable while listening to her favorite tunes. No more tangled headphones and unexpected mishaps! The hoodies come in a wide array of colors and styles readily available at J. C. Penny, Journeys, Macy's, Kohl's and karmaloop.com.
Black Dice Guru – LED watch www.ledwatchstop.com
Nerds can be fashion forward too. Blow away your Valentine with this unique & spiffy cuff watch. It'll remain blank & mysterious, til you push a button then it'll reveal the time in classic red dot display. This is multi function timepiece with time, date & alarm, if you press the right sequence of buttons, you can swap the time display horizontally / vertically. I'm geeking out at this. I can't stop dreaming up scenarios where I can put my friends & coworkers in awe.
Advertisement