Tomorrow is the big day and already there is a large number of iPad apps available for download. If you are one of the lucky people who will have one handed to you by a guy in a brown truck, a genius at the Apple store or Mike at the Best Buy. The mantra about portable devices seems to be, It's all about the apps." So what apps make you want an iPad, if any? I have a few.
1. Productivity Apps
My plan is to use my iPad for work first. We have to pays the bills. You may already have an app or a few that you use every day in your job and only people in your job use it. In my day job I am a pastor, so doing Bible study on my iPad is going to be a big focus. But included with that is writing my weekly messages and communications. One of the first apps I plan to buy is Pages. I have simple needs and this looks like it will fulfill them. Apple claims that it works well with Microsoft Office Documents and PDFs. When I speak in front of people I also use presentations like most modern communicators. So Keynote will be downloaded tomorrow. I'll hold off on the Numbers app, but if you do spreadsheets, it looks good. Each of those are $9.99.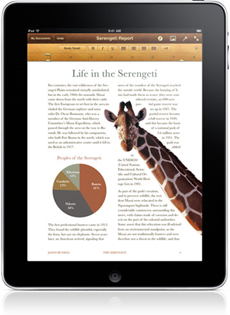 If those disappoint me, then I will go back to Documents To Go which is what I have used on my iPhone. I hope it will be even more useful on the larger screen of the iPad. It syncs with your desktop system or Google Docs and edits Word, PowerPoint, and Excel Spreadsheets for $14.99.
As a Windows PC user, I also want to be able to do some inking on my iPad. According to Warner Crocker, at Gottabemobile, MobileNoter is getting ready for the iPad (either $14.99 for Wi-Fi edition or $1.25 for cloud syncing edition). If it does not satisfy, I will stick with Evernote, which I use on my iPhone and desktop. It syncs via the Internet to the cloud service and holds notes, pictures, voice and video. Having all of that content everywhere I go is attractive, but I have not loved the inking capabilities. The iPad does not have native inking in the traditional sense. But I just got a Pogo Sketch and can't wait to try it out using one of these two programs, or FastFinga ($1.99 in app store).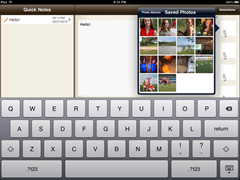 2. Television
Our earlier reports of ABC and Netflix coming to the iPad have been confirmed with Apps already appearing in the iPad App store. I'm looking forward to having this available on long trips or when my wife wants to watch another program and I don't want to leave the room. Downloading Television content from iTunes or other video sources will be much more enjoyable on the bigger screen.
3. Books
I have a Kindle and all week I've been wondering if I will even pick it up much after Saturday. I still plan to use the Kindle app on my iPad, but with iBooks, and the Nook app from Barnes and Noble on the device, there is a lot of content to be read. As stated previously, I also read my Bible on my iPhone and will do a lot more of that on my iPad as well.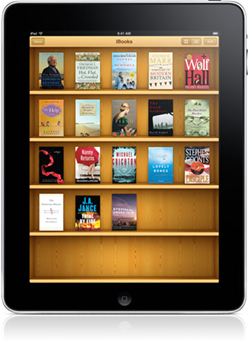 4. Games
Games are not a big part of my life. I like them, but like an alcoholic passes the bar, I avoid them for fear of how they would ruin my life. But I do enjoy the occasional casual game of Mahjong. So, I'm going to look forward to the larger screen to do that. Also, I am interested in some of the board games I have read about and seen in the app store. Putting my iPad in the middle of the table with my wife and boys might make a quick, enjoyable family time without a bunch of little pieces to clean up. Gametable ($.99 in app store) is one I'm going to look at but there are already a lot of these. No more picking up Risk pieces after you lose your battle for word conquest!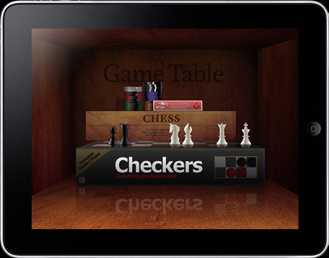 5. Social Media
I love Twitter. I have met friends and found the opportunity to write for Notebooks.com via Twitter. So I am sure Twitter will be a  part of my iPad existence. However, I am concerned about syncing my iPhone feed reading and my iPad. I know that TweetDeck does this. But I'm not a fan of the interface. So this is an area I will be investigating. Know of a good app that syncs up multiple devices so that you don't have reread tweets? Hit me up @kapurcell.
6. Discovery
This is that category of app that lets you find stuff at various times. Who the actor is in the lead role? What time is the Final Four in NCAA basketball? Know of a good place to eat around the corner? Who has best price for that DVD you're looking at in the electronics store? There are so may of these that I won't specify any here. But I really wonder if this is going to find its way onto my iPad. The iPhone is perfect for this because you have it with you. I may not be as quick to take out my iPad for such things, unless it is already open. Without multi-tasking, closing whatever I am doing just to find out this kind of information may not be as appealing. But general surfing with Safari will. In fact, the Internet is going to be the number one reason that I am very excited about getting my iPad tomorrow.
Come on Mr. UPS man!
Advertisement