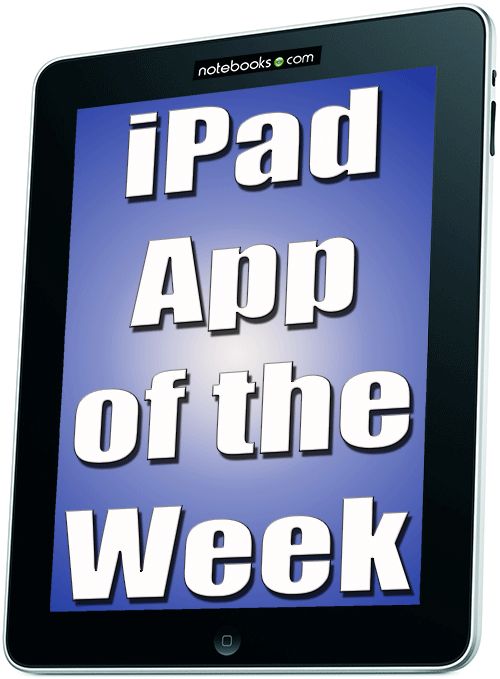 Since its release earlier this Spring the iPad has grabbed the imagination of tech lovers and mainstream users with its convenient form factor and long battery life. But the key to its success has to be the iPad App Store which allows users to install tens of thousands of useful apps from a number of different categories including productivity apps, entertainment, books, magazines and of course the most popular games.
We've been sharing an app a week as part of our iPad App of the Week series since June and earlier than that with numerous iPad App reviews. In this last installment of 2010, we will list our top ten iPad Apps of the Year. Most of these have been part of our weekly series, but not all. These are the ten apps that we would really be upset if they were deleted from our iPads and removed from the App store never to be seen again; essentially, these are our ten must have iPad Apps this year.
Newsrack is the best RSS feed reader for the iPad and it was our iPad App of the Week early on in June. Sure others have a unique look and lots of integration with other services, but Newsrack is simple. It does one thing really well. It handles Google Reader RSS feeds syncing those feeds with Google Reader, which is our favorite way to read RSS feeds when on a computer. Having them work in tandem is great. There's no duplication or sifting through articles we've already read. The other thing we love is how it makes it easy to share your favorite stories with friends via Twitter, Facebook, Instapaper and more. It has one of the simplest but useful interfaces of all the RSS reader apps we've tried for the iPad.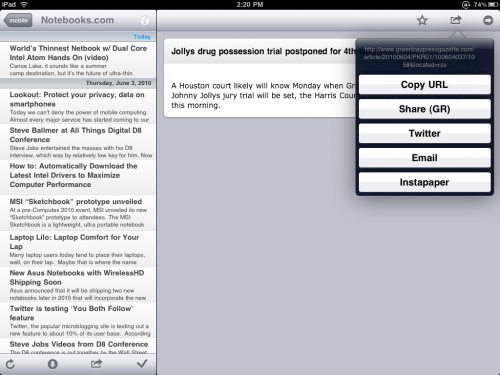 Newsrack is $4.99 in the app store.
DropBox was another one of our first iPad Apps of the Week. It is what Apple should have included with their Mobile Me service, a dead simple file sync and online backup service. With the DropBox app you can access all the files on your online DropBox. Those files can then be synced with multiple devices and computers. You get 2GB for free and can pay for more storage if you need it.
The iPad App is easy to use. Locate the file using the folders on and file list on the left and view it on the right. You can then choose to open the file in any app that handles that kind of file. For example Word files can be opened in Pages and JPG files can be opened in picture editors or viewing apps. This is easily the most useful app on the iPad.
It is available for free in the App store.
Enjoying a little video entertainment is great on the iPad when you are online and killing a little time. Maybe you've missed the latest episode of The Office, Using hulu Plus on the iPad is a great way to do this in a hotel or during a lunch break. If your family loves Glee and you can't stand it but want to see an episode of The Good Guys, the hulu Plus is perfect.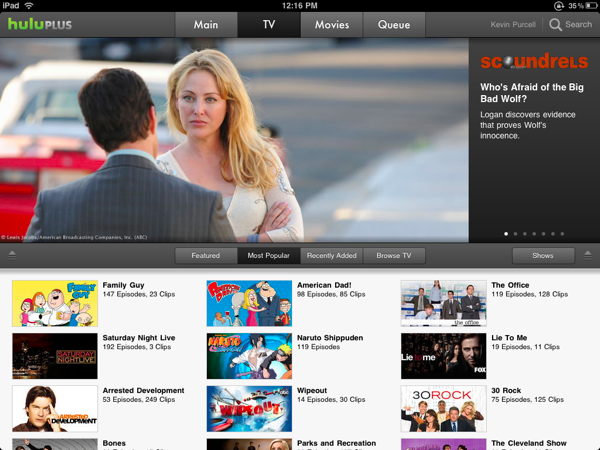 We reviewed hulu Plus as an iPad App of the Week back when it was still in beta. However, they finally released the app publicly. It  is similar to the online site. But to use it on the iPad you have to have a monthly subscription, which costs $7.99/month. That's not bad. You do have to view ads and sadly they seem to be getting more numerous, which dropped hulu Plus to one of the least favorite of our favorites. Another drawback is that shows available on the computer are not on the iPad, like The Simpsons. That is insane and there is no good reason for it except that the Hollywood big wigs just don't get it. Why limit the ability of fans to view your content? But it still is a fun and useful entertainment app.
The app is free in the App store and the service costs $7.99/month. There is a one week free trial.
This app just recently unseated our previous favorite Twitter client, Osfoora. Echofon gets the nod because it does all that a Twitter client should do, like read Tweets, track mentions and direct mentions, and view links within the app. It lets you manage favorites and lists and subscriptions. But what it does that our previous favorite does not do is sync read feeds with the iPhone or computer clients. That way you don't have to go through old tweets on your iPad that you already viewed on your iPhone.
Echofon Pro is $4.99 in the app store.
Besides surfing the web and playing games, we use our iPad more for reading than almost anything else. iBooks was a valiant effort but Amazon has so many books and their Kindle app is great. It is our preferred way to read on the iPad. It looks nice with only a few things that others have. One of those is the animated page turns in iBooks. It adds nothing to the app, but just looks cool so we wish Kindle would do it too. Also, we sure wish we could view magazines and newspapers in the iPad app. Why we cannot view color magazines in the color reader is ridiculous. They are on the way, however, according to reports. And this is a minor issue. The Amazon book library is great. It automatically syncs up with other Kindle apps on an iPhone other smart phones or a computer. And it syncs with the hardware Kindle too. Buying books is easy and most of them are cheaper on the Kindle app than they are for the physical books, which is as it should be.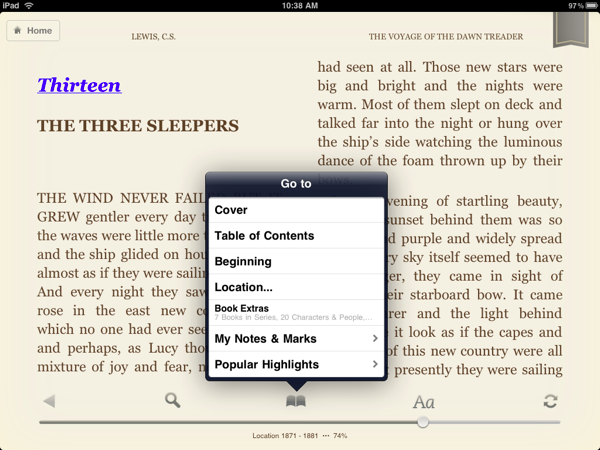 The Kindle app is free in the App store, books are usually about $9.99.
Instapaper is a great service that we use to temporarily bookmark stories on the Internet. This never was one of our iPad Apps of the Week, but over at our sister site, Gottabemobile, it was highlighted as an incredibly useful tool for reading longer articles. Just send the link to Instapaper with a bookmarklet in the browser and it shows up either on the site or in the app. Reading those longer stories or web pages on the iPad is much easier than sitting at a computer or with your laptop. The app is $4.99 on the iPad.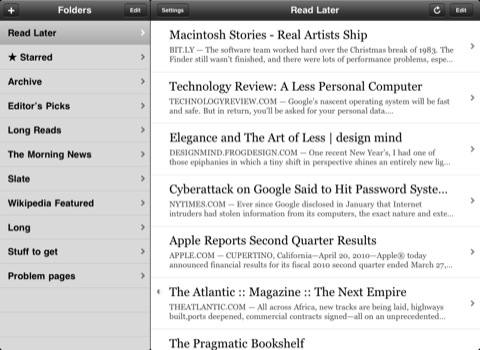 We've never highlighted Evernote as an iPad App of the Week either and that is a travesty. So it makes it way onto our list as one of the best apps this year. The Evernote service is like having an ever present memory of all your notes, web clippings, voice recordings, or whatever else you can think of to put into the client of choice. It works on the iPad and other iOS devices. It has clients for Android and other smart phones as well. And it has clients for the computer and online. It is integrated into dozens of useful software and services all part of the Evernote Trunk, a storehouse of tons of apps and services that use Evernote. We love the service and we love the iPad App. It is missing one thing – the ability to natively write in natural handwriting. Add that one thing and the app becomes perfect.
The service has a free version or a premium version for either $5/month or $45/year. The premium version adds unlimited notes and a GB of uploads/month among other things The iPad app is free in the app store.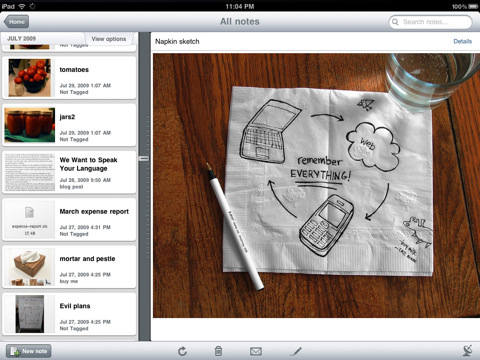 There are a number of remote control apps in the app store that allow users to control their computers with the iPad over a network or even the Internet. Many of them are less expensive than LogMeIn Ignition, but none is as easy to use nor do they work as well. It is so good we highlighted as the first iPad App of the Week before we even had that title for our weekly reviews, but also as a perfect holiday gift.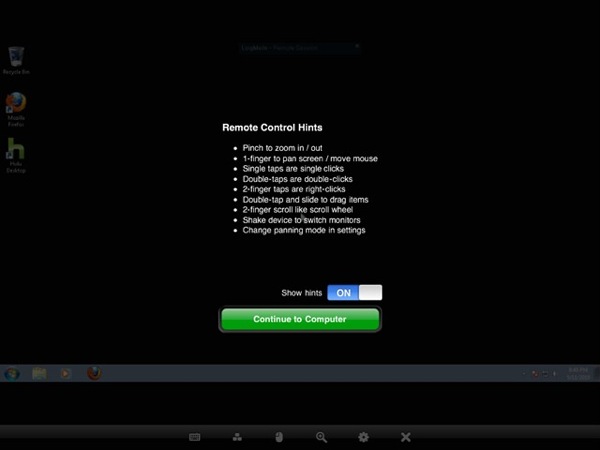 LogMeIn is a service that lets users remotely log into computers from other computers and thanks to this app from iOS devices. The iPad version is great. We use it to give remote help, to do tasks on our computer that we forgot to do when we were at home, and to handle remote operation in presentation situations. For that last one at the church where I am pastor the computer that runs our presentation software is in the balcony. While I am on the stage I can have my iPad on the lectern so that I can control the presentations when my normal volunteer cannot be present. LogMeIn Ignition works great for this kind of task.
Another use case was when I forgot a file on my home PC. I logged into it and uploaded the file to my DropBox account. Then I was able to access it on my iPad and laptop.
LogMeIn Ignition is $29.99 in the App store.
For a period of time this was the only game I would play. In fact the addiction got so bad that work suffered. It was a blast and still is. We never highlighted it as an iPad App of the Week, but did put it as one of the reasons the iPad was such a great buy in our original review of the iPad.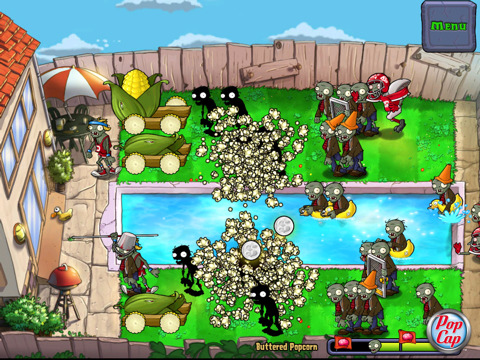 In Plants vs. Zombies players place plants that hurl things like veggies to hit zombies. After they are hit enough the zombies die. Eventually the player has a yard full of zombies and veggies and plants. It gets crazy. As you read this it may not sound like fun, but trust us. This game is a treat to play. At $9.99 it is worth every penny.
The only game that could unseat Plants vs. Zombies in our iPad game addiction was Flight Control HD.  And like Plants vs. Zombies it never made the iPad App of the Week but it should have.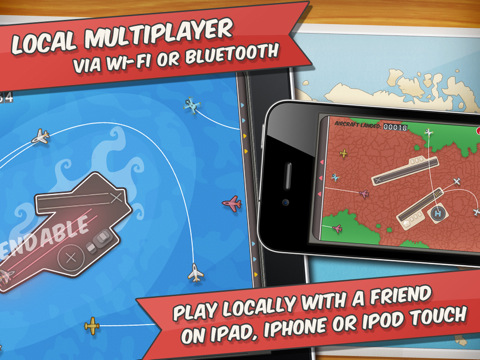 In this game the user guides planes and helicopters to land. At first it is easy enough, but after a while there are dozens of aircraft in the air and you can't manage to get them all guided safely to the grand. It gets insane and lots of fun. The game now has online mode and always had a 3D screen to play.
The game is $4.99 in the App store.
Advertisement