Take note Max users who love Evernote. Evernote announced today that Evernote 2.0 is now available for the Mac, exiting beta and bringing with it plenty of new features and a in some areas a new look that should excite Mac users who don't want to forget their notes or go to the web to tackle simple tasks.
If you aren't already familiar with Evernote, it's a digital note taking tool that allows you to keep track of all types of notes and content such as pictures, typed notes, audio files and attachments.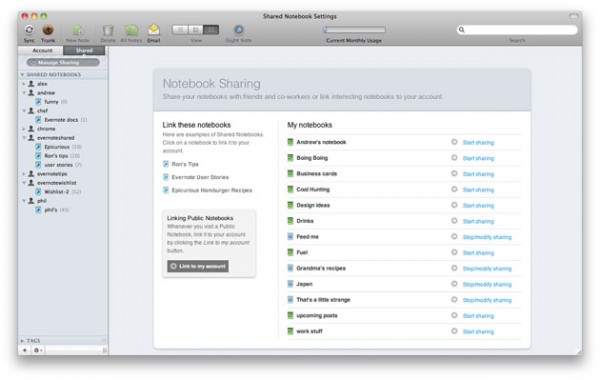 First up is Notebook sharing, which can now be handled completely inside the Evernote app on Mac. This feature makes it easy for you to share a note with friends or coworkers. There's also a new split tab on the left side which allows you to see you shared notebooks and manage sharing.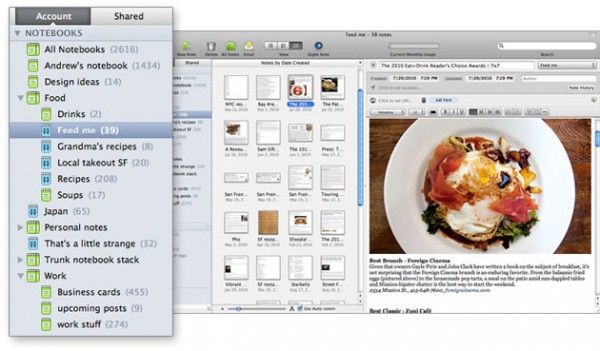 Next up is support for Notebook Stacks. Stacks are a way of grouping Evernote notebooks that are similar and provide a nice way to keep your Evernote notebooks organized. By creating stacks of notebooks — just like you'd do on your desk.
Other updates include a new layout on the left panel that makes it easier to keep track fo notebooks, tags and saved searches as well as the ability to resize and minimize sections. In addition, you'll find a new attachment button that makes it a snap to navigate to a stored document and add an attachment to a note. You can still drag and drop, but sometimes the navigation method will come in handy. Other features include an upgrade to the ability to handle 250 notebooks.

If you want to know more, check out Evernote's Getting Started Guide and Windows will be happy to know that the team is working to bring these features to "Windows and other versions of Evernote."
To upgrade, download the update from Evernote, or click "Check for Updates…" under the Help menu in Evernote.
Advertisement