Evernote pushed out a big upgrade to Evernote for the iPhone and iPod Touch today, delivering a new experience that focuses on making it easier to interact with your notes and to take notes including multimedia.
Evernote for iPhone and iPod touch Overview Video:
One of the major changes include a snippet view on the home screen, including a "slice" of the note's image if the note only contains an image. This new method makes it easier to browse through large collections of notes.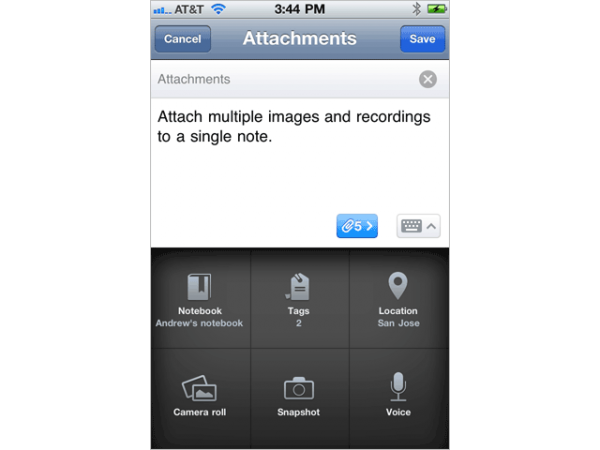 Also included is a revamp of the note screen which is now split into a top area, dedicated to your note, and a bottom area that helps you take notes faster. The bottom area is where you can attach images, record up to 90 minutes of audio while also taking notes, and assign note metadata like tags and notebooks. The new version of Evernote for the iPhone and iPod Touch also allows you to upload multiple images to one note, handy if you are capturing meeting notes form a wall covered in IdeaPaint.
Other improvements include the ability to browse by notebook and tag as well as the ability to look at notes in image view, attachment view and map view.
Evernote is working on a new version for the iPad, which based on our interview with the CEO of Evernote, might include some form of inking or drawing.
Evernote for the iPhoen and iPod Touch is a free download from the App Store.
Advertisement