If you work in a workgroup or large network, often you are sharing files or accessing folders across the network. File and Folder permissions will ensure that you are sharing what should be shared and preventing access to unauthorized individuals. In this article, we take a look at how to setup and configure file and folder permissions.
Share File or Folder
To share a file or folder, right click it, then click Properties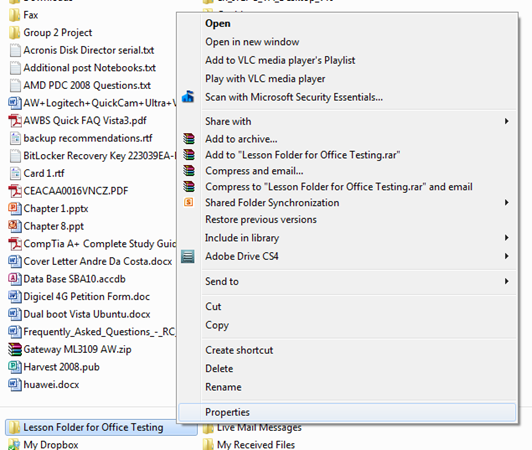 Select the Sharing tab.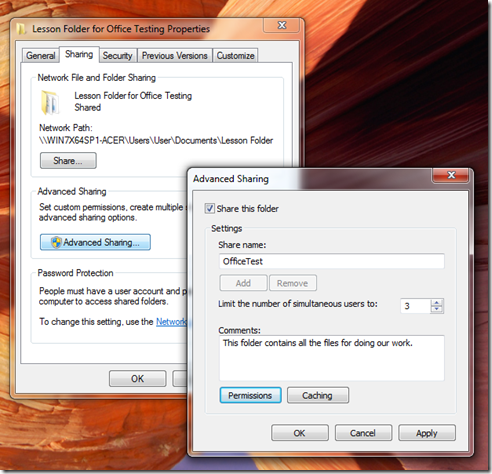 Click Advanced Sharing, then check the Share this folder box
Give the Share a name, this is important especially if it's a long file name, this will make it easier to remember for users looking for the folder on the network. As you can see, I am sharing a folder named, Lesson folder for Office Testing, that's quite long, so I chose a more memorable name OfficeTest, you can make it even simpler by using all lower case.
Another option is to limit the amount of users accessing the folder, if you have 20 PC's accessing your PC it can begin to slow things down, so limit how many persons accessing the file or folder at one time to maintain performance and accessibility.
You can also add a comment giving the folder a short description to make it easier to find and access. When complete, click Apply and OK
Permissions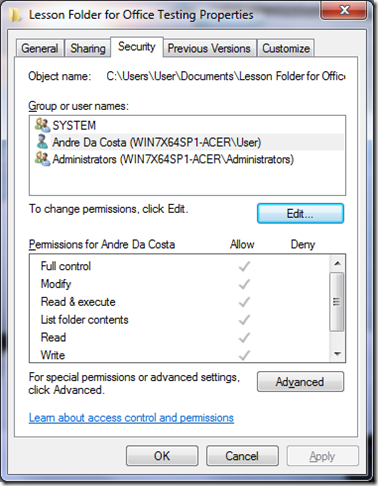 Now this is an important part of sharing the folder, or file permissions. Although you are sharing the folder, you only want authorized people to access it, at the same time, you only want people who are able to access the folder or file to be able to do certain things. Here is where you control whether users have full control, the ability to make changes or just view the contents of the folder or file.
Go to the Security tab, then click Edit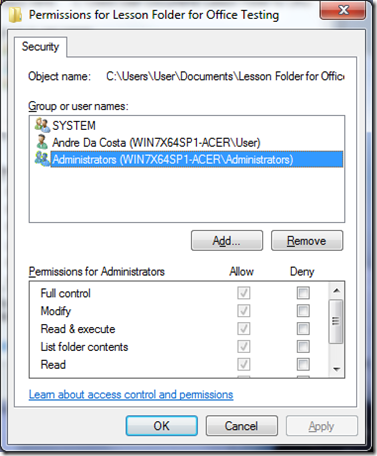 Click the Add button, then click Advanced, then click Find Now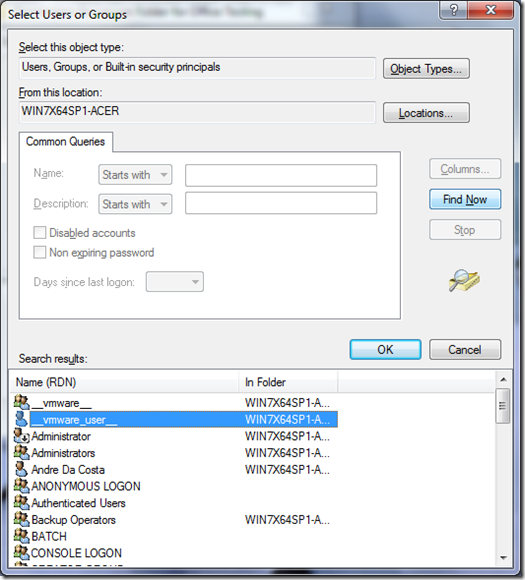 Select a user that you want to define permissions for, then click OK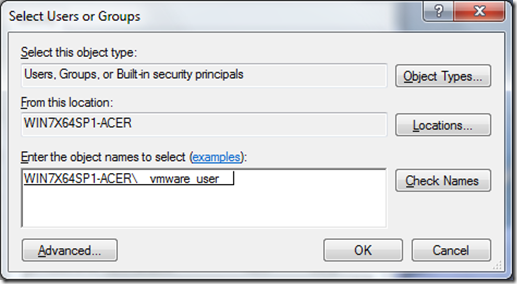 Click OK again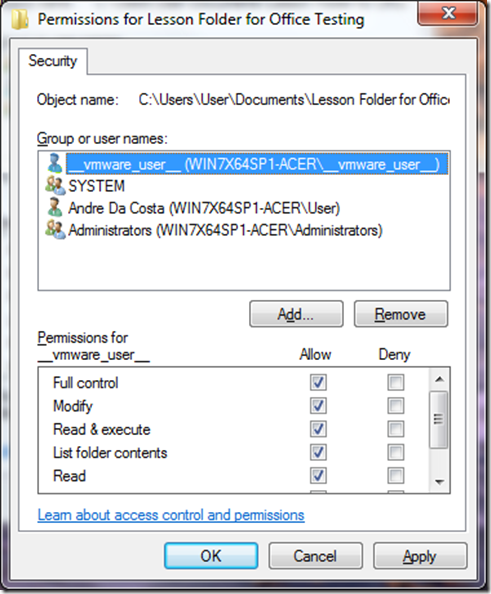 In the above screenshot, we see that the user _vmware_user_ has full control. In my case, I do not want this, so I will deny certain permissions. To do that, I check a box on the right under Deny. Permissions are hierarchical in structure, so, you can't deny full control, then expect to allow ability to Read folder because obviously you have given the user some form of access to the folder. In the case of the above user, I would like them to be able to view the folder and read its contents but not write to it. This can be especially important if you have setup disk quotas or your Administrator has set limited disk space for files and folders on the network. When complete, click Apply and OK
Take Ownership of a file or folder
This can be very handy if you were not the original creator or do not have any permissions to access the file or folder at all. In the following example, I need to take ownership of the Windows.old folder to have access to its contents.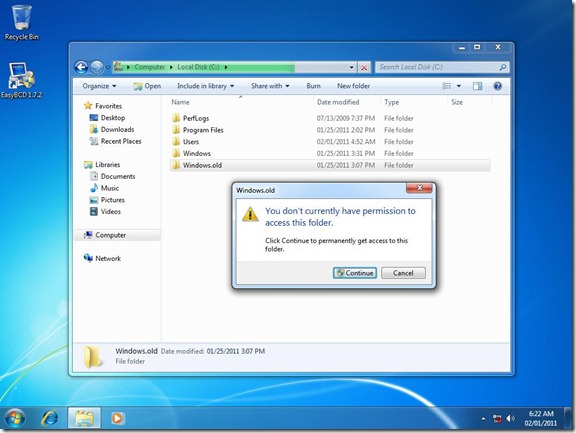 When I try to open the folder, I received the following message. To work around this, right click the folder, then click Properties:
Go to the Security tab, then click Advanced go to the Owner tab, click the Edit button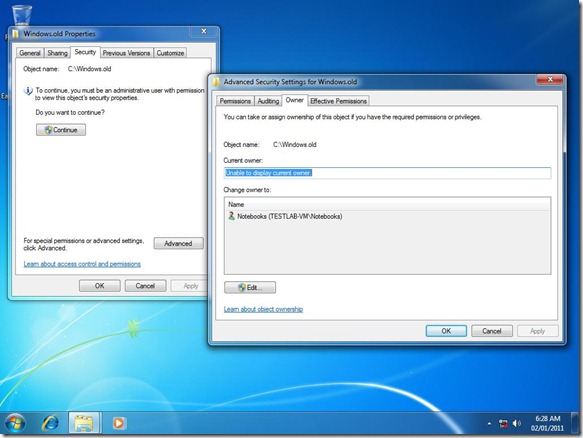 Click Advanced then click Find Now, from the search results, select the account name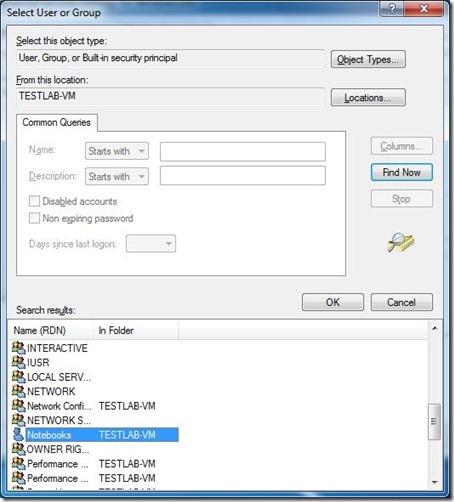 Click OK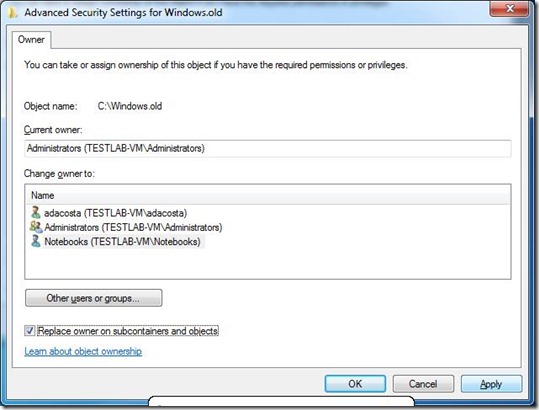 Select the username that  you want to Change owner to: then check the box Replace owner on subcontainers and objects then click Apply and OK
You have now taken ownership of the folder.
Advertisement