With the release of Windows XP in late 2001, Microsoft integrated product activation for the first time in retail and OEM versions of the operating system. The technology has been a debated subject ever since. The purpose Microsoft says is to protect consumers and Microsoft's own intellectual property. Consumers are able to be informed whether they have a genuine license or not, and it also provides exclusive access to updates and services. Regardless of this, pirates have still managed to work around product activation, either by using Volume Licenses activated through alternate servers or illegally distributed licenses intended for a particular channel.
We discussed this extensively in previous Notebooks.com articles here and here.
With the release of Windows Vista, Microsoft introduced additional protections to it's activation technologies called Volume Activation 2.0. As part of the new Windows Genuine Advantage campaign, customers running Volume License distributions used by large businesses are now required to activate their licenses. This can be done using different methods. I won't go into details, since this article is focused more on the consumer side of things.
Activating Windows
Activating Windows is one of the easiest task you will ever do. Contrary to what some persons say, it's not intrusive or annoying. In fact, if you purchase a new computer with Windows 7 pre-installed, it's most likely already activated for you at the factory. If you purchase a retail boxed license and upgrade to Windows 7, the operating system will automatically attempt Internet Activation after 3 days as long as you are connected to the Internet. If not, you are given a 27 day grace period within which to Activate Windows.
What happens if you don't Activate Windows?
If you choose not to activate Windows, the operating system will go into what is called Reduced Functional mode. Meaning, certain functionality will be disabled.
Benefits you gain from activating:

– Access to all Windows Updates with confidence that your Windows software has the latest security and reliability enhancements from Microsoft.

– Support for your software, including downloads reserved exclusively for genuine Windows software.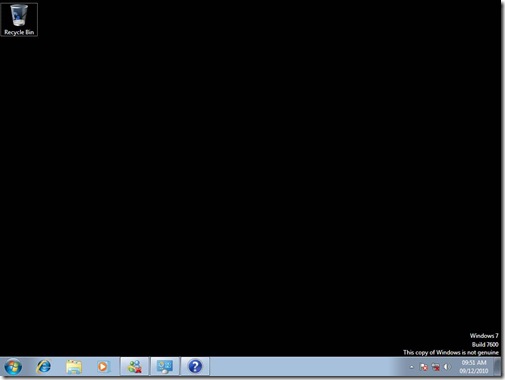 A Windows 7 installation in Reduced functional mode (notice the watermark at the right hand corner).
If you don't activate your Windows software

– You will be prompted every time you log in to Activate.

– You will receive periodic prompts to activate your software.

– Certain visual experiences will be disabled such as the Windows Aero Glass theme.
How to Activate Windows by Internet.
Activating Windows 7 manually is very simple. First of all, you need to make sure you have a working Internet connection. Once that is confirmed, go on to the next step.

Click Start, type Activate Windows

Hit Enter on your Keyboard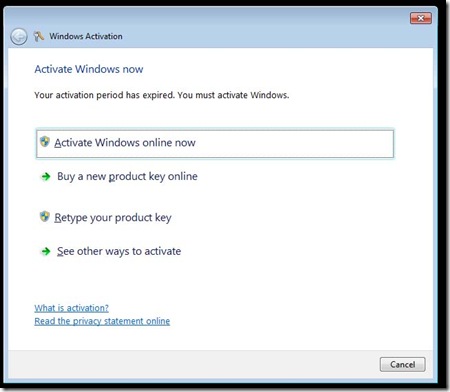 Click Activate Windows Online Now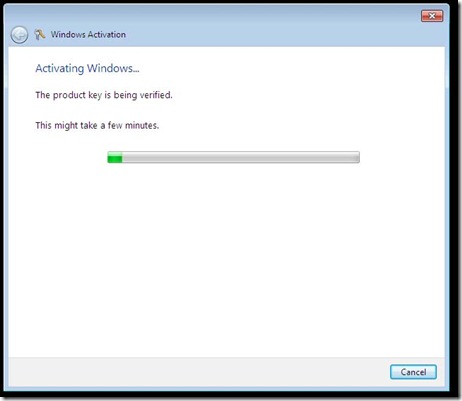 Activation in progress
To confirm your genuine license, view Windows Activation in System Properties:
Within seconds you should be automatically activated. If not, there are a number of factors that could be preventing you from activating. It is possible Microsoft Activation Servers are overwhelmed at the moment. Give it some time and try again later. Again, you could be running a non-genuine installation or using a black listed product key. We will find out more about this later in the article.
How to Activate Windows by telephone
If you don't have a working Internet connection, on the Activate Windows screen, click Show me other ways to activate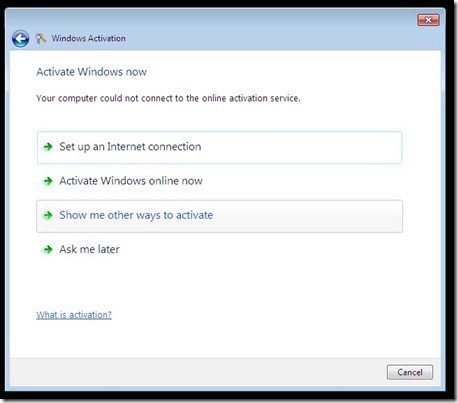 Click Use automated phone system
Select your Country, then click Next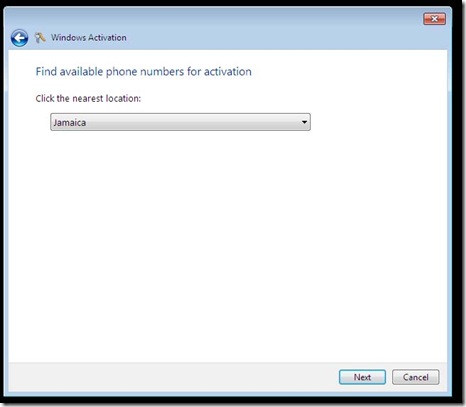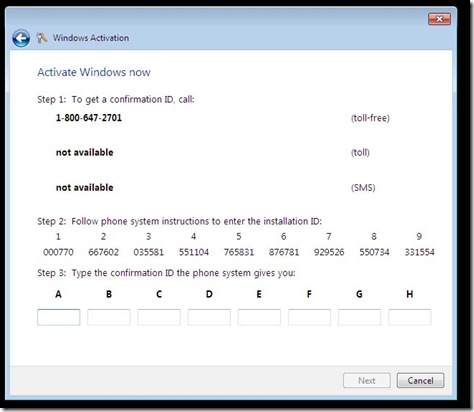 Use the toll free number and hold on to speak with a customer agent. If you don't, you will use the automated phone system instead.
Other work around – Extend your Activation Grace Period
Another work around for Activation is to extend Activation Grace Period for another 30 days. You can do this up to 4 times (3 times for volume licenses) for a total of 180 days extension. After this grace period, you will need to make sure Windows is activated.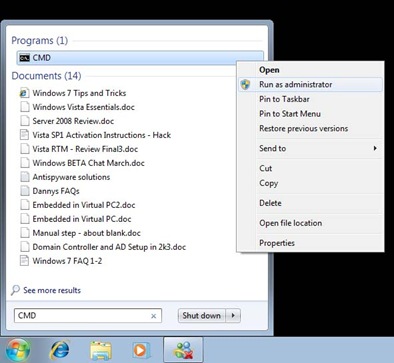 Click Start, type: CMD. then right click CMD, then click Run as administrator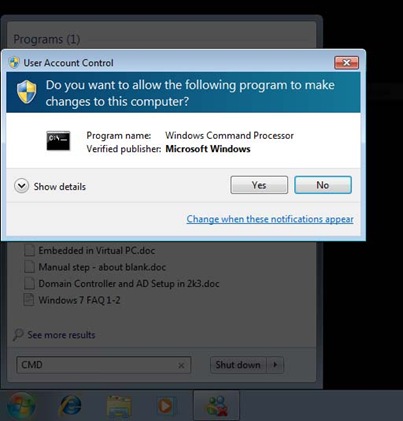 Click Yes to confirm Administrator privileges.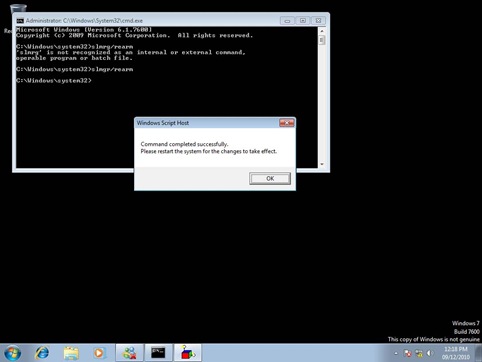 At the command prompt, type slmgr/rearm then press Enter (slmgr stands for software license manager) This will tell Windows to extend grace period for another 30 days if you are not ready or unable to activate.
Exit the command prompt and restart the system to save the changes.
If you would like to see how many rearms you have left, open another command prompt and type slmgr.vbs –dlv then press Enter on your keyboard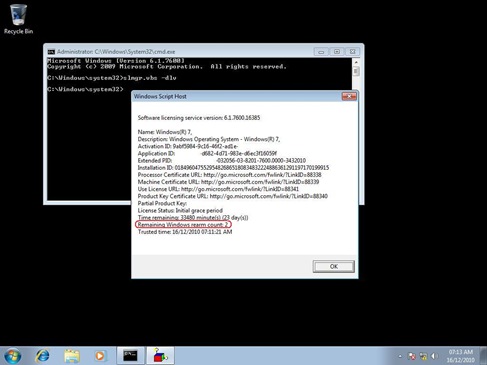 A small window will appear on screen with the details. You will also notice that the The copy of Windows is not genuine watermark is removed.
Troubleshooting Activation
I noted that Activation is a simple process and it's often invisible to the user. If you do have to activate manually and you encounter problems, here are some suggestions and solutions.
Windows refuses to activate by Internet
There are a number of factors that can cause this. First of all, you need to make sure you are connected to the Internet. If you are and you still encounter a problem, you should try temporarily disabling your antivirus utility, check your Firewall settings, if you are behind a proxy, check those settings to make sure they are not preventing the activation wizard from communicating with the activation server.
Another reason why Windows might be refusing to activate could be attributed to an issue with the activation servers being temporarily down or overwhelmed by activation requests. Wait a little bit and try again, if you have an ample grace period, there is no need to rush, give it some time.
If Windows still refuses to activate, try activating by telephone manually, see How to Activate Windows by telephone
Volume license activation
If you are in a corporate environment and trying to activate Windows, contact your network administrator. This could be attributed to an issue with how your Company activates Windows. Businesses that purchase Windows in volume might be utilizing a method called KMS (Key Management Service) where they build their own activation servers to handle activation request of a large roll out of machines. Because of specific requirements relating to the amount of machines needed to activate computers on the network, this could be why you are experiencing problems. The best option is to contact your Network Administrator, it's also possible that the machine is not properly querying the server for an IP address which is part of successfully activating the machine. Or what you could do is try activating from the command line. To do this, open a command prompt with administrator rights and type the following command to force activation slmgr.vbs –ato. If your organization is setup to use KMS activation, users should understand that activation is leased, which means, the machines must connect back to the KMS every 180 days to be reactivated. So if you happen to be on the road 6 months later with a company issued laptop and receive an error message that your Windows 7 license is not genuine, this is likely why. This should be applicable only to people running volume versions of Windows such as Windows 7 Professional or Enterprise edition.
Anytime Upgrade activation problems
If you did an Anytime Upgrade from one edition of Windows 7 to another, Activation can be unsuccessful if you did not activate the base license. For instance, suppose you bought a Netbook with Windows 7 Starter installed, then you did an Anytime Upgrade to Windows 7 Home Premium. If the Windows 7 Starter was never activated, then the Windows 7 Home Premium license will refuse to activate since the qualifying license cannot be determined to be genuine. Work around, you will simply have to reinstall the base license, activate it then do the Anytime Upgrade to Windows 7 Home Premium again (unfortunately).
Upgrade license clean install, activate or reactivate
This one has been giving a lot of people headaches. For instance, you have a computer with Windows XP, then you decide to upgrade to Windows 7. Because you cannot do an in place upgrade from XP to Windows 7, your personal files, settings and installed applications are not preserved. Basically, you are doing a clean install. What happens is, when you try to activate the license or if you do a clean install with the Upgrade license, you will receive an error message that the product key is invalid and cannot be activated. This one will depend on calling Microsoft Support and explaining your situation properly. Use the Activate by telephone option, hold on to speak with a live call agent, do not use the automated phone system. You will need to convince the call agent that you are not using the license inappropriately. In most cases activation will be granted.
OEM license – transfer, motherboard change
OEM licenses although equivalent to full version retail licenses are much cheaper and carry specific license restrictions.
In the case of OEM branded Windows 7 licenses, such as those that are preloaded on DELL, HP, Lenovo, Acer, Gateway computers for example, cannot be transferred or used with another motherboard. In fact, they use a special activation technology that ties it to the motherboard called Software License Protection (SLP). What this does is allow the motherboard to be preloaded with all the necessary activation information to reactivate the license locally if you reinstall Windows 7, you don't even need to connect to the Internet. So if you decide to upgrade your motherboard in the future, you will simply have to purchase a new license full version license.
OEM System Builder license is another variant, which are unbranded but are similar to retail licenses, but they also carry the same restrictions as the branded ones. Once you have installed it on a computer, it's tied to that computer and the motherboard for life. There are minor exceptions, that allow you to transfer the license to another motherboard. For instance, if your motherboard fails because of a defect while under warranty and you can obtain an exact replacement, the license can be reactivated on it.
Windows just suddenly says I am not genuine and refuses to reactivate. Well, this one can just be an anomaly or your license might indeed not be genuine and has been black listed because Microsoft found out the key is for a particular channel. For instance, if you bought the product key off an auction site, it's possible you bought a key that is for one of Microsoft's developer and IT Professional software evaluation programs such as MSDN or TechNet. This is a well known issue, yes you might receive a product box, hologram DVD, manual that looks like the real deal, but it's likely pirated. You can learn more about it in this story here.
If you are certain your license is not a pirated copy, usually, a restart of the machine will resolve the issue. It's software, it's not 100% perfect, so these things will happen from time to time. Even a small change to your computer, such as a loose hardware component, defective memory modules can trigger these activation issues. Reseating and replacing the troubled hardware can resolve activation problems like this.
Transfer Windows license and activate on another computer
This is another one of the tricky situations where activation is concerned. Say you have a computer running Windows Vista Home Premium, you upgraded it to Windows 7 Ultimate. A few months later, you bought a new computer with Windows 7 Home Premium, but you would like to transfer your Windows 7 Ultimate license to the new machine running Windows 7 Home Premium. The problem is, the license is already activated on the machine you upgraded. Here is how you release that license.
Open a command prompt again with administrator privileges, then at the command prompt, type: slmgr.vbs –upk then press Enter on your keyboard, exit the command prompt, then restart your system. What this will do is is release the license and set the installation back to trial mode. If you want to continue running Windows 7 on that machine, you will need to purchase a new license for that machine or reinstall the previous version of Windows.
Hopefully this information will help to clarify some of the mysteries surrounding activation.
Resources
Windows 7 activation error: 0xC004C020
Windows 7 activation error: 0XC004E003
Windows 7 activation error: 0xC004F061
Windows 7 activation error: 0xC004C008 (volume license)
Blocked Keys (Error 0xC004C4A2)
Activate Windows 7 on this computer.
Description: The software licensing service reported that license evaluation failed.
Windows Genuine Failure Scenarios.
You can confirm that your software is genuine now. It's quick and easy.
Try the appropriate phone number listed here: Microsoft Activation Centers Worldwide Telephone Numbers.
R U Legit: File a complaint:
Consumer complaints to 1-800-RU-LEGIT (785-3448)
How can I tell if Windows is activated?
Windows Activation Technologies Update for Windows 7 -Update for Microsoft Windows (KB971033).
There are some Geographic Restrictions in some countries. Please see the following links for more information.
Geographically Restricted Microsoft Software: How to tell
View Distribution Territory Information
Advertisement