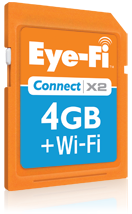 Eye Fi, makers of WiFi enabled SD cards that make it easy to upload your images to your computer, just announced a new way to control how your photos are shared called Eye-Fi View. Eye-Fi view is an online portal that stores the last 7-day's worth of pictures at full resolution so that users can control which social sites they are shared to or email the full-resolution images to friends and family.
The Eye-Fi View user experience can be accessed from the web, cell phones and tablet devices allowing you to not only share the high res photos online, but also show them off from the device you have on hand.
This new system makes it simpler to send specific photos or albums to Flickr, Facebook and other sharing sites as well as email your contacts without the need for loads of attachments.
The Eye-Fi View feature is available for free to any Eye-Fi X2 card users for a week's worth of photos. If you want to keep more photos available in full resolution you can purchase unlimited storage for $4.99 a month or $49 a year. You can find Eye-Fi View by logging in to center.Eye.fi.
Here's a video overview of the new Eye-Fi View feature:
Advertisement