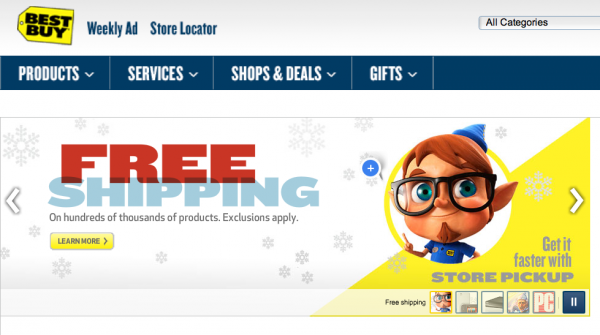 Best Buy is aggressively marketing its free shipping offer for the holiday season. Visitors to BestBuy.com are greetine with a giant banner proclaiming "FREE SHIPPING on Hundreds of Thousands of Products," followed by "Exclusions Apply." Unfortunately, it appears that Best Buy is excluding a whole lot of what's on a lot of shopper's Christmas list.
Best Buy is being forced to match free shipping offers from Wal-mart and online electronics retailers, such as Amazon.com. The free shipping removes one common objection to shopping online, giving online offers a leg up when prices are similar or the same as retail locations.
So what's excluded from Best Buy's free shipping offer? Clicking on the Free Shipping banner's 'Learn More' button reveals the following restrictions:
Offer excludes laptops, netbooks, iPads, iPods, Dynex™ TVs, video game consoles, major appliances, compact refrigerators, air conditioners, dehumidifiers, grills, outdoor furniture, pergolas, fitness equipment, electric vehicles, and some other items that require scheduled delivery. Also excludes enhanced shipping options, such as Expedited or Express service.
At first glance, the list may not make a whole lot of sense. Best Buy will ship you a bulky desktop for free, but you can forget about free shipping on a 2lb netbook or an iPod Nano. On closer examination it's clear that Best Buy is simply excluding low-margin items (laptops) and the really heavy stuff (washers and dryers). Apple also does not typically allow its products to be advertised as bargains in any way, shape or form.
Wal-mart is offering free shipping for the holidays as well. Other retailers, such as Amazon.com are offering free shipping on select items.
If you plan on doing a lot of online shopping for the holidays, we highly recommend examining the shipping costs, deadlines and delivery dates carefully before placing your order. Having gifts show up promptly is something that may be worth paying for. If you're going to do a lot of shopping online and shipping to several locations it may be worth investing in Amazon Prime, a service that offers unlimited two-day shipping and $3.95 per item overnight shipping.
Advertisement