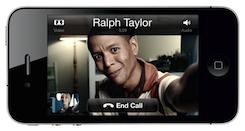 Skype announced today that the popular app for the iPhone had been updated to include video chat. Unlike Facetime which only works over WiFi and only to FaceTime the iPhone, iPod Touch and Mac — the updated Skype App for iPhone will allow users to video chat over 3G and to chat with users Skype on Windows or Mac computers.
The updated Skype iPhone app is available for download in the Apple App store right now, marking an end to the Christmas time break of new apps and app updates.
Here's a video showing the new Skype App with Videochat over 3G. Though we are pretty sure you should never use the app in this fashion!
For video calls you can make calls from the iPhone 4, iPhone 3GS, and iPod touch 4th generation with i0S 4.0 or higher. Users of earlier iPod Touch devices and the iPod can receive video calls, but as these devices don't have a camera the video won't work both ways.
While you can use videochat over 3G keep in mind that if you are on a limited plan this could eat up your data allowance pretty quickly. 9To5Mac ran some tested and found that one minute of Skype video chat will equate to about 3.4MB of data so if you are near WiFi and on a limited iPhone data plan you should hop onto the WiFi network.
With the new Skype app you can do more than video chat including, making free Skype to Skype audio calls and calling landlines using Skype for lower priced rates.
Advertisement