Pandora is a great way to listen to music, but its a pain to find the right tab when you need to pause a station or skip a song.
If you have a Mac and listen to Pandora, you need to go buy Muse right now.
This $6 Pandora app allows you to set keyboard shortcuts to skip songs, pause songs and even like or dislike a song without looking for the Pandora website.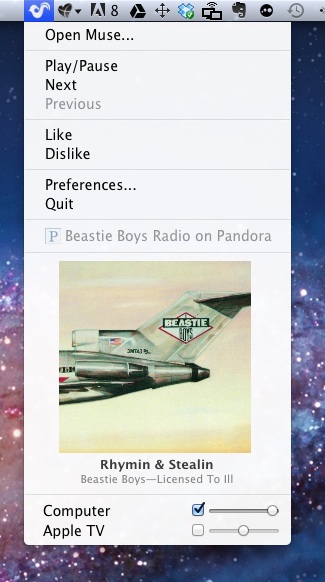 The great keyboard shortcut support is complemented by growl notifications to show the currently playing song and the mini player that lives in the menubar. The mini player offers full control over the app no matter where you're at.
When looking at the Muse app, you get the full Pandora experience. The app simply loads an HTML5 version of Pandora on the Mac, so there is no loss in experience. Because of this I don't expect that Pandora API changes will force it to go dark like they did with PandaBar.
I would gladly pay $6 just for Pandora keyboard shortcuts on a Mac, but Muse goes even further adding AirPlay support to stream to an Apple TV or AirPlay speakers right from the app with no third part plugins or configuration necessary.
The app also supports the Apple Remote so you can control your music at a distance.
AirPlay support is perfect for streaming music to my Apple TV while working in the living room. Instead of the quiet MacBook Air speakers I can stream Pandora to Apple TV and my home theater they way it should be.
Muse is $5.99 in the Mac App Store. It is also available as a free 10-day trial or a $10 purchase at the developer's website.
Advertisement