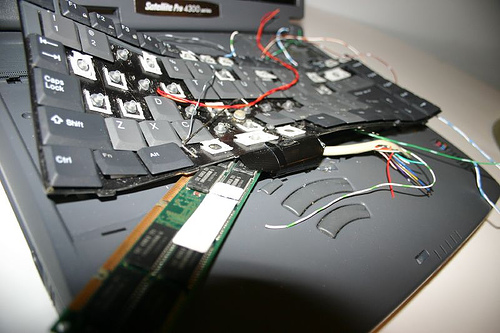 Squaretrade, a company that provides third party warranties, released the results of a notebook durability which found that nearly a third of notebooks fail within 3 years. The study, performed on 30,000 laptops under their care, found that 20.4% died of hardware failures and 10.6% failed due to damage caused by an accident. The study also revealed that netbooks have a 20% higher failure rate than traditional and premium notebooks.
Of major manufacturers, Asus and Toshiba scored the highest in terms of reliability, with HP coming in dead last thanks to an abysmal failure rate of 25.6% in year 3. Premium brands such as Apple and Sony scored above average with respective failure rates of 16.8% and 17.4%.
What does this mean for your next notebook purchase? Well, it all depends on how you use your notebook. Squaretrade was not able to provide usage statistics of the failed notebooks in their care but my personal experience has been that notebooks which are used in mobile settings have a higher incidence of failure. That's not to say a laptop used primarily on your couch, like my parent's Gateway, won't fail from simple around the house use; just that I see more failures from notebooks that do a lot of traveling.
You can minimize the risk to your notebook by using a protective bag and avoid using it in hazardous locations; like near drinks. Since 10% of the failures where accidental you can greatly improve the odds of your notebook living a long life by carrying it carefully and not spilling a drink onto the keyboard!
Before you purchase an extended warranty on your next notebook you should ask yourself whether or not the extra expense is worth it. In general many of the extended warranties offer limited value on netbooks and other sub $500 computers because they cost so much and add little value. You also need to read the fine print and see exactly what a warranty covers because when you need your waterlogged notebook fixed no one is going to care that the salesman told you water damage was covered if it isn't in the paperwork. If you want protection without paying for an extended warranty you can save yourself some money, literally, by creating your own extended warranty fund.
Image Credit (Flickr user S Baker)
Advertisement